Bangladesh Sustainable Development Conference 2017 at Harvard University
Harvard University, WCC 2036 Milstein East A and B, Wasserstein Hall, 1585 Massachusetts Avenue, Cambridge, MA 02138
Fri., May 12, 2017
Fri., May 12, 2017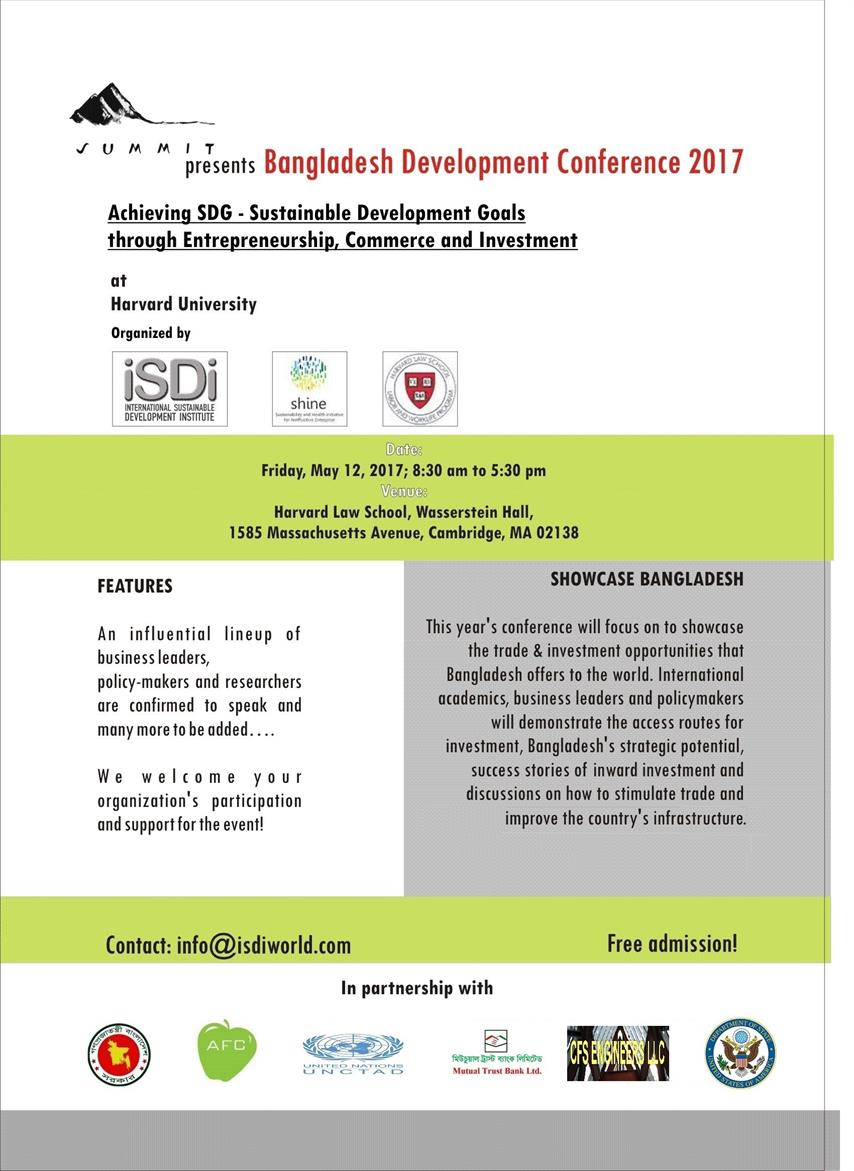 Bangladesh SDG Conference on May 12, 2017
Achieving SDG - Sustainable Development Goals through Entrepreneurship, Commerce and Investment The organizing committee of the annual Harvard University Conference on Bangladesh invites academics, policymakers, practitioners, and experts to participate in the seminar on 'Achieving Sustainable Development Goals (SDGs) through Entrepreneurship, Commerce and Investment' that will convene on Friday, May 12, 2017 at Harvard University. The day-long seminar will be organized by the International Sustainable Development Institute (ISDI) in cooperation with the SHINE Initiative (Sustainability and Health Initiative for NetPositive Enterprise) of the Harvard T.H. Chan School of Public Health and Harvard Law School's Labor and Worklife Program.
The objective of this year's conference is to bring together entrepreneurs, policymakers, and philanthropists who seek to accelerate the growth of Bangladesh through entrepreneurship, investment, and commerce. These can be powerful mechanisms for alleviating poverty and generating prosperity, which are important preconditions for achieving the SDGs. Moreover, they provide paths for empowering women, upgrading workforces, and transforming the rural economy. In this conference, we will explore the steps required to encourage these three vital facets of the development goals.
Our keynote speakers among others are Dr. Chantal Line Carpentier, New York Office Chief for the UN Conference on Trade and Development (UNCTAD) and Iqbal Quadir, Founder and Director Emeritus of the Legatum Center for Development and Entrepreneurship at the Massachusetts Institute of Technology. The time is: Friday, May 12, 2017; 8:30 a.m. to 5:30 p.m.;
The venue: Harvard Law School, WCC 2036 Milstein East C, Wasserstein Hall, 1585 Mass. Ave., Cambridge, Mass.
The deliberations will explore key topics including: 1) SDGs and Social Protection and Labor Standards; 2) Entrepreneurial Ecosystems and Mitigating Risks; 3) Challenges and opportunities for Public - Private Partnership; 4) Inclusive Finance and Investment for SDGs; 5) Affordable and Clean Energy: Prospect, Achievements and Challenges; 6) Infrastructure Development for Commerce and Industries and 7) Capacity Development for ICT and Technology Sustainability

Gazette Classification: Classes/Workshops, Conferences, Education, Lecture, Social Sciences, Sustainability
Organization/Sponsor: International Sustainable Development Institute (ISDI), SHINE Initiative (Sustainability and Health Initiative for NetPositive Enterprise) of the Harvard T.H. Chan School of Public Health and Harvard Law School's Labor and Worklife Program
Speaker(s): Dr. Chantal Line Carpentier, New York Office Chief for the UN Conference on Trade and Development (UNCTAD) and Iqbal Quadir, Founder and Director Emeritus of the Legatum Center for Development and Entrepreneurship at the Massachusetts Institute of Technology.
Directed By: Mohammed Yousuf
Cost: Free and open to public
Ticket Web Link: www.isdiworld.com
Contact Info: [email protected]
More info: www.isdiworld.com


Date:
Friday, May 12, 2017 (All day)