Radcliffe Institute for Advanced Study
Johnson-Kulukundis Family Gallery, Byerly Hall
8 Garden St.
Cambridge, Mass.
Mon., June 19, 2017, 12 – 5 p.m.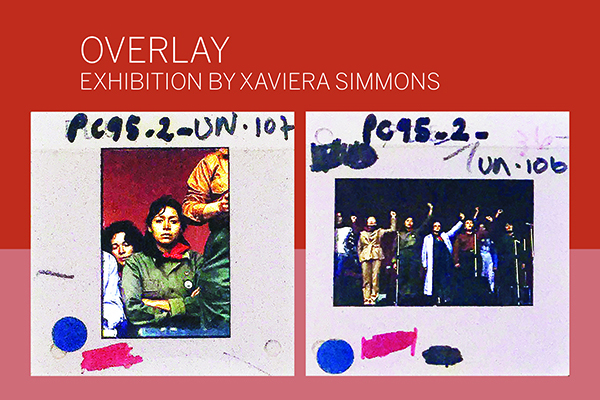 From April 26 – July 1, the exhibition will be open Monday through Saturday from 12 p.m. to 5 p.m. 
Overlay, an exhibition created by the multimedia artist Xaviera Simmons, uses text-based video, photographs, and soundscapes to feature characters rooted in stories and historical narratives found in the archives of the Radcliffe Institute's Schlesinger Library on the History of Women in America. 
Simmons engaged with a set of Schlesinger collections that resonate with long-standing explorations—cookbooks, first-person travel narratives, images of women at work, architects, and health workers, among others. She distilled this multitude of voices and places them in a new contextual space, overlaying diverse languages and presenting a diverse cross section of figures to enliven and inhabit the landscape of the gallery. The installation provides these women new voices and audience, which is especially significant for people who might not have been afforded the same possibilities due to gender, lineage, and privilege. 
Overlay brings together and further develops numerous strands of Simmon's artistic practice: her engagement with the archive, film, performance, sculpture, photography, the senses, and her situating of select aspects of the past into present and future tenses.

Gazette Classification: Art/Design, Exhibitions
Organization/Sponsor: Radcliffe Institute for Advanced Study
Speaker(s): Xaviera Simmons, Multimedia Artist
Cost: Free
Contact Info: events@radcliffe.harvard.edu
More info: www.radcliffe.harvard.edu…


Date:
Monday, June 19, 2017 - 12:00