HEBS Pursuing your Passions Series
Science Center
Sat., May 3, 2014, 12 – 4 p.m.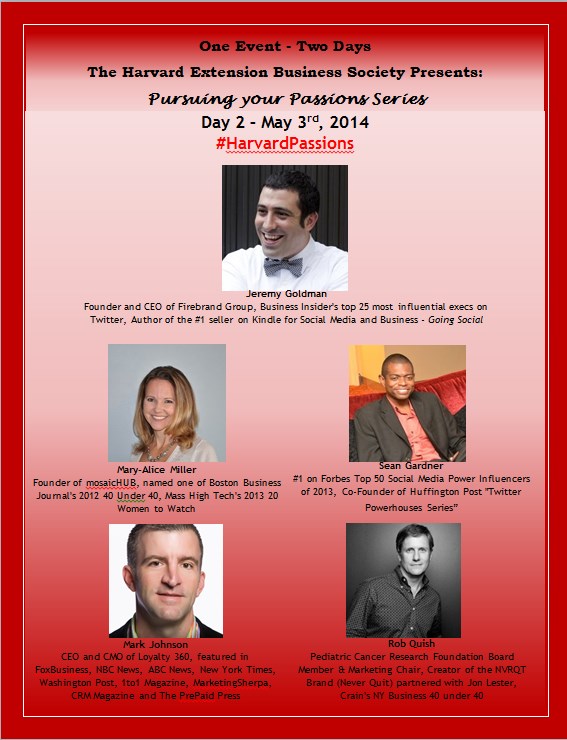 Harvard Extension Business Society is once again offering a great opportunity to learn, exchange ideas, and get involved.
Join us on Saturday, April 26, and Saturday, May 3, for our annual business conference - "Pursuing your Passions" series.
The conference is a two-day event organized at Harvard University for all Greater Boston area schools around the theme of social media, branding, time management and work-life balance.
The Harvard Extension Business Conference
~ Pursuing your Passions Series~
Saturday, April 26th and Saturday, May 3rd
Science Center, 1 Oxford Street, Cambridge
#HarvardPassions
DAY 1 - Saturday, April 26 - noon to 4 p.m. features:
•Opening keynote address by Rana el Kaliouby, lead inventor and co-founder of Affectiva, one of Entrepreneur Magazine's 7 Most Powerful Women to Watch in 2014.
•Pitch Competition for start-up companies. Attendees will be invited to use Affectiva's Facial Recognition software throughout the competition. The competition winners and runners-up will receive $1,000 cash prize, exposure to high-level executives and post-event mentors. For participation rules and application, please see the HEBS website.
•Closing keynote address by Linda Cureton, CEO of Muse Technologies, former CIO of the technology departments at NASA and the Alcohol, Tobacco and Firearms Bureau.
DAY 2 - Saturday, May 3 - noon to 4 p.m. features:
•Opening keynote address by Jeremy Goldman - Founder and CEO of Firebrand Group, Business Insider's top 25 most influential execs on Twitter, Author of the #1 spot on Kindle for Social Media and Business - Going Social: Excite Customers, Generate Buzz, and Energize Your Brand with the Power of Social Media.
Panel Discussions and Training Workshops to be delivered by:
•Mary-Alice Miller, founder of mosaicHUB, named one of Boston Business Journal's 2012 40 Under 40, Mass High Tech's 2013 20 Women to Watch.
•Sean Gardner, ranked #1 on the Forbes Top 50 Social Media Power Influencers of 2013, is the co-founder of the Huffington Post "Twitter Powerhouses Series," and is an ambassador and digital volunteer for GivingTuesday.org for the U.N. Foundation.
•Mark Johnson - CEO and CMO of Loyalty 360, featured in FoxBusiness, NBC News, ABC News, New York Times, Washington Post, 1to1 Magazine, MarketingSherpa, CRM Magazine and The PrePaid Press.
•Rob Quish, board member and marketing chair of the Pediatric Cancer Research Foundation, creator of the NVRQT Brand (Never Quit) partnered with Red Sox Pitcher Jon Lester, Crain's NY Business 40 under 40.
For speaker bios and the workshop details, please visit the HEBS Website.
Special thanks to KW Commercial and Keller Williams International Realty for sponsoring our pitch competition on April 26.
Get your tickets: harvardpassions.eventbrite.com
Join the event on Facebook: www.facebook.com…
Official event website: hebs.dce.harvard.edu
**Space limited due to close engagement with high-profile industry leaders and high-impact nature of the workshops. Reserve your tickets BEFORE April 24 to avail happy hour discount**
We hope you can make it to this impactful event.

Gazette Classification: Business, Conferences, Wellness/Work Life
Organization/Sponsor: Harvard Extension Business Society (HEBS)
Speaker(s): Day 1 (4/26/14), Rana el Kaliouby, Linda Cureton, Day 2 (5/3/14), Jeremy Goldman, Mary-Alice Miller, Sean Gardner, Mark Johnson, Rob Quish
Ticket Web Link: harvardpassions.eventbrite.com
Contact Info: [email protected]
More info: hebs.dce.harvard.edu


Date:
Saturday, May 3, 2014 - 12:00