I Declare at My Own Risk, a one-woman show by Alina Serban
Barker Center (Room 110), 12 Quincy St., Cambridge, Mass.
Sun., Apr. 9, 2017, 6:30 – 8:30 p.m.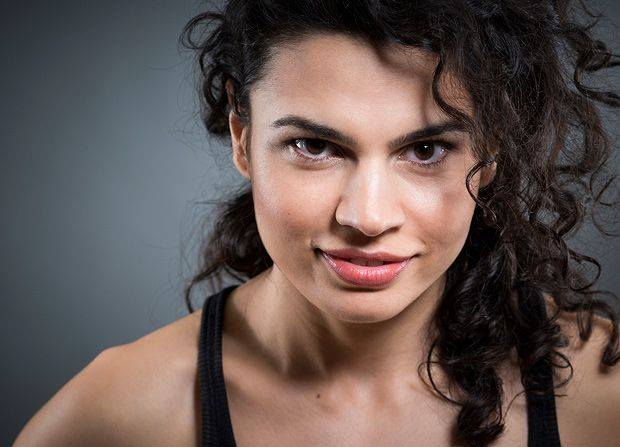 Culture Beyond Borders: The Roma Contribution, Harvard FXB's Fifth Annual Roma Conference, debuts with Alina Șerban's illuminating and highly acclaimed examination of conflicting identities, social discrimination, and the redemptive force of self-expression. The performance, inspired by the autobiographical story of the actress, a Romanian from the Roma minority, follows the dilemmas, challenges and revelations that accompany a girl from a poverty-stricken Roma community in Bucharest on her sinuous way to social emancipation as a performer trained in some of the best artistic schools in the world.
I Declare at My Own Risk has been widely performed across Europe in countries including Romania, Hungary, Italy and France, and has gathered considerable critical acclaim. In the UK, the play was performed at the Royal Academy of Dramatic Art – RADA Festival in 2013 and was subsequently offered a development workshop at Oval House Theatre and a short performance run at Tara Arts in 2014. Hobo Theatre Company presented a full production of the play in autumn 2016.
'Very occasionally I come across someone who is like a rising star, a force that is bright, unstoppable and has an impact on anyone who sees it. I saw Alina Şerban's one-woman-show in Bucharest and it was amusing, concise, and unsentimental. It felt authentic and it avoids moralizing about the rights and wrongs of the Roma situation.' –Rupert Wolfe-Murray, Huffington Post
'A troubling metaphor for all forgotten children' –Judith Sibony, Le Monde
Part of the Culture Beyond Borders conference, the show is free and open to the public.
Location: Barker Center, Room 110

Gazette Classification: Theater
Organization/Sponsor: The FXB Center for Health and Human Rights, Berklee College of Music and the following departments and centers at Harvard University: The Center for European Studies, The Committee on Ethnicity, Migration, Rights, The Mahindra Humanities Center, The Department of Music, The Provost's Fund for Interfaculty Collaboration, and the Weatherhead Center for International Affairs.
Directed By: Alina Serban
Written By: Alina Serban
Cost: Free
Contact Info: fxb.harvard.edu…
More info: www.facebook.com…


Date:
Sunday, April 9, 2017 - 18:30