The Impact of Pollution on Planetary Health: Emergence of an Underappreciated Risk Factor
Haller Hall
Wed., Apr. 12, 2017, 4 – 5 p.m.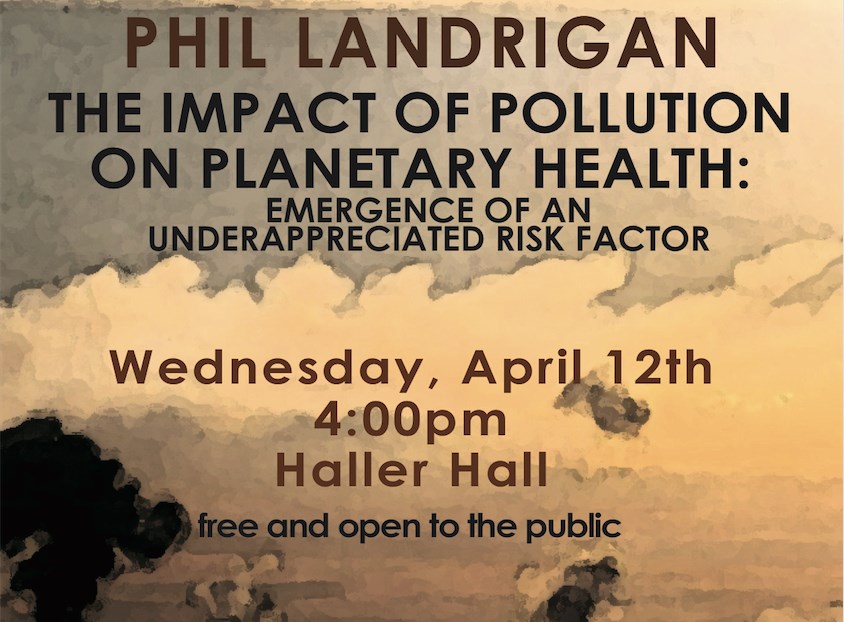 Pollution has quietly become the world's largest health problem. Pollution-related disease causes nearly 10 million premature deaths annually, three times as many deaths as AIDS, tuberculosis and malaria combined. Yet despite their great magnitude, pollution and pollution-related disease are largely overlooked in the global health and international development agendas.
Philip J. Landrigan, M.D., M.Sc., FAAP, DIH is Professor of Environmental Medicine/Public Health and Pediatrics and Dean for Global Health in the Icahn School of Medicine at Mount Sinai. He served as the Ethel H. Wise Professor and Chair of the Department of Preventive Medicine at Mount Sinai from 1990 to 2015.

Gazette Classification: Environmental Sciences, Health Sciences, Lecture, Science, Sustainability
Organization/Sponsor: Planetary Health Alliance, Harvard University Center for the Environment, Harvard T.H. Chan School of Public Health Department of Environmental Health, Harvard T.H. Chan School of Public Health NIEHS Center for the Environment
Speaker(s): Dr. Philip J. Landrigan
Contact Info: erikaveidis@fas.harvard.edu


Date:
Wednesday, April 12, 2017 - 16:00