Museum Highlights Tour by Harvard Student Guides
Peabody Museum of Archaeology & Ethnology, 11 Divinity Avenue, Cambridge, MA 02138
Fri., Jan. 13, 2017, 12:30 – 1:15 p.m.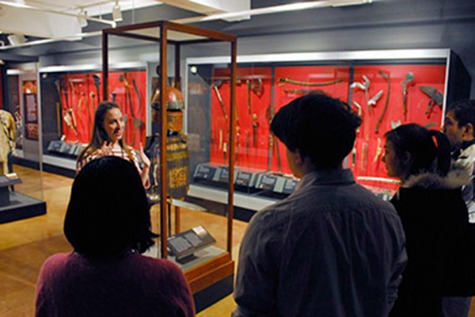 Tours are also offered on Saturdays and Sundays at 1p.m. and 2 p.m.
Meet in the museum's side lobby near the water fountain. Tours are 45 minutes. Free with museum admission; no registration required for groups of five or less. For college-age visitors and older. Visit towering Native American totem poles and precious artifacts of the ancient world. See life-size casts of Maya monuments and changing exhibitions such as Wiyohpiyata: Lakota Images of the Contested West, featuring 19th-century warrior art, and Digging Veritas, which explores the archaeology of colonial Harvard, and the newest exhibition, Arts of War: Artistry in Weapons across Cultures. Tours visit highlights on the first and third floors. Guides encourage conversation and are interested in visitor reflections.
For groups of 6 or more, please pre-reserve a scheduled group tour for the day and time of your choice by contacting Reservations at 617-495-3216. Each guide may lead a maximum of 20 people per tour. Larger groups may be divided into two or more sections with multiple guides. Advanced registration is required for multiple guides.

Gazette Classification: Exhibitions, Science
Organization/Sponsor: Peabody Museum of Archaeology & Ethnology, Harvard Museums of Science & Culture
Cost: Free with museum admission
Contact Info: 617-496-1027, hmsc@hmsc.harvard.edu
More info: www.peabody.harvard.edu…


Date:
Friday, January 13, 2017 - 12:30