New Findings in the Field of Negotiation: Research from the PON Graduate Research Fellows
Hauser Hall 104, Harvard Law School
Wed., Apr. 5, 2017, 12 – 1:30 p.m.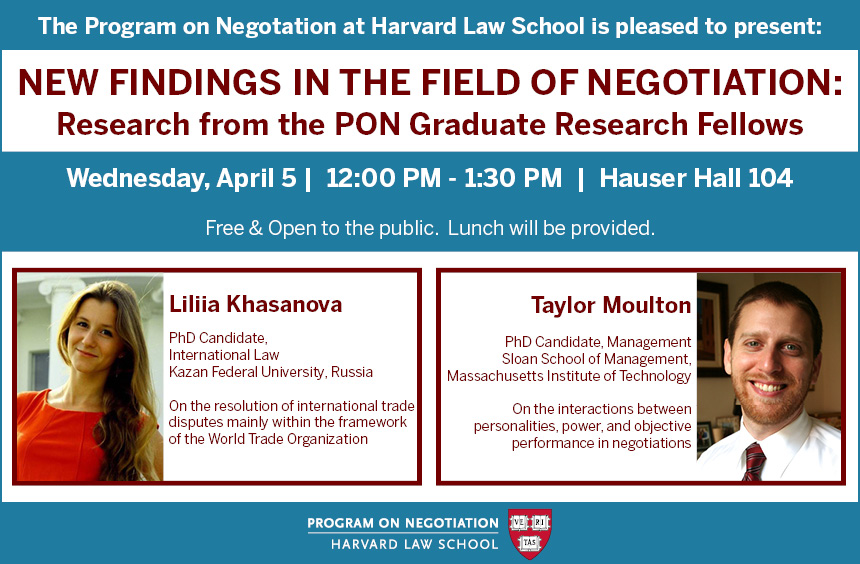 Every year, the Program on Negotiation welcomes a group of doctoral students as Graduate Research Fellows. Our Fellows spend a year at PON researching and writing about current topics in the fields of negotiation and mediation, with the goal of publishing their work after their time at PON.
This lunch provides an opportunity for two of this year's Graduate Research Fellows to share their research findings with the negotiation community. Liliia Khasanova's research focuses on the resolution of international trade disputes mainly within the framework of the World Trade Organization. In his negotiation research, Taylor Moulton investigates the interactions between personalities, power, and objective performance. Join us for fascinating, informal talks, followed by a rich discussion!
Lunch will be provided.

Gazette Classification: Business, Law, Lecture
Organization/Sponsor: The Program on Negotiation at Harvard Law School
Speaker(s): Program on Negotiation Graduate Research Fellows:, Liliia Khasanova, Ph.D. Candidate, International Law, Kazan Federal University, Russia, Taylor Moulton, Ph.D. Candidate, Management, Sloan School of Management, Massachusetts Institute of Technology
Cost: Free and open to the public
Contact Info: Julie Barrett, jbarrett@law.harvard.edu
More info: www.pon.harvard.edu…


Date:
Wednesday, April 5, 2017 - 12:00