Perspectives in Entrepreneurship - Suneel Gupta
Harvard Medical School
Tosteson Medical Education Center (TMEC)
Room 306 (Holmes)
Wed., Apr. 5, 2017, 5 – 6:30 p.m.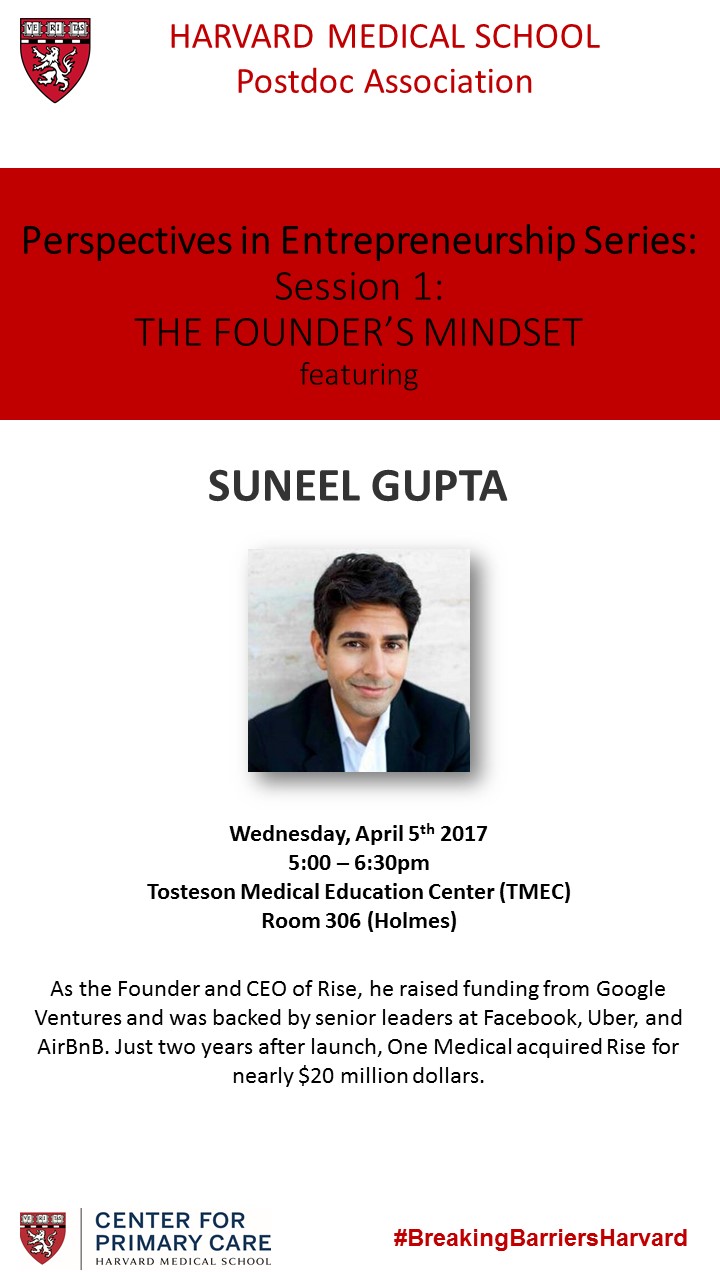 This is the first session in the new PERSPECTIVES IN ENTREPRENEURSHIP Speaker Series. The goal of this ongoing set of talks is to set the stage for would-be biomedical entrepreneurs interested in utilizing their expertise and innate skills to launch commercial ventures in health care.
Because this task seems nebulous at first, we are lucky to have a world expert in entrepreneurship, with a particular talent of simplifying concepts and creating a lucid pathway to developing the necessary mindset.
"The Founder's Mindset" seeks to address this aspect of transitioning from a role in the biomedical sciences and clinical medicine to an active participant in the ideation, vetting, implementation, and other steps germane to entrepreneurship. Please join us for an intimate and interactive talk with our invited speaker.
This session will be the first of three in the series. The series will include:
"The Founder's Mindset" featuring Suneel Gupta
April 5th 5:00 - 6:30 p.m. TMEC 306 (Holmes)
"How Do I Validate My Idea?" featuring Kiran Reddy
May 10th 5:00 - 6:30 p.m. Cannon Room
"Backing Your Idea" Speaker TBD
June 14th 5:00 - 6:30 p.m. Cannon Room

Gazette Classification: Education, Health Sciences, Special Events
Organization/Sponsor: Harvard Medical School, Postdoc Association and Center for Primary Care
Speaker(s): Suneel Gupta, As the Founder and CEO of Rise, he raised funding from Google Ventures and was backed by senior leaders at Facebook, Uber, and AirBnB. Just two years after launch, One Medical acquired Rise for nearly $20 million dollars.
Cost: Free - RSVP Required
Ticket Web Link: www.eventbrite.com…
Contact Info: Leah Riley, leah_riley@hms.harvard.edu


Date:
Wednesday, April 5, 2017 - 17:00