Pots as Post-Its: Daily Life Captured on Ancient Egyptian Ostraca
Houghton Library
Quincy St. & Harvard St.
Cambridge
Wed., June 13, 2018, 9 a.m. – 7 p.m.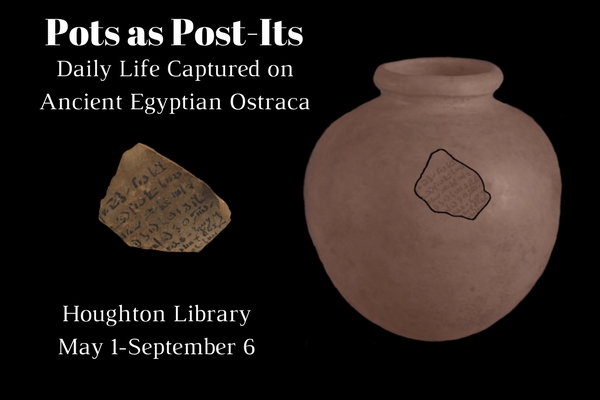 Ostraca (singular: ostracon) are pieces of broken pottery or limestone flakes used to record writing in ancient Egypt. Much cheaper than papyrus, they were used as abundantly as our modern day Post-it note. This exhibition highlights Houghton Library's collection of ostraca discovered on the island of Elephantine in southern Egypt, including receipts, records of goods, taxes, and personal letters written in Demotic, Coptic and Greek. These "ancient Post-its" not only preserve information about daily life on Elephantine, but also show us the island's uniqueness as a multicultural society.
This exhibition was guest curated by Andréa Martinez, Julia Puglisi and Hilo Sugita, all students in the department of Near Eastern Languages and Civilizations, together with and under the guidance of Prof. Dr. Verena Lepper, Principal Investigator of the ERC-Starting Grant Project ELEPHANTINE, and Curator for Egyptian and Oriental Papyri at the Ägyptisches Museum und Papyrussammlung, Staatliche Museen zu Berlin - Preußischer Kulturbesitz, and Houghton Library Visiting Fellow/Joan Nordell Fellow 2017–18.
Visit houghtonostraca.weebly.com to watch a video on the history of Elephantine island and interact with 3-D models of Houghton Library's ostraca collection.

Gazette Classification: Exhibitions
Organization/Sponsor: Houghton Library, Department of Near Eastern Languages and Civilizations, and Project ELEPHANTINE.
More info: houghton75.org…


Date:
Wednesday, June 13, 2018 - 09:00