Alert:

Important Update

In response to the COVID-19 (coronavirus) pandemic, the Admissions & Financial Aid Office staff are working remotely until further notice. Our top priority remains the health, safety, and well-being of our community, on and off campus. Therefore, our offices are closed but our main phone lines and email are operative during normal business hours (9 AM to 5 PM EST). No information sessions or campus tours will be offered at this time. Visitas, our admitted students weekend, will be held virtually.

Last Updated: March 17, 10:06am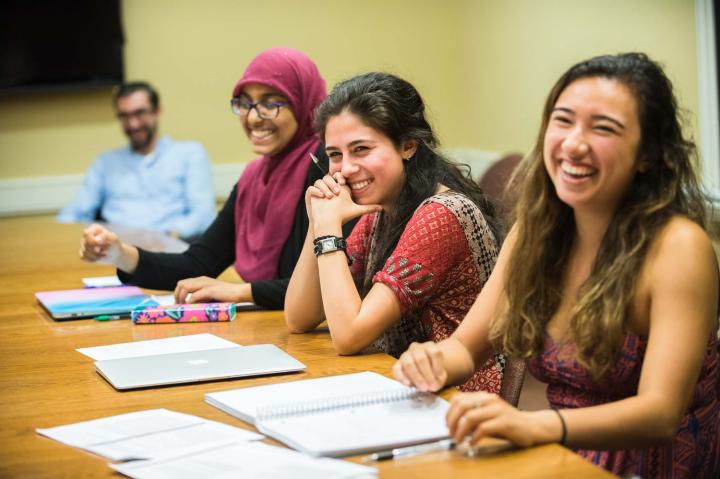 Visiting Undergraduate Students
Overview
Important VUS Admissions Update
In the face of unprecedented uncertainty and anxiety surrounding COVID-19, we understand and anticipate delays facing applicants and their current institutions in providing us the materials we need to fully evaluate applications. As a result, we may be delayed this year in sending VUS admission decisions. We hope to be able to do so before July 1, but will provide any new information on this website as it becomes available.
Following University guidance regarding COVD-19, the Admissions Office staff are working remotely until further notice. The VUS Admissions team will be available to answer questions by email at adm-vus@fas.harvard.edu Monday through Friday between the hours of 9am and 5pm EST. We will not be available by phone.
We know this is a very difficult and stressful time for you as you consider your plans for next year, and we are grateful for your patience and your efforts.
The Visiting Undergraduate Students (VUS) Program at Harvard College welcomes students enrolled in colleges and universities around the world to spend a semester or full year studying at Harvard.
Frequently Asked Questions
About the VUS Program
Add Harvard College to your undergraduate experience by spending a term or full academic year studying as a Visiting Undergraduate Student (VUS). We welcome the unique insights visiting students bring from their current universities around the world.
In addition to enrollment in courses at the college, you can take advantage of our many museums, laboratories, theaters, and extracurricular activities, all in the rich cultural and historical setting of Cambridge and Boston. 
You should consider applying to the VUS program if you:
Are currently enrolled in full-time, undergraduate study in the U.S. or abroad
Have a strong academic and personal record at your current university
Feel your interests would be well served by undergraduate courses which may not be offered normally in your home institution but are offered by the Faculty of Arts and Sciences (FAS). View our course catalog for full listings.
Please note that visiting undergraduate students are not eligible for financial aid, so you will need to be prepared to cover all tuition and other costs.
Application Timeline
Admission to the VUS program is offered twice per year. Students can apply to start in the fall or the spring term. Students applying for fall admission can enroll for either one semester or the full academic year. Please be aware that Visiting Undergraduate Students are required to arrive one week ahead of the first meeting of classes for a mandatory orientation and must be on campus for final exams.
Fall term or full academic year
Application opens: February 1
Application deadline: April 1
Notification of admission: We will notify applicants as soon as we are able to during the summer
Spring term
Application opens: August 1
Application deadline: October 1
Notification of admission: by December 1
Applications must be postmarked by the date of the deadline. Ordinarily, you are not allowed to defer admission, so please apply for the appropriate term.
How To Apply
Detailed VUS Application Steps
Other Application Requirements
Take a Virtual Tour
Use our Virtual Tour to discover spaces that aren't even available on an in-person campus tour, such as classrooms, laboratories, residence halls, and more.
Tuition & Fees
When you spend a term or year at Harvard, you will need to pay the costs listed below. Visiting Undergraduate Students are not eligible for Harvard financial aid, and you must secure your own funding. In order to satisfy U.S. Immigration requirements, international students must demonstrate that they can afford all expenses, including tuition, fees, living expenses, and travel.
While you are responsible for securing your own off-campus housing, you will need to show that you can afford the room and board estimations shown below before arriving at Harvard.
Most Harvard College students are enrolled in four courses (16 credits) per term, but you may choose to enroll in fewer. If you are an international student, you are required by United States immigration laws to enroll in a full-time program of study in order to obtain your visa.
Tuition Rates Per Course for 2019 - 2020
Tuition Only

| | | |
| --- | --- | --- |
| Course Rate | Per Semester | Per Year |
| 1 | $5,966.25 | $11,932.50 |
| 2 | $11,932.50 | $23,865 |
| 3 | $17,898.75 | $35,797.50 |
| 4 | $23,865 | $47,730 |
Room & Board and Fees for 2019 - 2020
Room & Board and Fees Only

| Cost | Per Semester | Per Year |
| --- | --- | --- |
| Health Services Fee | $603 | $1,206 |
| Student Services Fee | $1,494.50 | $2,989 |
| Blue Cross Blue Shield | $1,850 | $3,700 |
| Tuition | $23,170 | $46,340 |
| Room | $5,463.50 | $10,927 |
| Board | $3,377.50 | $6,755 |
| Personal | $2,096.50 | $4,193 |
| Travel | $2,500 | $5,000 |
| TOTAL | $40,555 | $81,110 |
Housing & Advising
Normally, Visiting Undergraduate Students are not eligible to apply for on-campus housing. However, for some terms, a limited number of rooms will be available to VUS, though cannot be guaranteed. Please note that these rooms would not be in any of the twelve residential Houses and all Visiting Undergraduate Students will be affiliated with the Dudley Community. More information will be provided to students after they are admitted.
As always, students are welcome to find their own accommodations. If you choose not to live in the housing, if available, securing an apartment in the Cambridge area can be competitive and time-consuming, and it is important to allow sufficient time to find accommodation. When accepted, begin your search as soon as possible. It is critical to secure housing before arriving at Harvard.
Harvard University Housing cannot secure off-campus housing for undergraduate students, but they do provide a number of online resources and can answer questions that are common for students who will be new to Cambridge. (e.g., Which residential areas are close to the mass transit system? Which locations are within walking distance to Harvard Yard? What is a reasonable rental rate? etc.). After you have been accepted and decide to matriculate, you can access a Harvard University affiliate database of private market rentals and sublets.
Advising
To help ensure your time at Harvard is successful, we provide advising resources specifically for Visiting Undergraduate Students.
Our advisers:
Give you an extensive orientation upon arrival and approve your final course selection
Meet with you by appointment throughout the term to discuss academic issues and monitor your progress
Hold regular open office hours
Help you access specialized advising resources
Organize social gatherings with other visiting undergraduates
Contact VUS Admissions
If you have any questions about the Visiting Undergraduate Students admissions, please contact us at adm-vus@fas.harvard.edu or 617-495-9707. We're here to help.