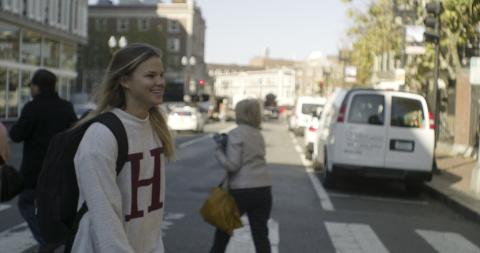 What to Expect After You Apply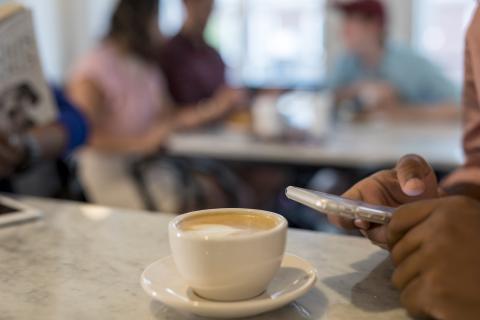 Tracking Your Application
After you submit your application through the Common Application or Coalition Application (we have no preference which application you use), you'll receive an email confirmation from us with a link to the Applicant Portal. Please note that we don't start sending application acknowledgment emails until mid-September, so if you submit your application very early, you may not receive the email until this time. In the portal, you can:
Update your email address, mailing address and other contact information
View your personalized application checklist
Confirm the testing information we have received
Change your financial aid application status
If submitting scores, self-report your test scores
Change your application round (Restrictive Early Action to Regular Decision)
Upload additional documents and materials
Withdraw your application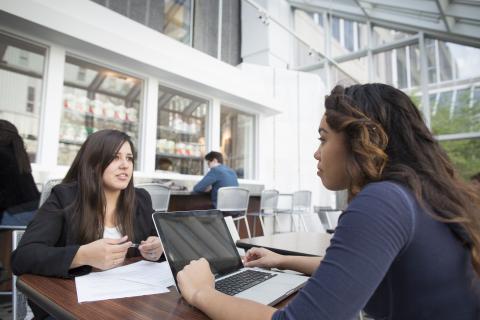 Have a Conversation with an Alumni Interviewer
More than 10,000 alumni/ae help us recruit students from all 50 states and from around the world. For the Class of 2026 application cycle, we expect these conversations to be conducted via Zoom or other video conferencing platforms due to the public health restrictions imposed by the COVID-19 pandemic.
There is no need for you to arrange this conversation. If it is possible to arrange an interview, you will be contacted by one of our alumni interviewers after you have submitted your application for admission. Ordinarily this person will reach out to you by email to arrange a time for this conversation and we try to connect you with alumni from your local community, although this is not always possible.
It is important for you to know our alumni interviewers do not have access to your application – they only have your name, your contact information and the name of your high school. Any recording of this conversation is strictly prohibited, either by you or your interviewer.
A few tips:
It is best to use a computer for this video conversation and not your cell phone. If this is not possible, let our alumni interviewer know of your constraints and we will do our best to accommodate your circumstances. Alternatively, your interview could be conducted by phone.
Be aware of your background and consider using appropriate virtual or neutral options.
Try to find a quiet room or space for this conversation and make sure there is no one else in the room. These conversations are always best if you have the opportunity to engage with your alumni interviewer without the distraction of a third party presence.
Be yourself and use this opportunity to learn more about the Harvard community from someone who has been a Harvard student.
There is no need to dress in formal attire. Consider wearing something you would wear to school.
Please know that we will reach out to you if we would like to schedule an interview. You do not need to take any additional actions to set up an admissions interview. If an interview cannot be arranged, you will not be at a disadvantage during the application process.

International applicant interviews
Please refer to the country list below to learn more about the availability of interviews in your country.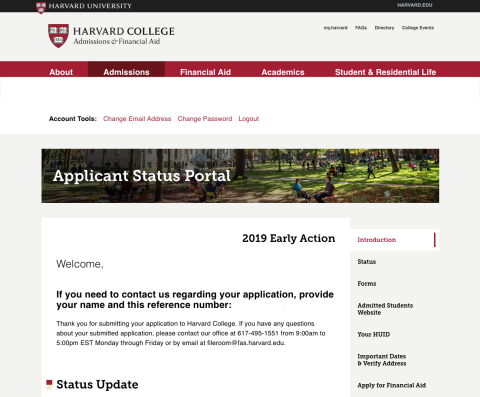 Viewing Your Decision
Most importantly, the Applicant Portal is where you'll view your admissions decision. Most applicants receive an email reminding them to check their portal and view their decision about 15 minutes after decisions are released. However, if you are logged in to the portal at the time that decisions are released, you may not receive this email.
When you log in, you'll see a crimson-colored banner with "Status Update". Click on that banner to view your letter.