Overview
Expand Your Mind. Explore Your Passion.
Your education doesn't stop at the classroom door. Student activities are a vital part of the Harvard experience, complementing your studies and creating opportunities for friendship and self-discovery.
Athletics
Harvard Athletics offers forty-two Division I intercollegiate varsity teams for women and men — more than any other Division I college — as well as numerous club and intramural sports and recreational activities. More than eighty percent of our students participate athletics of some kind.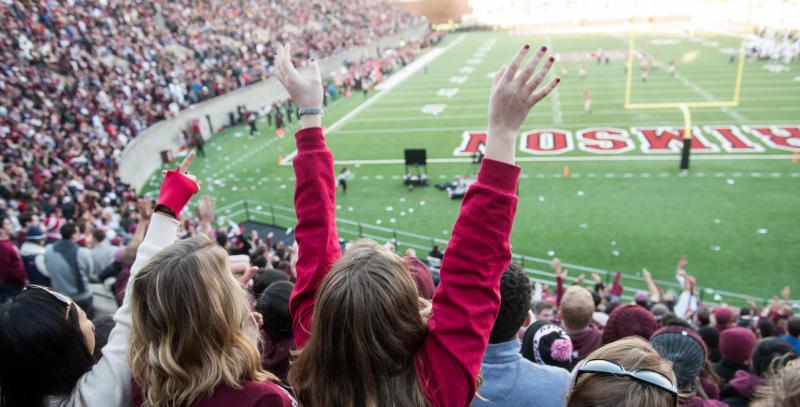 Varsity teams include baseball, basketball, crew, cross-country, fencing, field hockey, football, golf, ice hockey, lacrosse, rugby, sailing, skiing, soccer, softball, squash, swimming and diving, tennis, track and field, volleyball, water polo, wrestling.
Club teams include aikido, archery, badminton, ballroom dance, basketball, bodybuilding, bowling, boxing, cheerleading, cycling, fencing, figure skating, hapkido, juggling, jujitsu, kendo, lacrosse, polo, rugby, Shaolin kempo, Shotokan karate, skiing, soccer, table tennis, tae kwon do, tai chi/kung fu, tennis, ultimate Frisbee, volleyball, and wushu.
Student Organizations
Join one of seven orchestras. Tour the world in an a cappella group. Write for the only daily student newspaper on the Associated Press wire.
Here is a sampling of our more than 450 student organizations:
Join ROTC
Join ROTC
Serve your country and gain valuable leadership experience through the Reserve Officers' Training Corps (ROTC). ROTC is an officially recognized student activity, and your military service counts as public service. To join ROTC at Harvard, cross-register with one of the three service programs:
Leadership & Service
Giving back to communities and serving actively in government are ideals that are fundamental to Harvard's mission. Whether you have political aspirations, seek a career in nonprofit or non-governmental work, or simply enjoy service for the sake of service, we have activities and organizations—as well as a variety of funding sources—that support your goals to serve those around you.