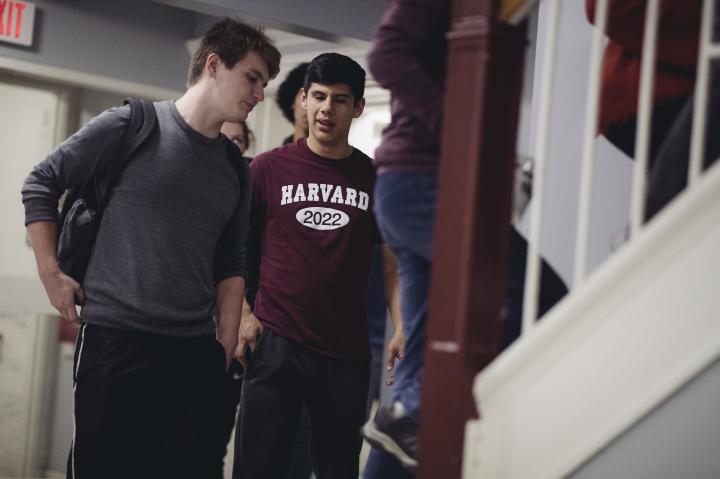 Additional Funding & Procedures
Overview
Support for All of Your Endeavors
As a Harvard student, you have access to all of the resources and opportunities at the University. Our programs and policies listed below are designed to help you take advantage of those opportunities during your four years at Harvard. We always encourage you to contact the Griffin Financial Aid Office and speak with a financial aid officer if you have any questions.
Request a Reconsideration
Sometimes things change. You may always appeal to the Financial Aid Committee for a reconsideration of your award decision if your family experiences a significant change in circumstances. We meet on a regular basis throughout the year to discuss appeals for more aid. If you have new information to bring to our attention, you should contact us to request a review of your award decision. It is usually best to speak directly with a financial aid officer first, and then follow up with our reconsideration request form and any supporting documents as instructed by the officer.
Request a Refund
If your aid (and loan) credits exceed your billed expenses on your Student Account, you can request a refund of that credit using our refund request form. You must be enrolled in Direct Deposit through the Student Accounts Office to request a refund.
Emergency Expenses
The Beneficiary Aid Program provides additional financial assistance to students who are faced with emergency term-time medical and dental costs that will prove to be an extreme financial hardship for their families. Students receiving Harvard Scholarship assistance who incur unforeseeable, non-recurring expenses may apply for Beneficiary Aid to help cover a portion of those costs.
Purchase a Computer
Computer Loans
The Financial Aid Office offers students receiving need-based Harvard Scholarship the opportunity to borrow additional funds for the purchase of a computer, computer equipment, and/or computer software. You may borrow up to $1,500 from the Harvard Computer Loan Program during the time you are an undergraduate. In order to apply, you must submit a complete financial aid application for the academic year and be eligible for need-based Harvard Scholarship.
Outside Award Computer Reimbursement
If you are receiving Harvard Scholarship assistance and have outside awards, our policy allows for a dollar-for-dollar reduction in your term-time work expectation. The amount over that replaces your Harvard Scholarship dollar-for-dollar. If this situation applies to you, you may petition for a one-time exception to Harvard's outside award policy. This exception allows you to apply up to an additional $1,500 of your outside awards toward the purchase of educationally relevant technological devices before your Harvard Scholarship is adjusted. You may not be eligible for this program if your outside awards exceed your financial need.
Studying Abroad
Students who receive Harvard grant assistance are eligible to transfer their financial aid to an approved term-time study abroad program.
Summer School
If you receive need-based aid during the regular academic year, you are eligible for a Harvard Loan to help with your summer school costs.
Student Loans
Although we do not expect students to borrow, you may wish to use a student loan to spread out your college costs over time, or to replace your work expectation.
Parent Loans
Your family may choose to pursue loans to spread the cost of education over a number of years. You can take out loans to cover the entire cost of education, or just a portion of the cost, as a supplement to contributions from family income and assets.
We will help you navigate both federal and private loan options. While there are no income restrictions, you must pass standard tests of creditworthiness. All loans may be prepaid partially or in full with no penalty.
If you intend to borrow a parent loan, applications are typically available after June 1st and should be submitted by August 1st in order for loan credits to be available toward registration. Please apply for only one parent loan at a time