When people ask me about what it's like to be a Harvard student, it's hard to pinpoint any one thing to talk about.
I might talk about the classes I take, the major I'm in, the friends I have, or the clubs I do. I might talk about my dorm or the cafe that I like to study at or the gym that I go to far less often than I should. What I don't get to talk about, when having those conversations, is what a more mundane day looks like as a Harvard student. After all, it's not every day that I'm running back and forth to club meetings or grinding for hours on a paper in the library! Here's a tribute to one of my simpler days as a Harvard student this spring:
9:00 AM: First alarm goes off.
9:30 AM: Second alarm goes off.
9:45 AM: Third alarm goes off. I crawl out of bed in my Winthrop House suite and grab my shower caddy. As I move from my bedroom to the common room I can already hear my roommate, ten steps ahead of me, blasting music in her suite. When I get back from the bathroom I throw on my clothes — the unofficial fall-to-early-spring Harvard uniform is a sweater and leggings — and, if I have time, some mascara. As I'm grabbing my backpack, my roommate puts in a mobile order at Dunkin' Donuts for us to pick up on the way to class. We speed walk up the red brick sidewalks of JFK St. en route to Harvard Yard.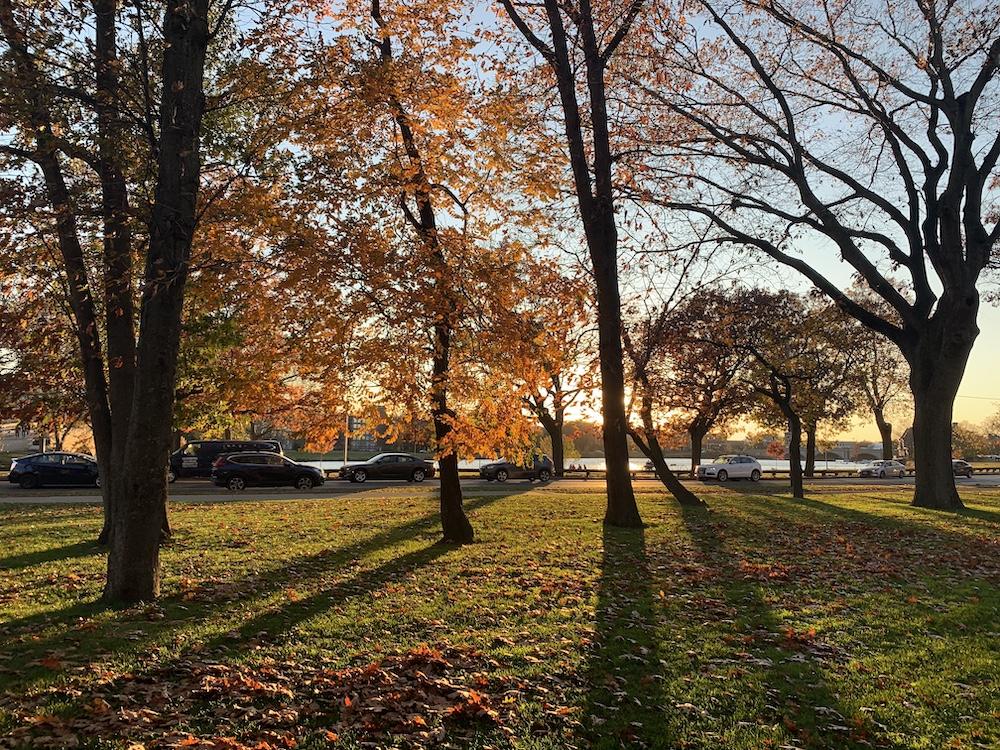 10:30 AM: Bacon, egg, and cheese croissants and coffees in hand, my roommate and I settle into the front row of our English lecture: "Modern Women Writers." I study Social Studies and English and my roommate studies Neurobiology and African American Studies, so we like to find classes in the humanities that we can take together. We pull out copies of Allison Bechdel's "Fun Home" — mine in print and hers on her laptop — and get ready to take notes.
12:00 PM: After lecture, we grab lunch in Winthrop House. I don't know if this is a conspiracy theory on my part, an unspoken rule, or just a fact of the lunch schedule, but on Wednesdays the dining halls almost always serve popcorn chicken. We unpack the lecture and chat about pop culture or the day ahead, sometimes alone and sometimes with other friends from the class or from our House. We fill compostable to-go cups with popcorn chicken and head off to our respective destinations: her to a shift at Widener Library and me to a gen-ed class called "Evolving Morality" in Yenching Library, which is near the Harvard Divinity School campus.
2:45 PM: Once classes are done for the day, I have the afternoon and evening to spend on readings, homework, and extracurricular activities. After my lecture, I pop in my headphones and walk from Oxford St. to the Office of Admissions and Financial Aid for a shift with the Harvard First Generation Program. I spend a few hours answering emails from prospective students and working on blog posts (like this one!) before heading back to Winthrop House for dinner.
6:00 PM: Post-dinner, I stop by 14 Plympton St., the building for our campus newspaper The Harvard Crimson. My main extracurricular commitment is chairing the paper's Arts section, so I'm in the building to meet with editors and writers, produce a print section of the paper, and participate in building-wide meetings and activities at least three or four days a week. The amount of work I get done depends on how distracted I am chatting with my friends who write for the Arts section and for other sections of the paper like News, Editorial, and our magazine, Fifteen Minutes!
8:00 PM: I head back to Winthrop House for the last time, and settle into my suite for the rest of the evening. I make a list of my readings for the next few days and swear I'll get through all of them ahead of time — even though I know it's unlikely. As a Social Studies concentrator, this means a lot of social theory and academic journal articles. My roommate keeps me company in our common room, working on problem sets for STEM classes. We occasionally stop working to chat, grab a late night snack from the dining hall, or watch an episode of Criminal Minds — inevitably staying up way later than we probably should.
At the end of the night, I set my alarms and get ready to do it all again the next day!