This is a guest blog written by Joseph McDonough, an Air Force ROTC cadet. 
As a cadet in Air Force ROTC (AFROTC), I have some experiences pretty unique to Harvard. Although AFROTC is operating virtually this semester, this article represents what I hope you too will experience, should you follow my path!
It's 8:00 a.m. and my alarm sounds. There goes your first myth: ROTC cadets do not always wake up obscenely early. As a cadet in the AFROTC program at Harvard, my wake-up call is this pleasant time most days. I pull back my covers to get ready for the day.
Once per week I have class and lab for ROTC over at MIT. Today is that allotted day, so I pick my uniform off its hanger. A minute later, I'm all tucked-in and tied-up, heading out the door of my dorm. My uniform sets me apart from the morning mass migrating across campus. Some of the senior cadets have told me stories of people stopping them to thank them for their service. I've not yet had that exact encounter, but I love fielding my friends' questions about ROTC.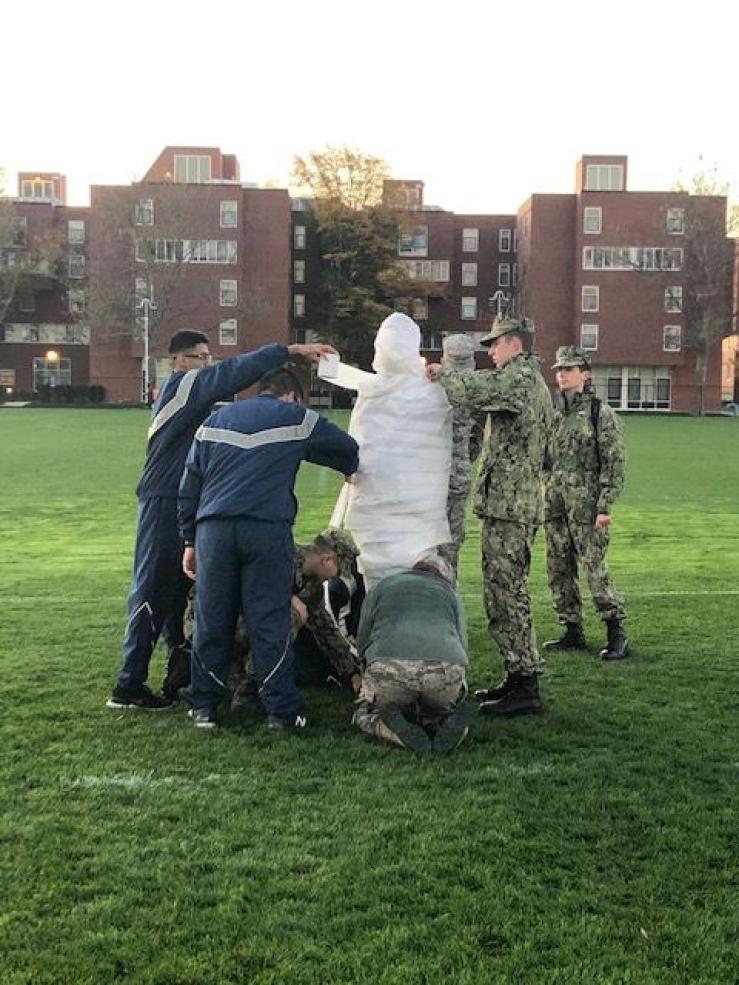 I explain that ROTC prepares me to become an officer in the Air Force after graduating; I've committed to at least four years of service. "Awesome," "impressive," or some other expression of respect is probably the most common reaction. AFROTC is still relatively young on Harvard's campus, but my classmates, professors, and advisors are all incredibly supportive. Harvard is a good place to be a cadet.
First thing this morning are classes. I'm off to Russian, where we're working through a Soviet-era satirical play. Next is philosophy, a class I share with an upperclassmen cadet. Since he outranks me, I have to greet him formally. The trick is that the class starts right when the proper greeting changes from "Good morning, Cadet Kenworthy" to "Good afternoon, Cadet Kenworthy." Attention to detail is important in ROTC. But I digress. Our cadre (the officers who oversee the program) emphasizes that academics take priority for cadets. Safe to say, we take it to heart. My friends in AFROTC study everything from government to astrophysics to mechanical engineering. I'm thinking of studying philosophy.
I have a couple of hours before I have to catch the bus to MIT, so I decide to go for a midday run on the Charles. It's an absolutely beautiful New England day, and there's nowhere I would rather be. Although only two workouts per week are required of me, I try to put aside some time every day. Exercise is an important balance to intense study, and ROTC's emphasis on personal fitness keeps me sharp.
After working out, it's time to head to MIT. I make my way to the bus stop—ROTC covers all my bus fares—where my friends are already waiting for me. The bus ride to and from MIT is one of my favorite parts of the day. We spend the ten-odd minutes chatting, joking, and making sure we're all prepared. Today, we had to memorize the military Code of Conduct. The Code's first article rings in my head: "I am an American, fighting in the forces which guard my country and our way of life. I am prepared to give my life in their defense." Weighty stuff—but looking at my laughing friends across from me and the bustling city outside the bus window, it makes sense.
Harvard emphasizes individuality. The College has pushed me to pursue my beliefs, my passions, my direction. Drill reminds me that we live in step with one another, that we are interdependent. ROTC teaches community: a daily practice of serving something larger than yourself. 
First order of the day after arriving at MIT is to report to Aerospace Studies class. AS lectures cover the theory of serving in the Air Force, from command structure to leadership styles. MIT's AFROTC program draws from four different schools—MIT, Harvard, Tufts, and Wellesley—and I attend class with cadets from all of them. Each school's character is unique, and I love the chances to do an early-morning workout at Tufts, visit Wellesley's wooded campus, or hear about what the engineers are dreaming up at MIT.
We finish up AS class, and next is Leadership Lab. LLAB (you'll have noticed by now that there's an acronym for everything) is the most important part of AFROTC. It's here that we learn all the technical aspects of military life and practice leading. The two-hour session is completely cadet-run: the juniors and seniors organize and lead exercises, and the freshman and sophomores participate. As a sophomore, my focus is on beginning to lead effectively; I take charge in simulations and guide my group in finding solutions.
Entering college, I felt I had some more abstract traits of leadership—charisma and inspiration, perhaps—but was not as confident in my logistical and administrative abilities. To that end, LLAB has been invaluable. Whether working on a math project or planning a forum for a club, I know I can ably order a situation.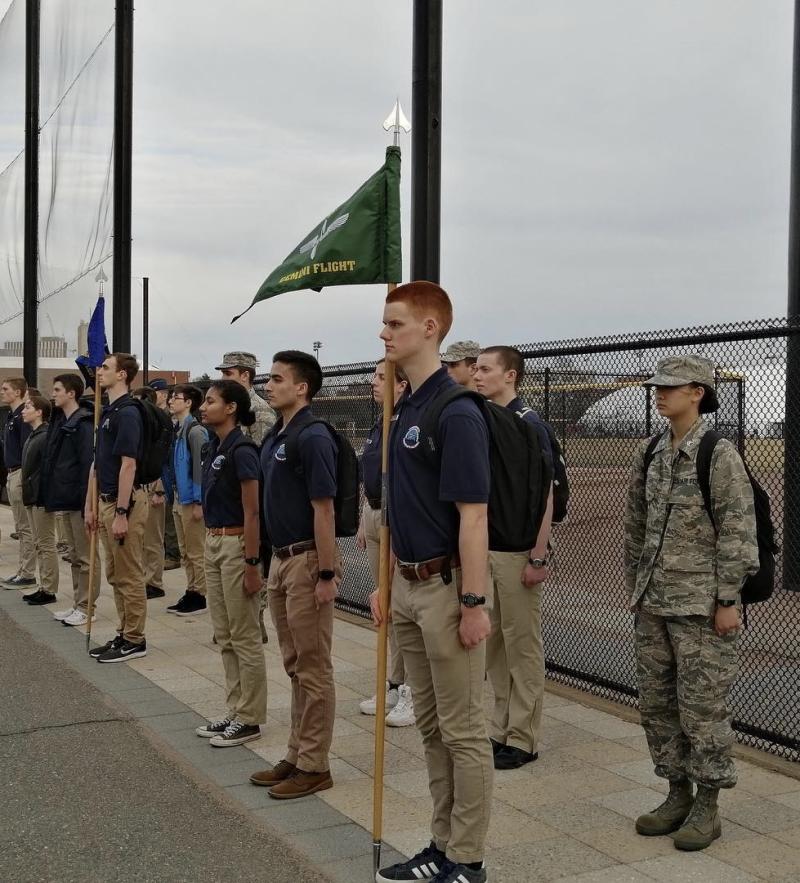 This week in LLAB, we're working on drill. Drill is marching in formation, probably one of the first images that enters your mind when you think of the military. There's an important lesson to be learned in drill. It's hard, especially for me; everyone has to be perfectly in step. You have to bend every movement—the sway of your arms, the roll of your heel, the gaze of your eyes—to fall in line with the group, completely responsive to the commander's call. Harvard emphasizes individuality. The College has pushed me to pursue my beliefs, my passions, my direction. Drill reminds me that we live in step with one another, that we are interdependent. ROTC teaches community: a daily practice of serving something larger than yourself.
There's something to be said for finding identity in community. After LLAB, all the Harvard cadets get dinner together. Sitting at our table, thinking back on my day, I realize that I never feel more alive, more me, than when I am a part of a whole—when I am needed and, in turn, need those around me. In ROTC, I fit in to the whole.
To read more about the AFROTC program visit U.S. Air Force ROTC.