My Harvard experience was valuable, even if it wasn't happening under normal circumstances.
After receiving my acceptance letter from Harvard in March, I had to begin to acquaint myself with the idea of actually attending. What would it feel like to walk past the John Harvard statue as I walked to class? How would it feel to sit in Widener library among the infinite stacks of books? Unfortunately, my daydreaming was also accompanied by the overwhelming news surrounding COVID-19, and more and more, I could see that I wouldn't be living my Harvard dream the way I had imagined. 
In July, I received news that my first semester at Harvard could be spent on campus, but my classes would be remote. As I signed community compacts, attended trainings, and reviewed rules, I realized that my first year of college would be just as unconventional as my last semester of high school. I was sad that I wouldn't be able to sit in the Loker Reading Room in Widener Library, or introduce myself to someone new in my class, or choose our "spot" in the dining hall with my friends and roommates. But these worries aside, I was still excited to get to a campus I had been so excited about for such a long time. As a first-generation student, attending Harvard hadn't always seemed like a possibility, and now, there was a double newness to my college experience. Entering my dream school in the middle of a pandemic was certainly not ideal, but it was my reality, and I was determined to make the best of it. 
A few weeks before our move-in, I FaceTimed my roommates and could tell, immediately, that we would get along really well. We anxiously counted down the days to our move-in dates in late August and together began to think of places we wanted to explore on campus and in Cambridge, even if we had to do it with masks on and socially distant from others.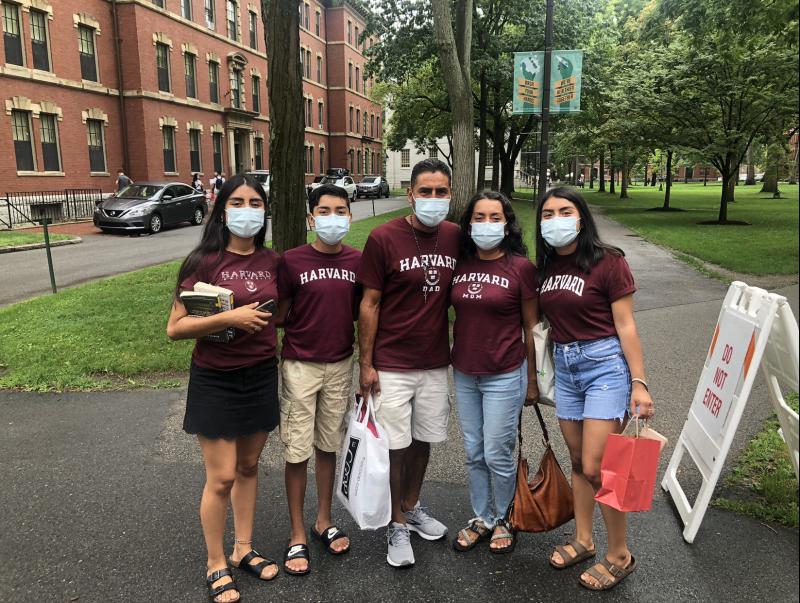 About a week after I moved in, we had our remote convocation, and it was at once empowering and heartbreaking as I considered how much effort it took for me, as a first-generation student, to be able to sit in my dorm room at Harvard and not be able to celebrate that fully. Even so, my roommates and I dressed up and did our makeup. We watched the live YouTube stream on my laptop and heard words of encouragement from our deans and upperclassmen. I appreciated that moment so much. Although it does not compare to the experience of sitting in Tercentenary Theatre accompanied by all my other classmates, I was still immensely moved by what it meant to be present in that moment.
As the rest of the semester passed, there were small moments that brought me back to reality when I got caught in the whirlwind of assignments, responsibilities, and work. Things like the changing of the leaves, phone calls from my parents, random connections with people as we lined up in the dining hall, and other small moments that reminded me that my Harvard experience was valuable even if it wasn't happening under normal circumstances. 
Looking forward to the next three years, I remain hopeful that I will get to experience the Harvard that I had imagined when I applied. If this semester has taught me anything, however, it's that in most instances, my reality differed greatly from what I was sure I would experience. I hope to continue to be pleasantly surprised during my remaining time at Harvard.