If you asked me my freshman year of high school what it meant to be a first-generation college student, I'd probably give you a confused look.
It wasn't until junior year when I saw my friends and their parents scheduling college tours and I started researching colleges myself that I learned that, because neither of my parents has a four year college degree, I was considered a first-generation college student. Knowing this didn't change anything about my life — I already knew that my parents would not be able to help much with my college applications and that I would have to seek out information on my own — but for the first time I really started to think about how being first-gen affects students' application processes and how significant it is to be in the first generation of your family to earn a four-year college degree.
From that moment forward I embraced my first-gen identity. It brought difficulties, but also a sense of pride. I was determined to apply for scholarships, get into college, and make the most of the sacrifices my parents made so that I could have educational opportunities and experiences they couldn't. Thanks to encouragement from different programs and resources that exist for first-generation students I ended up applying to Harvard early action and committing immediately! With the application process behind me, I set out on the new and exciting adventure of adjusting to college.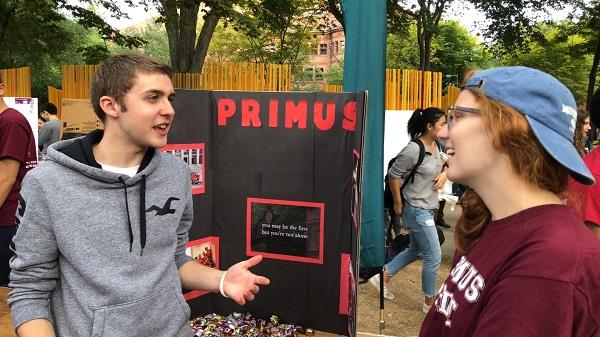 One of the most important student groups that supported me throughout this process was Harvard Primus — formerly the Harvard First Generation Student Union — a group for first-gen, low income, and other students for whom coming to college and to Harvard is significant for their families and communities and also comes with a set of shared experiences and challenges.
Primus holds events that build community, connect students to different resources and opportunities on campus, and advocates on behalf of under-resourced students to Harvard's student body and administration. My first-year roommate and I bonded over our first-gen identity, rocked our "Primus Pride" t-shirts together, and set out to take advantage of as many resources as we could to help us navigate college.
Towards the end of my freshman year I saw that Primus was having elections to join the group's board. Motivated by how strongly I about my first-gen identity and the importance of this community at Harvard, I ran for Secretary and won. This past semester, the first of my sophomore year, has been a whirlwind of activity. I've helped Primus throw events for new first-year students and for the community at large, as well as staff panels and events related to summer opportunities, resources, and feelings of belonging at Harvard. I even fried hundreds of mozzarella sticks to give for free at one of our events! Being a part of Harvard Primus and of the first-gen and low income community on campus has helped me make friends, become more confident, and feel at home at Harvard and I hope that it continues to do this for other students for many years to come!