Kwa wangu uhai, nasema, Yordani pazuri! 
Toka kwenye chai, neema, kwa jumla kuzuri! 
Kwa hivyo nadai, 'kihema, na hata si siri! 
Na sitokinai, azima, kuwapa habari.
(In my life, I say, Jordan is amazing, 
From their tea, their grace, everything is amazing, 
That's why I assert, while panting, that it's not a secret, 
And I won't relent, aiming, to share the news!) 
~by David J. Aboge (a Swahili poem) 
~~~~~~~~~~~~~~~~~~~~~~~~~~~~~~~~~~~~~~~~~~~~~~~~~~~ 
"Mr. David Aboge, مرحبا بك في المملكة الاردنية الهاشمية (welcome to the Hashemite Kingdom of Jordan)," said the immigration officer, "and enjoy your stay in the flower of countries." These words always ring in my mind as I remember my study abroad program in the summer of 2022 in the city of Amman in Jordan.  
Having a huge interest in languages, I had always been fascinated by the similarities between Arabic and my national language back in Kenya: Swahili. I used to write traditional Swahili poetry, and I still do, and when I used to recite them to my Arabic-speaking friends, they would recognize a good number of the vocabulary. Being an avid fan of Arabic poetry, songs and culture, I decided to study Arabic to work towards my Arabic language citation at Harvard. 
I was accepted into an intensive summer program on Modern Standard Arabic at Qasid Arabic Institute. With generous funding from the Mignone Center for Career Success through the Elizabeth Cary Agassiz Fellowship, I managed to settle my expenses for the amazing program. It would turn to be more than just an Arabic language program, but a wholly transformative experience.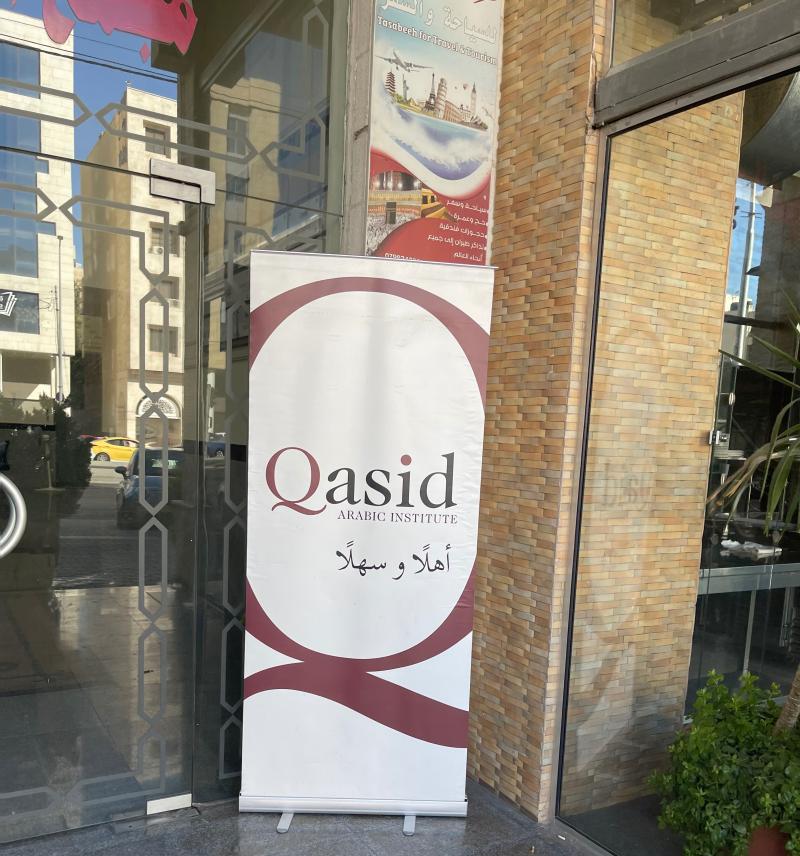 I met the most hospitable people, right from the immigration officers at Queen Alia International Airport, to Queen Rania Street, to the Bedouins in the desert and to the professors at Qasid Arabic Institute. 
With Qasid settling all my accommodation needs by getting me a fully-furnished apartment in Amman, Jordan, and covering my utilities after I paid my fees for the summer, I did not have to go through any stress in that setting up my home base. We were accorded a nice reception right from the airport, and we had an induction program where we were taught how to conduct ourselves in the kingdom, how to interact with the locals, and how to make the most out of our experiences. We were then taken to the famous Ajloun Castle, and that would mark the beginning of my many tours of beautiful sites in Jordan.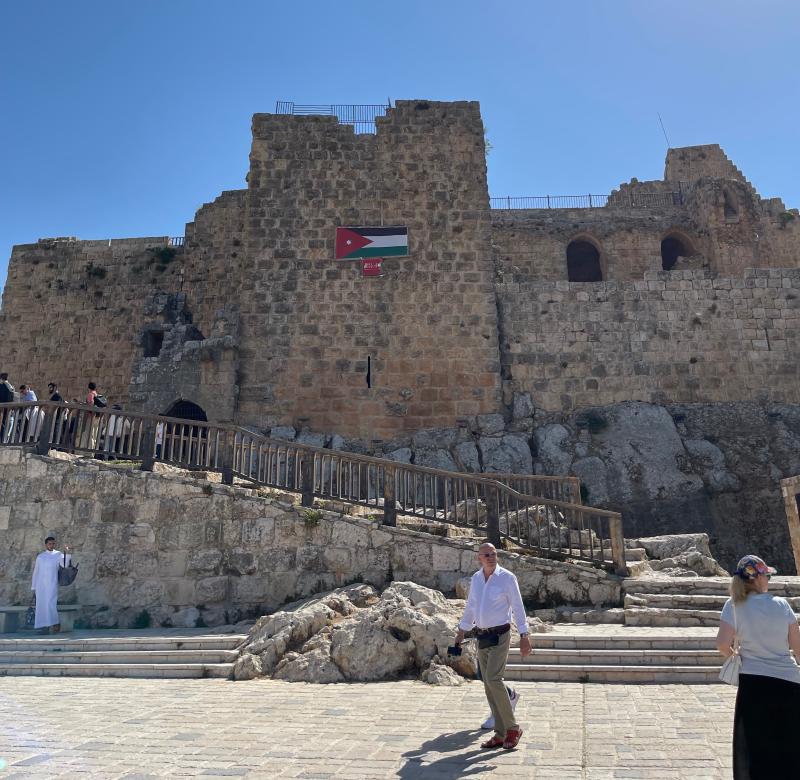 However, it was not all merry and tours, since my primary purpose in Jordan was the immersive Arabic language program. We spent 4 hours a day in Arabic class and were assigned homework that would take one around 4 hours to complete—rounding out a full day. While I had taught myself how to read and write Arabic without understanding the meaning of what I read, this was the first time that I was studying Arabic in class. This accelerated and intensive model was due to the fact that we were covering a year of university-level Arabic within 8 weeks. I came speaking quite broken Arabic but by the end of my two months in Jordan, I was able to converse with the immigration officer who stamped my passport while exiting, fully in formal Arabic. As with many other countries in the Middle East, the weekdays were from Sunday to Thursday. It took me around a fortnight to get used to it, but the Friday-Saturday weekends were really ideal for socializing and attending concerts. As an African who loves Afrobeat songs, I also found an African community in Amman that held Afrobeat gatherings on most weekends.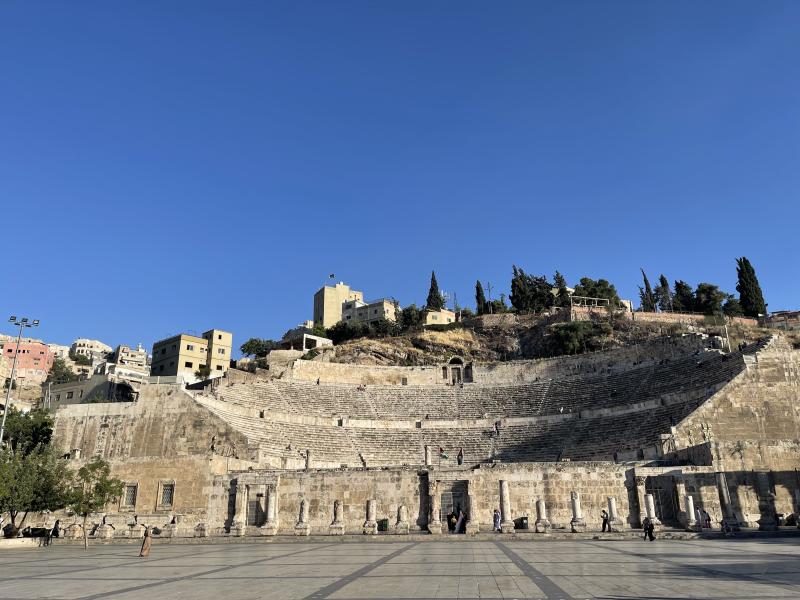 I was exposed to a lot of Arabic media, poetry, and songs. I met people from all over the Arab world in the beautiful city of Amman. Oh, and the food. The food was heavenly and much more affordable than in the US. My lunch on most weekdays consisted of falafel sandwiches and mint tea. I would get so full during lunch for under $3 USD. My favorite food was mansaf. Considered by many as the national dish of Jordan, it is made of lamb cooked in a sauce of fermented dried yogurt and served with rice or bulgur. It is normally eaten communally and has been known to help solve conflicts. For me, it did solve the conflict of hunger during many a dinner —the traditional yoghurt that came with it was like an elixir for my accelerated learning of Arabic. Qasid Arabic Institute not only taught us Arabic but also taught us how to prepare key Jordanian delicacies and other cultural dishes. I was proudly involved in the preparation of kanafeh, a very tasty Middle-Eastern dessert.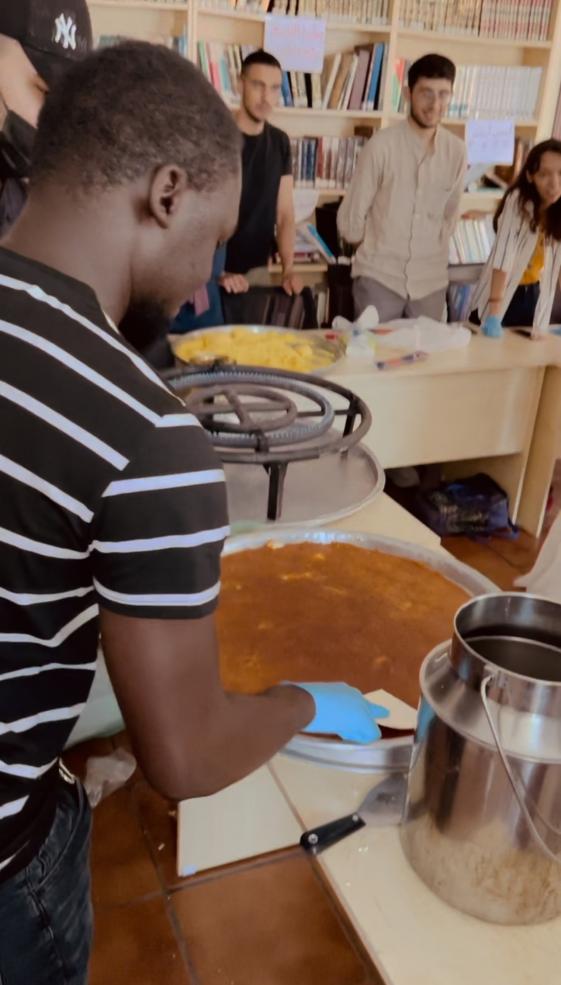 My fondest memories are the travels that I did in Jordan, and every time I went to an amazing place, I remembered the welcoming sentence of the immigration officer: Welcome to زهرة البلاد (the flower of countries). Amman itself, where I stayed, had so many attractions such as the ancient Roman Amphitheater and The Citadel. However, I spent many of my weekends outside Amman.The Qasid Arabic Institute took us to Wadi Rum, a desert valley on the UNESCO World Heritage List. Here, we listened to the beautiful adhan (Muslim call to prayer) in the desert, rode camels in the sand, drove in 4x4 Jeeps around the desert, and spent a night with the Bedouins in the tents in their native home. They cooked their food underground, and this was some of the best food I ever tasted. They sang to us very old Arabic songs and danced with us in the calmness of the desert night as we sipped specially made mint tea. We also had a rare chance to admire the desert sky in silence without the presence of any artificial lights as we meditated about life away from the cities. The next morning, before we left, five of the boys in our group (including me) played a tug-of-war match with five Bedouins. We honorably lost as they had unimaginable strength from their amazing, desert lifestyle.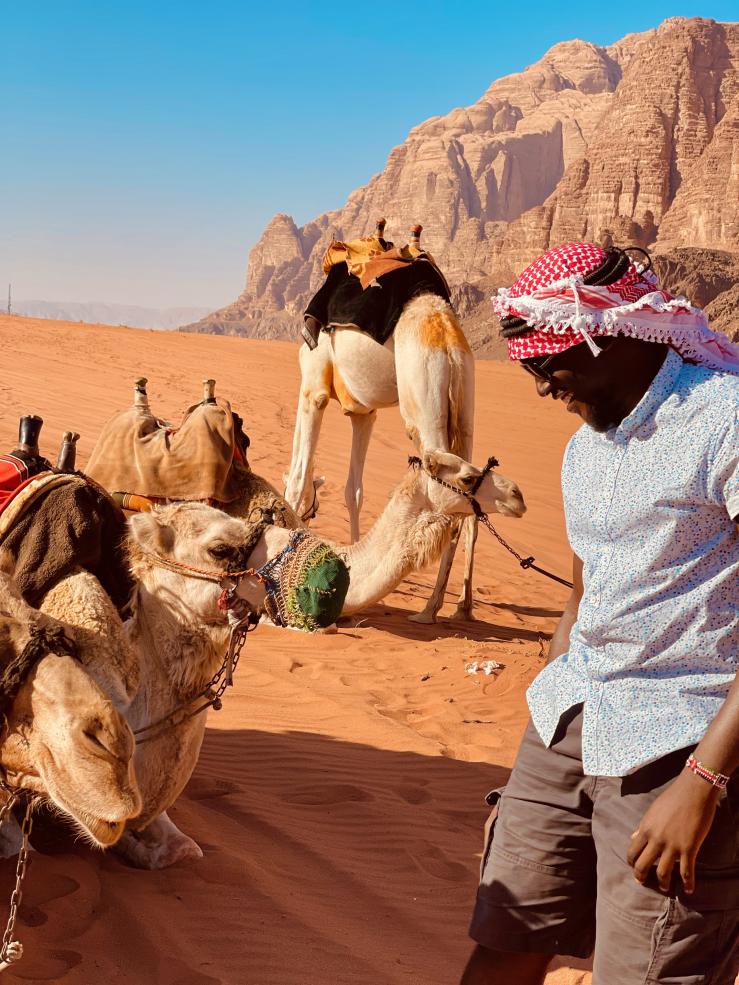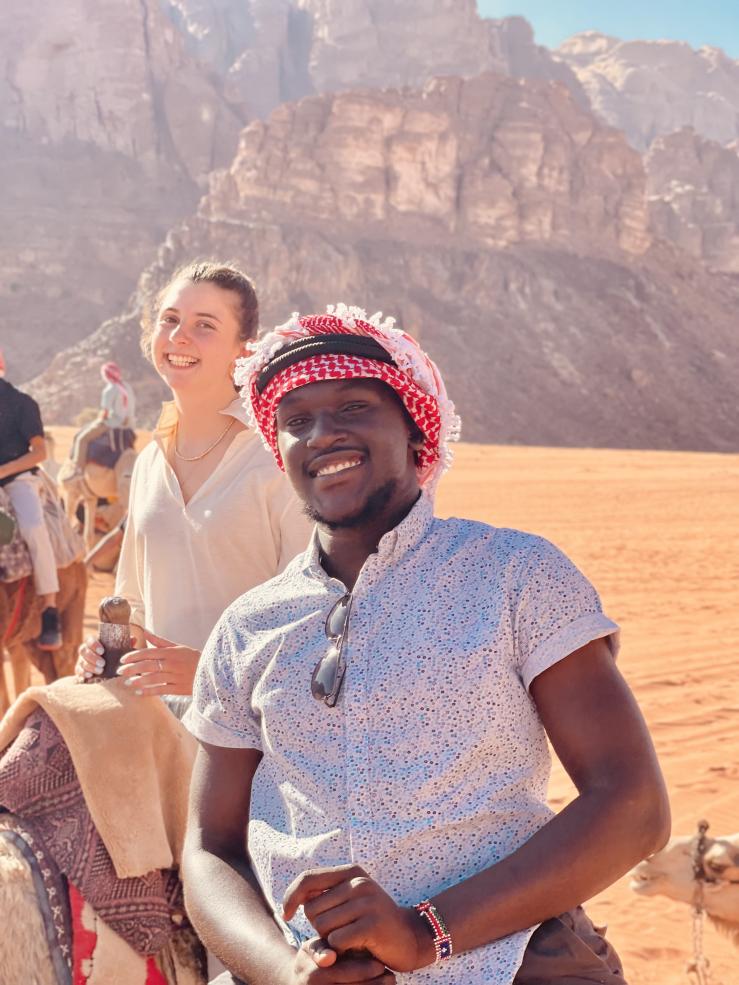 We then drove to Petra, a beautiful ancient city built around 300 BC and carved out of pink sandstone rock. It is one of the Seven Wonders of the World and its beauty is beyond description as it can only be felt by a physical visit. Here, many of us had the kind Bedouins help us wear the traditional Arabic eyeliner, kohl and we walked in the scenic ancient city, admiring how a place can be so amazing.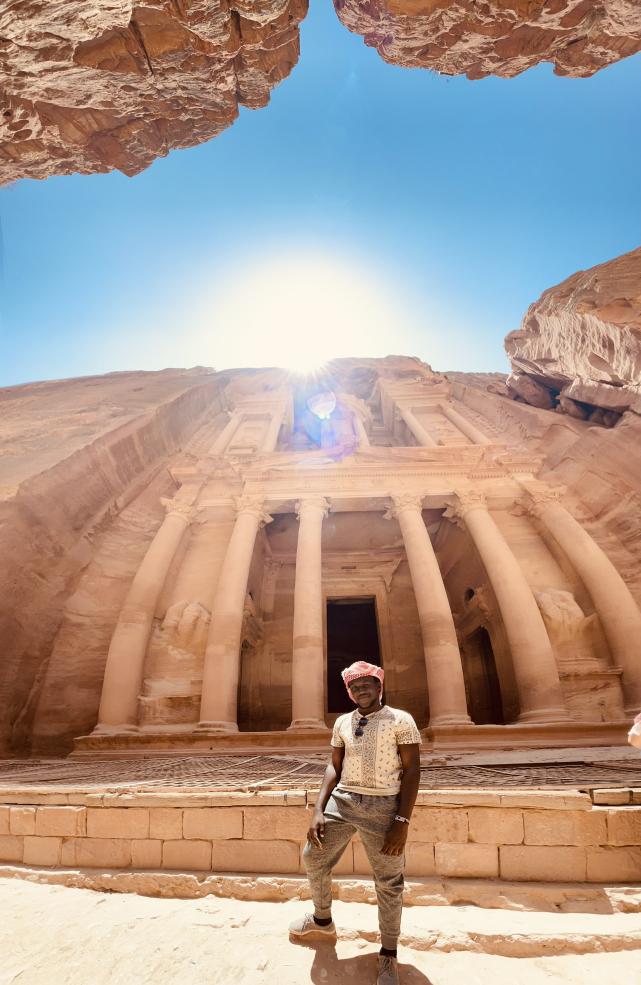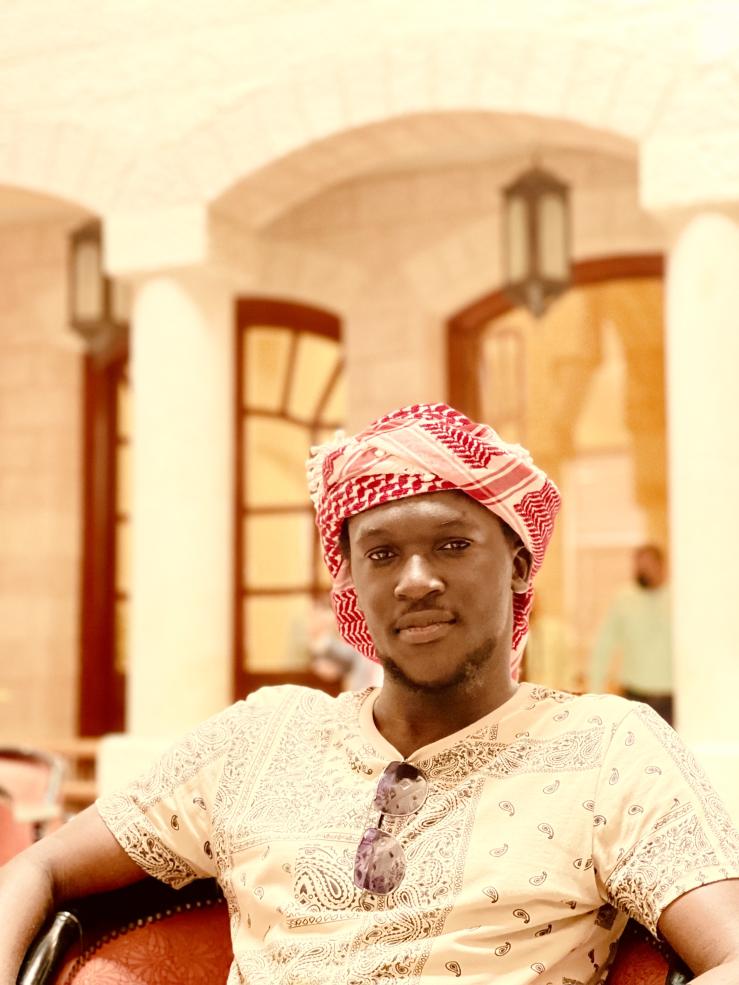 During the other weekends, I traveled to so many other valleys, such as Wadi Al-Mujib, Wadi Al-Hasa, and Wadi Aya (where we jumped off cliffs into the deep streams and pools of fresh water). In these tours, I picked up so much vocabulary that would help me in my communication.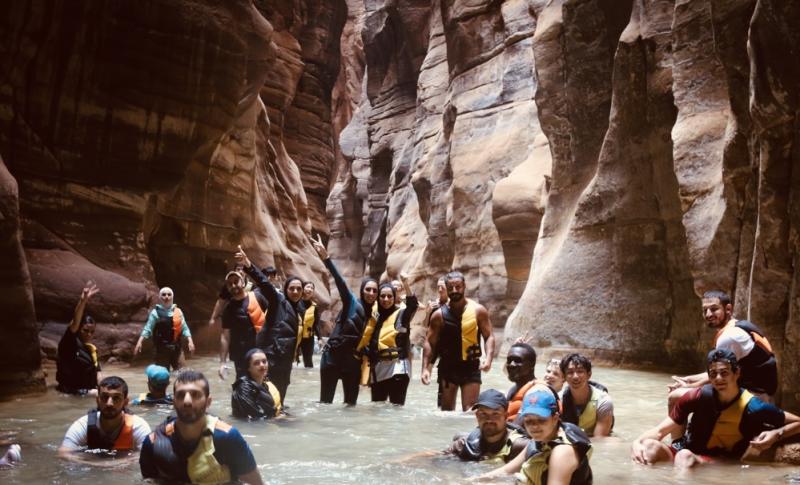 The Dead Sea, on the border of Jordan and Palestine, was also a significant spot where we celebrated the birthdays of some of my friends at Qasid Arabic Institute. I was fortunate to have three other Harvard College students at Qasid and we celebrated one of their birthdays by the Dead Sea. There was also the opportunity to watch classical belly dances in the hotels by the Dead Sea. The sea is almost nine times saltier than the ocean and this makes anyone there float effortlessly regardless of their swimming skills. We enjoyed magically floating in the water, as it was impossible to sink, and using the rich mineral mud on the shores that have rare beauty-enhancing qualities.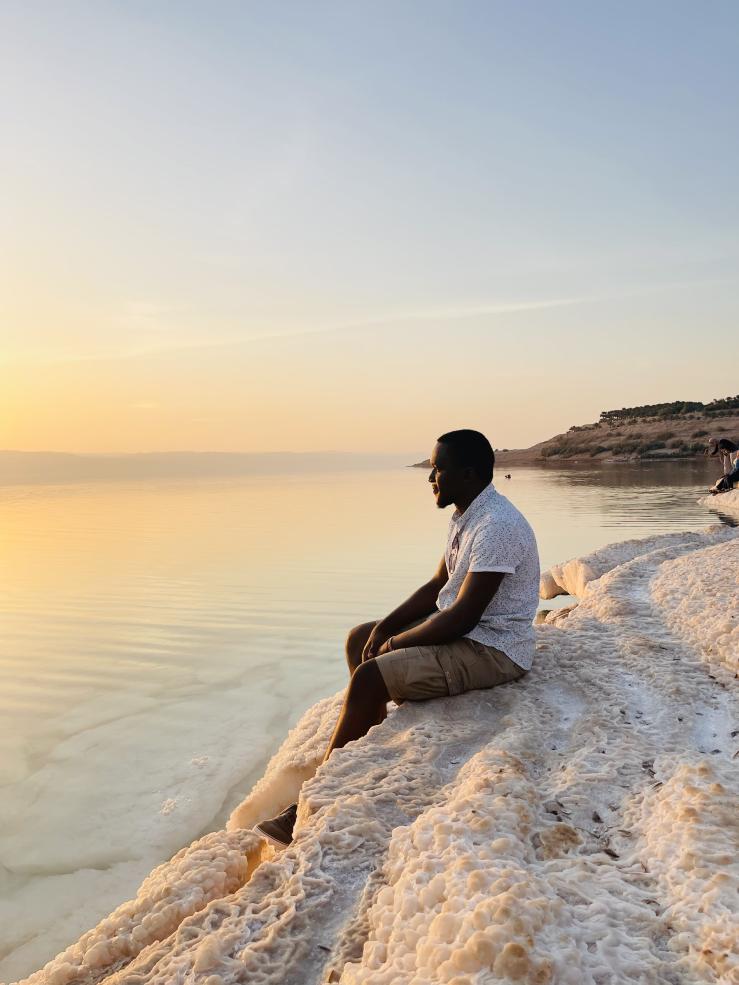 In addition, we attended Arabic calligraphy workshops and famous Arab authors of some of the authentic texts that we used in class would also be invited to give us talks. The professors also carefully integrated the Jordanian colloquial Arabic, `Ammiya, which would make it easier to communicate with the locals and to have semi-local conversations in the taxis and in the restaurants.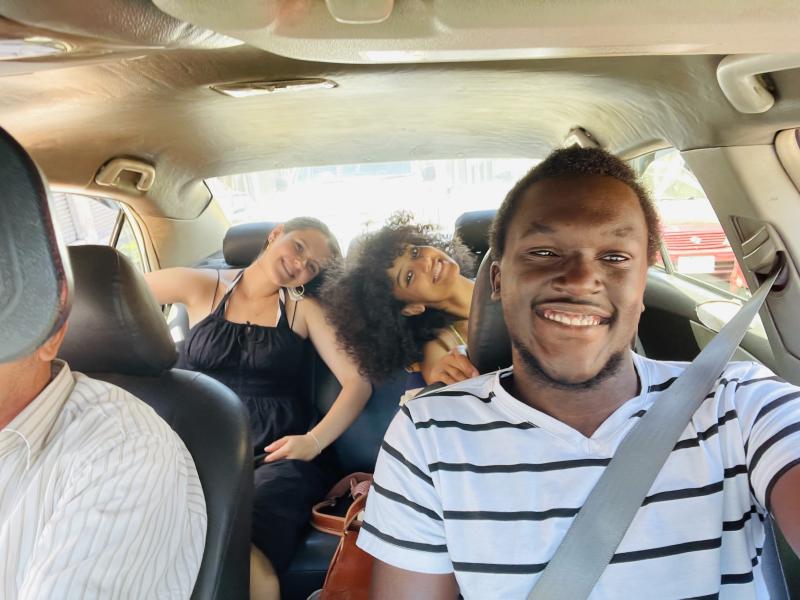 Modern Standard Arabic is mostly used in formal and religious situations, while the colloquial is more informal hence the knowledge of `ammiya allowed us to use the equivalent of the American wazzup, bet, and slay in Jordanian Arabic.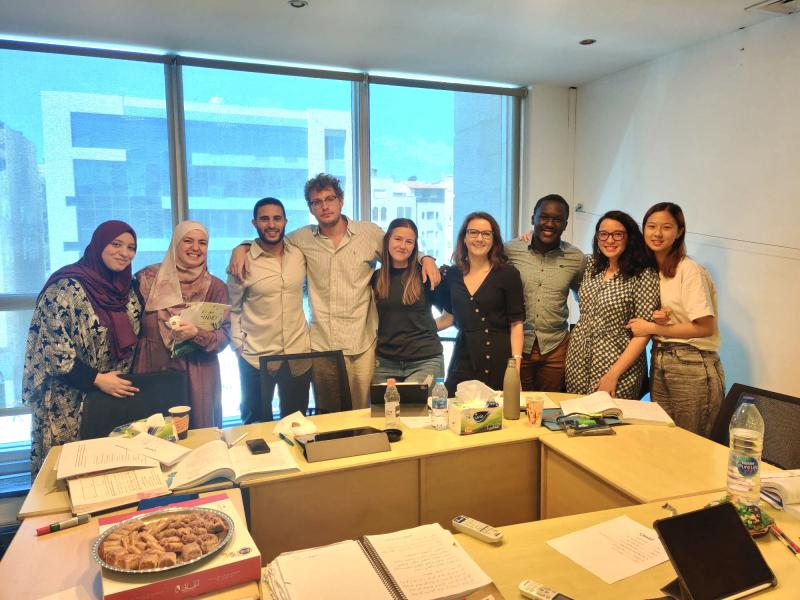 The hospitality and generosity that was effortlessly evident among the Jordanians is something that struck me during my summer in Jordan. On my second day, I dropped my phone and wallet with 200 Jordanian Dinar (~ 280 USD) on Queen Rania Street, and a young man of my age came rushing behind me, shouting, "Akhy! Habibi! My brother! Darling!". When I turned, he handed me my lost possessions which I had barely noticed and when I offered him some cash in appreciation, he kindly told me to just donate it to the nearest mosque. While I do not encourage being clumsy with one's possessions while in Jordan, this happened to a few of my other friends whenever they dropped things and this always made me reflect on the character of such people who were so kind to us. I cannot count the number of magnificent dinners that I was invited to by my professors and even Jordanians whom I conversed with on my inbound flight to Jordan.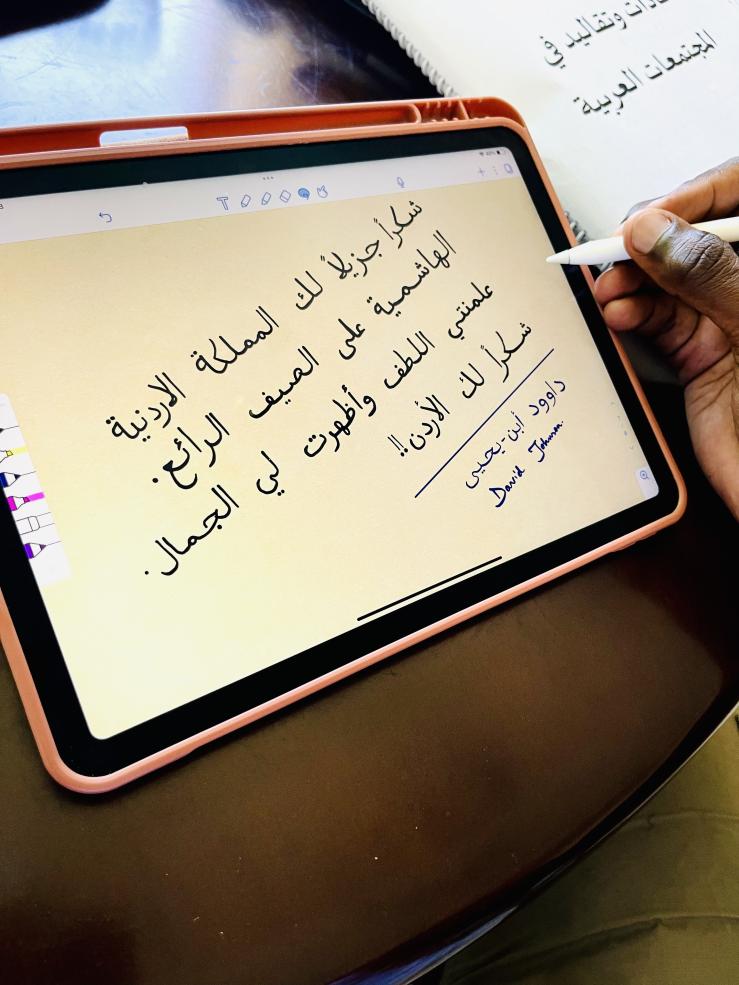 I am appreciative of this amazing experience which I cannot adequately or summarize in these few words. The advice from my academic advisor, my proctor/residential advisor, and even my work colleagues at Harvard College helped me make the decision to study abroad in Jordan out of the many opportunities that Harvard granted me for the summer. I would do this again, and again, given the chance.