It was November 3rd, 2018.
I had submitted my early action application to Harvard a couple of days before, and felt a bit relaxed. Suddenly, I received an email from the Griffin Financial Aid office, alerting me that my financial aid application was incomplete. I was instantly struck by a wave of fear. I turned in my FAFSA (Free Application for Federal Student Aid) weeks ago, and I made sure to send the necessary information to Harvard.
Upon reading the email, I learned that I was also supposed to submit a "CSS profile" and an "IDOC Packet" - both of which I had never heard of. I needed to become a CSS profile expert as soon as possible, so I read through the overview the CollegeBoard provides. After learning what I would need to complete the CSS profile, I gathered my parents' tax returns for the past two years, their W-2 forms, and my parents (so they could answer questions about bank records). 
The CSS profile is similar to the FAFSA because it tries to gauge your family's financial situation and ability to pay for college. However, the CSS profile is much more detailed, and asks questions about special circumstances in your family that might affect your financial situation.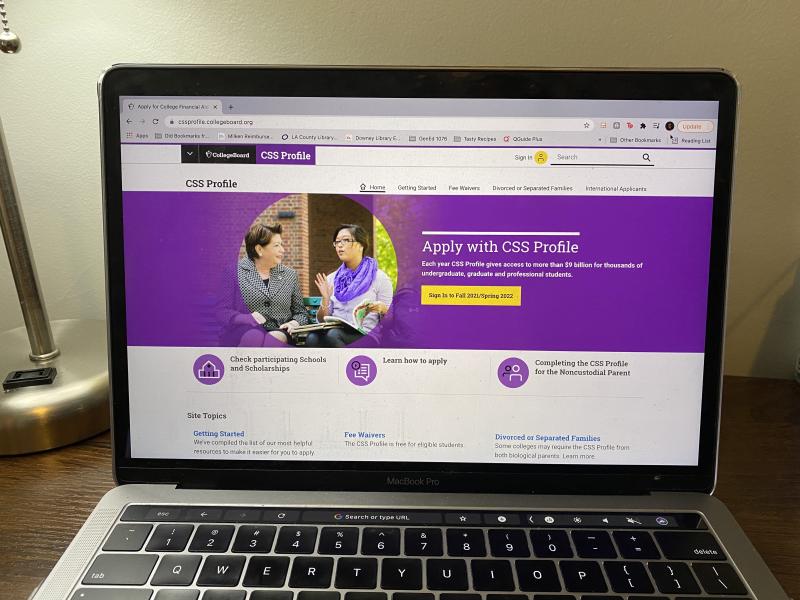 It took me a couple of hours to complete the profile, along with the additional Harvard-specific questions at the end. Afterwards, I went on to the IDOC packet, which is another CollegeBoard service that allows you to submit important financial documents to relevant institutions. I was initially concerned about how I would scan the documents over, but you can use a camera (even on a phone) instead of a document scanner to send them over. 
And that's it! I know it seems stressful in the moment, but you'll get the hang of it quickly. Looking back on it, here are my biggest tips for applying.
 If possible, do everything at once

All of the applications and forms are based on the same financial data (tax returns, W-2 forms, and bank statements), so you will often end up answering the same questions multiple times. Even if you can't complete all the forms in one day, you can open the applications at once and enter in the information they all ask for. That way, you won't have to look through tax return documents three different times to find the household income for a certain year.

It's okay to provide estimates

You don't know everything about your household income, but that does not mean you cannot apply for financial aid! With the CSS profile in particular, they will often ask about expected household income. When I saw this, I was racking my brain to figure out the best way to calculate expected income for the following year. I thought about adjusting for inflation or keeping the amount the same, and I worried that I would get the wrong number and my financial aid would be jeopardized. This is not at all the case! In some cases, you or your family just may not know the exact amount, and giving a good estimate or idea of what the application is asking for will more than suffice.

The sooner, the better

The bottom line is, you don't want to be worried about your financial aid application while you're still working through your actual college application. These applications open up pretty early in the year (both the CSS profile and FAFSA open up October 1st) and, while they are due much later, it is definitely advisable to knock them off your to-do list. Additionally, if you apply as early as possible, it leaves you open to applying to college early if you choose to. 

I wish you the best of luck as you apply for financial aid! And definitely check out our financial aid page for more information!