When I was around ten years old, I thought Hogwarts and Harvard were the same thing.
Yup. If you'd asked me then where Harry Potter went to school, I might have responded Harvard. I believe this confusion stemmed from my lack of fluency in English at the time, so words that sounded similar in my mind were also given similar meanings, and from there I formed my idea of what college was.
Beyond the fact that I was still learning English (I moved to the US in the summer after turning ten), I also had no clear idea about what college was supposed to be. With this in mind, the words "Harvard" and "Hogwarts" seemed pretty interchangeable to me. After all, were they not both magical education centers known for their greatness? Wasn't responding to adults that you would like to go to either institution a solid and respectable response?
I am happy to say this misconception did not stay with me for long. Funny enough, I first learned more about Hogwarts after diving into the Harry Potter book series in middle school. I came to understand the fantastic Hogwarts was a fictional school that belonged in a fantasy world meant for fictional characters who possessed the craft of magic. Clearly, not a place I would ever be attending.
Learning about Harvard came somewhat after, in 8th grade. In English class, we were tasked with researching colleges to make a presentation on which we would like to attend. I remember typing "Harvard University" into the Google search bar and learning about its acceptance rate, followed by its attendance cost. To me, the first was unbelievably low, and the second unreachably high. After this project, I arrived to the same conclusion about Harvard as I had about Hogwarts. Both were out of my reach; I was as likely to attend one as I was the other.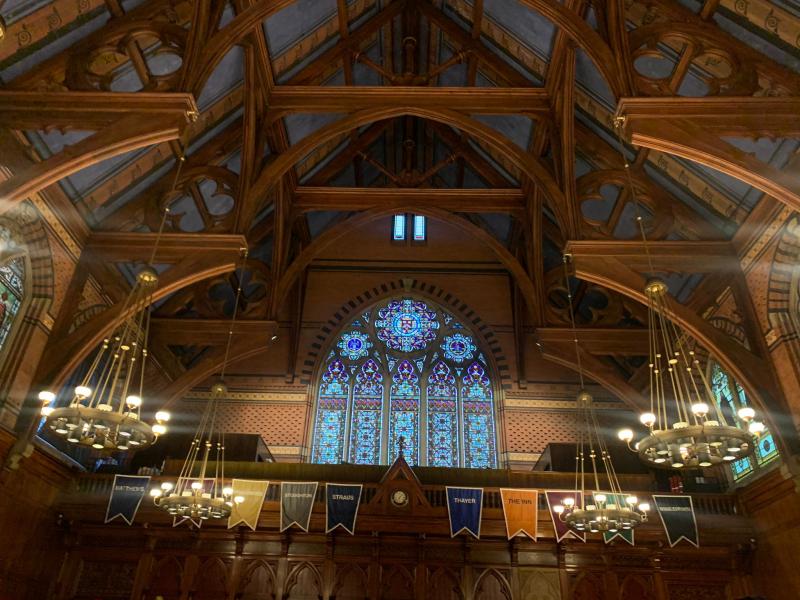 It was not until my second year in high school that something changed my perspective; an alumna from my high school, Bianca, came to give us a presentation. She had graduated high school two years before I'd entered as a freshman and was then attending Harvard College. The purpose of her presentation was to explain the application process for Harvard and discuss with us its accessibility. Bianca's presentation was really the first time I had ever thought about Harvard being accessible. Bianca talked to us about her time in high school, her considerations for colleges, and why she chose to apply to and ultimately attend Harvard. Really, there were two big things I took from her presentation.
1.) Harvard is not looking for perfect applicants
Through her, I first heard of a concept I would come to be greatly familiar with due to my current work with HFGP: Harvard's admissions team uses a whole-person review approach for their applicants. There isn't an exact class rank, cut-off in standardized exam scores, or required number of extracurriculars needed to be considered as an applicant. Of course, Bianca had worked diligently during her time in high school, which made her a strong candidate for all of the colleges she considered. What was important though, was not just how high her test scores or GPA were. It was the culmination of who she was as a person. While I now have a better understanding of what Harvard looks for in its applicants, at that time, Bianca's story left me with a powerful message: she had been able to get to Harvard with the same resources that were available to me.

2.) Harvard is affordable
Another concept that I learned about from her presentation was the idea of need-based financial aid. I had previously not known that some colleges' approach to awarding financial aid was based on the financial need of each family.  A statement from her presentation that blew me away was, "attending Harvard was more affordable for me than going to our top state public school." If I applied and was accepted into a need-based institution, it could be more affordable than options that were closer to home? This changed my perspective on colleges completely. I realized that, thanks to Harvard's approach to financial aid, the attendance cost would not prevent me from actually going. Of course, getting into Harvard still seemed like a dream, and I knew that I would have to push myself as much as I could while I was in high school. But suddenly, the idea of Harvard seemed a little more in reach. After all, it was possible for someone like me to attend Harvard.
Now that I am here, I still think about this presentation for two reasons.
First, it reminds me of the importance of spreading awareness about college accessibility. I remember how much my perspective on my future changed after this presentation. Because of it, I realized the possibilities for my future did not have to be as limited as I'd once thought due to not being the "perfect student," or because of my family's financial status. This reminds me of the importance of spreading awareness to under-represented groups who don't know how realistic Harvard can be as an option for college. Finally, I think about Bianca's success story. I talked with Bianca once at the beginning of my senior year. After answering questions I had about the application process, she shared with me her thoughts on topics like Conan O'Brien's address to her graduating class of 2020, and which house was the best house on campus. I think about how she got through what I am currently living through -- being far from home, defining who you are, discovering what you want to do. She lived through all of the rewarding and stressful parts of college, and she succeeded. Surely, I can once again follow that path.