In my first-year as a Harvard student, I've discovered new interests, hobbies, and communities I never anticipated. 
One of the organizations I am a part of is Mariachi Veritas, Harvard's one and only Mariachi band! Having grown up a classically trained violinist, I had no experience with Mariachi music, but joining this group has made my Harvard experience really special. 
In the first week of my first-year, Harvard held the Extracurricular Fair to showcase almost 400 student organizations. On a hot day in August, I stood in the middle of Tercentenary Theatre, looking for familiar faces, and overwhelmed by the number of clubs around me. I was feeling very homesick, since it was my first time away from home, and was desperately searching for a friend to walk around with to avoid awkward conversations with upper-level students. Thankfully, I found my classmate Charlie, who kept me company and made me feel a bit more comfortable. As we struggled to walk through the masses of first-year students, we approached the table for Mariachi Veritas. The group was dressed in full trajes with instruments, hollering at students passing by to catch their attention. 
I approached them slowly and hesitantly, trying to read their tri-fold poster from a distance. I played violin for almost 10 years but stopped in high school, so I felt nervous that I would have trouble picking it up again. They were looking at me asking if I was interested and I began to nervously walk backwards. All of a sudden, they began to play Cielito Lindo, a popular Mexican song that my mom used to sing to me when I was young. That was the first time I heard the song in a long time, and I had to hold back tears because I missed my mom so much. I immediately signed up to audition for Mariachi Veritas. 
That day changed the rest of my college experience.
Over the next week, I prepared for my audition, which consisted of playing a piece and singing. I hadn't touched my violin in 2 years and was frustrated as I practiced pieces I used to easily play. I was also terrified to sing in front of people! I asked around to find a guitarist that could accompany me in my audition, and, through that, I met one of my best friends at Harvard, Brian. We helped each other practice for the audition since we were both very shy and nervous. Little did I know that Brian and I would become close friends through Mariachi.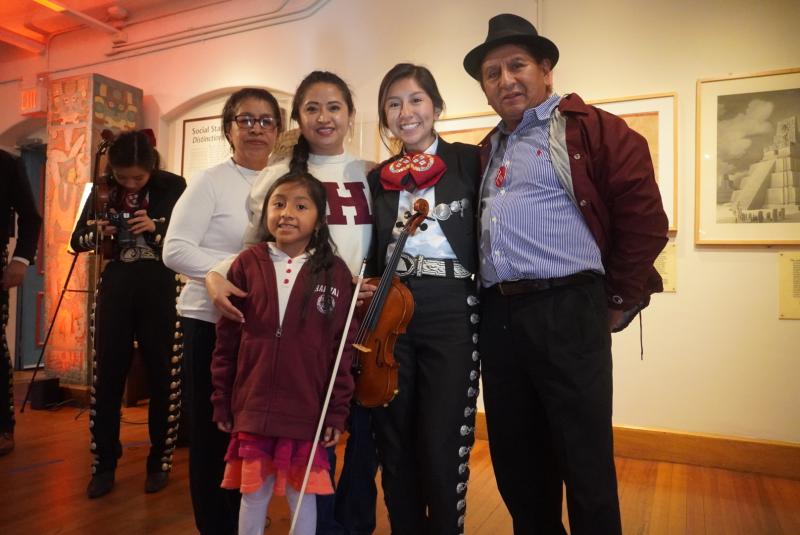 My first performance with Mariachi was a Dia de Los Muertos (Day of the Dead) gig at Harvard's Peabody Museum. Coincidentally, it was first-year parent's weekend and my entire family was coming from New York to visit me. I was super excited but terrified because I hadn't memorized all the music and my family hadn't seen me play violin in a long time. As we walked up the stairs to the performance space, playing our introductory song, I saw my mom and grandparents' jaws drop as they saw me in a full Mariachi traje. Although there were some songs I didn't memorize and I had to hide behind other members at times, I felt so proud to be part of a group that was bringing joy to my family and other spectators. Many Latinx families were smiling in the crowd, some knew every word to our songs and children stared at us in awe. I even sang "Mexico Lindo y Querido" and watched my moms' jaw drop as she saw me sing! 
At night, we were invited to a Dia de los Muertos community celebration in Dorchester. Since I'm Ecuadorian, I didn't know much about Dia de los Muertos traditions and significance to the Mexican community. We performed, watched dance performances, and even ate Pan de Muerto and drank atole (Day of the Dead traditional foods). I loved being able to perform for and learn from Boston community members. I was so grateful my family came to support us at each performance, even though they heard the same songs all day.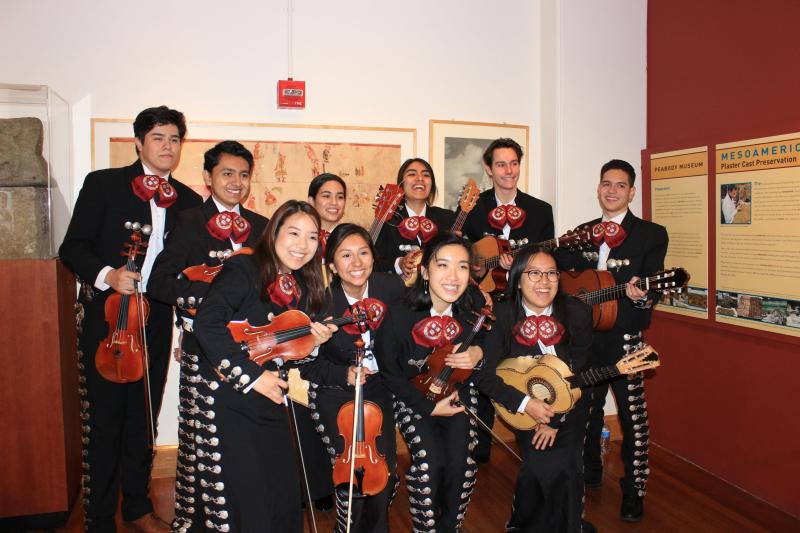 Since my first performance in the fall of my first-semester, Mariachi Veritas has become an exciting, creative outlet and a supportive family away from home.
We had a concert at the end of November, which was really meaningful because my roommates, friends, and classmates came to watch! Despite our stage-fright, Brian, Ben, and I sang "Mexico Lindo y Quierdo" together and Mariachi alumni came back to Cambridge for our performance. Afterwards, we had a celebration as a group and were gifted our first Mariachi Veritas sweatshirts.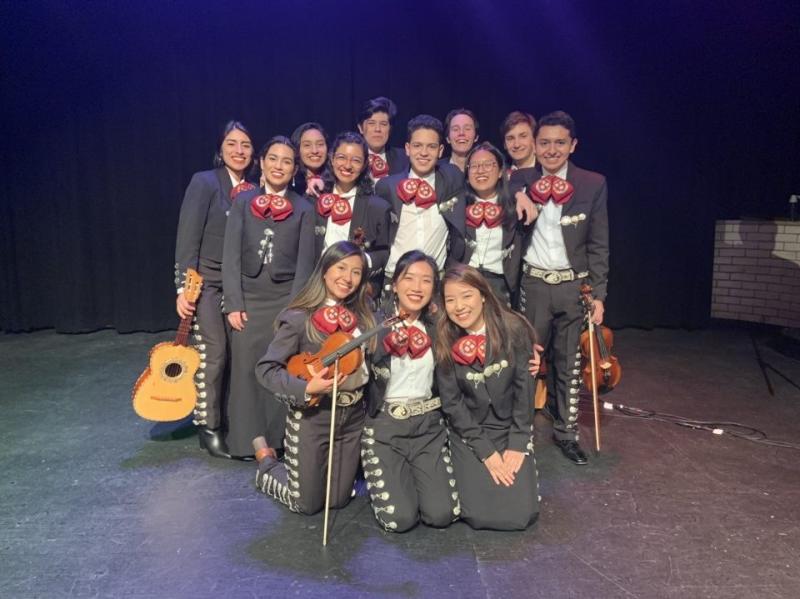 Due to our frequent rehearsals and weekly brunch as a group, I became best friends with Brian, Ben, and Anai, the other first-years to join with me. And Anai is now my block-mate (we are in the same residential house)! I forgot how much I loved playing the violin and playing Mariachi music constantly challenges me to learn and be more creative with my playing. My family also loves my participation in Mariachi and constantly asks me to play our songs when I'm home. I'm so grateful for Mariachi because I've felt closer to my Latina identity, been able to express myself creatively, and met amazing people who became my best friends.