Dustin Tingley is fully committed to advancing the quality of education for Harvard students.
He does so not only through his technological development of educational resources for students or his general academic support, but also through his advice on taking advantage of the liberal arts and sciences education that Harvard has to offer.
"When I was in school, I took a variety of different classes, and I believe it made me a much more well-rounded person. It also helped me to better understand what a liberal arts education is: a way to explore all of the different ways there are to understand the world," Tingley said.
"Take a spectrum of classes that make you exercise all of the different parts of who you are. Concentrate in what you are passionate about, gain skills that you think will be helpful for you, but don't be afraid to try something new. I reveled in taking politics, math, and modern dance classes."
Tingley grew up in a rural area of the Piedmont region of North Carolina and later moved to suburban New Jersey, which allowed him to experience two very different ways of life. Tingley began his undergraduate education at Virginia Polytechnic Institute, which is where he took his first government course.
"I had always liked math. During this government class, I saw that I could use math to think about politics more rigorously," said Tingley. "It inspired me to take more classes like that in college, and to explore this field further."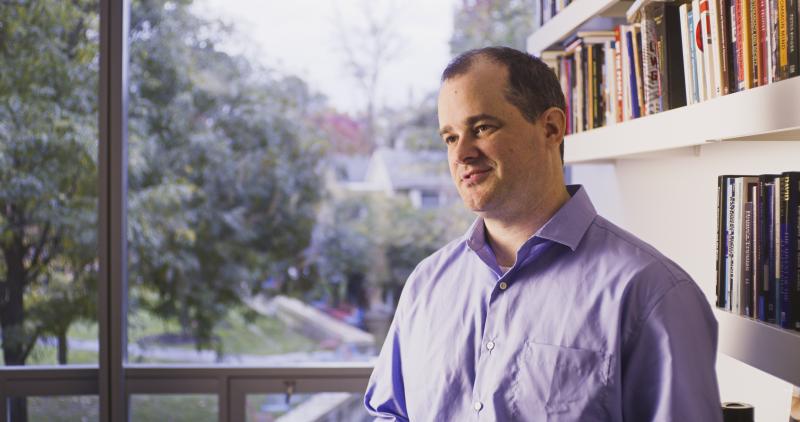 Tingley transferred to the University of Rochester during his sophomore year. There, Tingley immersed himself in an untraditional yet rewarding college experience. While he pursued his degrees in political science and mathematics, Tingley simultaneously worked in food service, participated in ultimate frisbee, and played guitar and bass. 
"When I first transferred, I wasn't in a dormitory. I was sleeping on my uncle's couch. I had to lean into the discomfort that I felt because I hadn't been there during my freshman year. I had to push against the doubts that I had about social connections and missed opportunities," Tingley said. "I made a conscious choice to jump in, to make friends through work, ultimate frisbee, music, and studying. These activities became really important to me and helped me to find new communities of people."
"To current Harvard transfers, I would say: welcome, and don't be afraid to jump in."
Tingley went on to receive a PhD in politics from Princeton University. Before teaching at Harvard, Tingley taught at a small boarding school in western Massachusetts, whose active learning pedagogy became highly influential for his own teaching style. In his current role as a professor of government, Tingley uses this active learning pedagogy and plans to teach future courses on the subject of his current research: the politics of climate change and the environment.
"My research now revolves around the question of how countries can make a transition to a low or zero carbon future. How do you do that in a way that builds coalitions of people? There are many people who don't support these policies, or there are people who might be displaced because of these policies," Tingley said. "We, as a society, have to make changes in terms of fossil fuels. I hope we can do so in a way that is inclusive and makes political, and ethical, sense."
In addition to his teaching and research, Tingley also acts as the Deputy Vice Provost for Advances in Learning and is the faculty director for the Vice Provost for Advances in Learning Research Group, as well as the faculty director for the Harvard Initiative on Learning and Teaching (HILT). In these administrative roles, Tingley is committed to creating educational tools and resources for students, such as the Harvard Syllabus Explorer and Harvard Link, in order to support students in advancing their education. 
Outside of Harvard's campus, Tingley continues to play the guitar in a genre he describes as the "intersection of rock and jazz." He can still throw a frisbee over a long distance. Yet, Tingley states that what he is most passionate about now is not partaking in these hobbies, but instead being a dad and husband. With his partner and two young children, Tingley works in their garden, takes hikes, coaches youth soccer teams, and is being taught how to read music by his son, who is taking piano lessons.
"It feels selfish to say that I am most passionate about my family, because I am obviously passionate about helping the world by studying things like climate change. I am so lucky to be able to do that," said Tingley. "Yet, at this part of my life, I no longer feel like my career dictates everything. I'm now most passionate about my family, about seeing my kids grow, be curious, want to be outdoors, and be willing to ask questions, no matter how bizarre they are at times. These are things that I have to work for, but it is a really rewarding thing to be passionate about."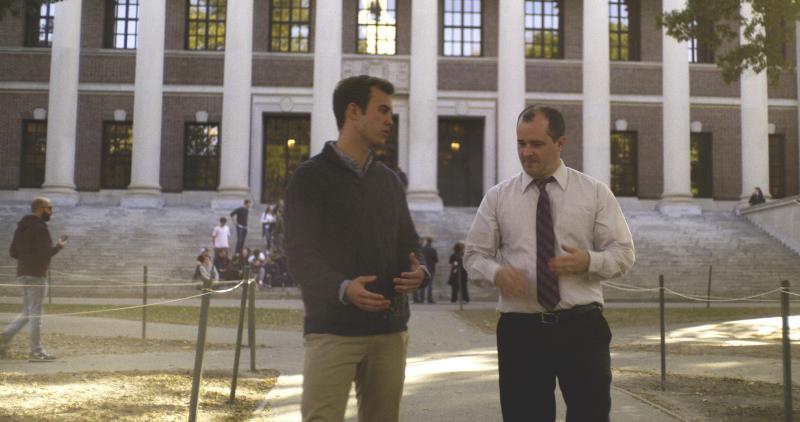 Dustin Tingley truly wants to support his students in whatever ways he can. He asks that students visit his office hours, inquire about tools or resources that one might need, and also take advantage of all of the opportunities that are available to them. He says that students should not be intimidated by professors or opportunities, but should instead be inspired to make the most of the Harvard experience.
"People often undervalue how important it is to be grounded and happy, because it is so easy to get into this academic grind of keeping up with what other students are doing," said Tingley. "I have no doubt that these students are going to succeed once they graduate, so I hope that these students can pause and find fulfillment within their college experience, without letting this grind preclude them from having fun. Take advantage of all that you have in front of you, be passionate, and enjoy this time."
Dustin Tingley is a professor in the Government department and will be teaching a new course on the politics of the environment and climate change in the Spring of 2022. His courses can be viewed in the course directory.