Amidst a variety of competing voices, Ali Asani stands unwavering in his commitment to listen to and represent those who have been traditionally marginalized.
In his scholarship, Asani engages with perspectives of Muslim communities who have historically been neglected in academia, such as the Shia. In his work at the University, especially with the Presidential Task Force on Inclusion and Belonging, Asani strives to hear student stories, engage with issues of diversity, and increase students' sense of belonging at Harvard and within society.
"Deeper engagement with my students is crucial to how I perceive my role at Harvard. I try to build relationships with students beyond the classroom, and to engage with their diverse experiences," Asani said. "The world is marked by people of difference. When you engage with different people and learn their stories, you will be able to more easily step into their shoes. You will begin to appreciate and empathize with the experiences others have had, and you will begin to recognize your own privilege."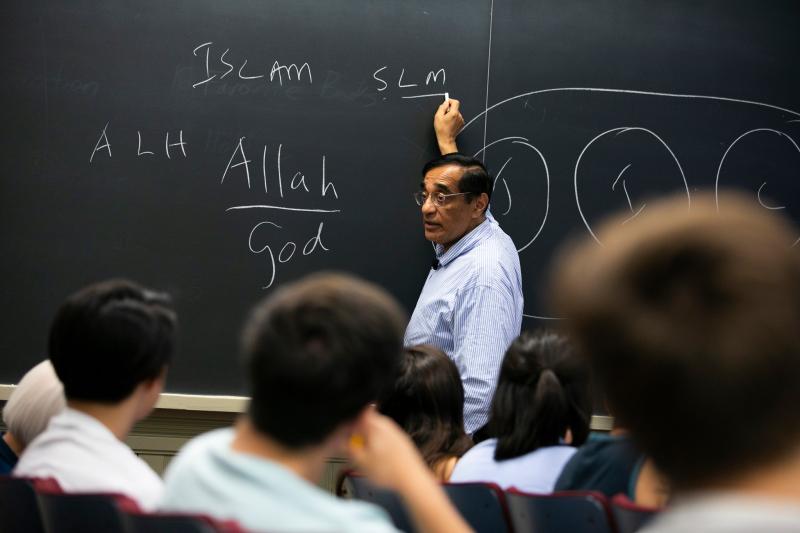 Asani was born and raised in Kenya. As a member of an Asian African community that has lived in Kenya for nearly two centuries, Asani quickly noticed that his local school system did not include Muslim perspectives within its curriculum – an issue that Asani was thinking about when he applied to Harvard College in 1973.
"On my admissions essay, I explicitly stated that I wanted to study Islam, and that I was dismayed by the one-sided portrayals of Islam in my school curriculum," Asani said. "When I first arrived at Harvard, I realized there were biases in the curriculum here, as well. Only majoritarian Sunni perspectives were being represented, and there was little content about South Asia or Africa, even though the majority of the world's Muslims live outside of the Middle East. I decided to orient my scholarship around covering the gaps, which ultimately led me to developing and representing voices that have been traditionally marginalized."
While an undergraduate at Harvard, Asani concentrated in the Comparative Study of Religion. Now, as the Murray A. Albertson Professor of Middle Eastern Studies and the Professor of Indo-Muslim and Islamic Religion and Cultures, Asani teaches a variety of courses that span across various fields and departments, including Near Eastern Languages and Civilizations, the Committee on the Study of Religion, South Asian Studies, and African and African American Studies. While specializing in Shia and Sufi intepretations of Islam, Asani takes a multi-sensory approach to teaching his courses, showing how the arts can be a powerful means of experiencing faith, better understanding Islam, and developing religious literacy.
"My teaching and research challenges the formulations of Islam that come from dominant, privileged perspectives – the perspectives of elites that don't necessarily represent the entirety of Muslim experiences. It gives voice to the often silenced individuals and gives a space for the auditory, visual, and poetic arts that often arise from these voices," Asani said. "So often, the political voices of Islam are what dominate academic spaces, but Islam is a worldwide religion with a history beyond its politics, with traditions of aesthetics and beauty and art."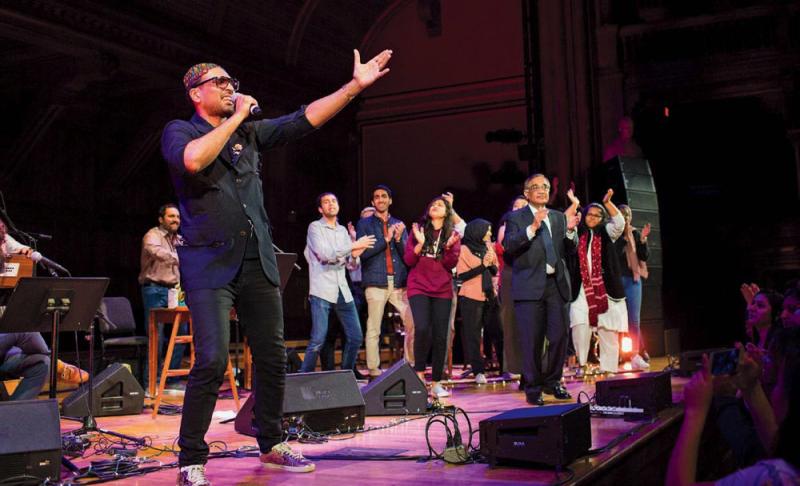 Asani's work in diversity, inclusion, and belonging began with one particularly meaningful relationship he developed with an undergraduate student. After noticing that this student was not performing well in class, Asani invited him for a cup of coffee.
"After talking with this student, I learned that he was a first-generation student from an inner city school and a single parent family. He felt extremely lost here. After sharing my similar struggles with belonging at Harvard, and after working out ways in which I could best support him, he began to flourish. He passed the class, and at his Commencement, he told me that I had saved his life," Asani said. "This was an extremely powerful moment for me. I realized I could make a difference not just by imparting knowledge to students, but also by looking at them as complete human beings, by advocating for them."
In 2019, Asani was appointed to lead a working group that focused on examining campus spaces of engagement with issues of diversity, inclusion, and belonging, particularly within the Houses. For his efforts at making Harvard a more inclusive space, Asani was honored with the 2020 Harvard Foundation Faculty of the Year award. Outside of his work, Asani enjoys cooking a specific type of cuisine developed in East Africa that combines African and South Asian influences. He also spends much of his time swimming at the Malkin Athletic Center (MAC) and travelling.
In his teaching and relationships, Asani is constantly listening to others and working to understand each individual more holistically. He advises his students to do the same, despite the conscious effort this may take.
"Engagement with diversity has to be intentional," Asani said. "People are complex, and everyone has a story. Listen, explore, and be curious about the people around you. Their stories and their experiences will help you learn even beyond the classroom. They will enable you to become a better person."
Ali Asani teaches several courses in the departments of the Comparative Study of Religion, South Asian Studies, Near Eastern Languages and Civilizations, African and African American Studies, and General Education, including "Understanding Islam and Contemporary Muslim Societies," "Multisensory Religion: Rethinking Islam Through the Arts," "Being Muslim in South Asia: Religion, Culture and Identity," "Ismaili History and Thought," "Introduction to Islamic Mystical Traditions," and "Muslim Voices in Contemporary World Literatures," which can be viewed in the Harvard course directory.