Sarah Lewis sees the arts not as a respite from everyday life, but as a means of envisioning a more just society.
"Often, if we don't appreciate the arts as a mode of measuring human life — if we don't see the crucial function of visual literacy for society's self-comprehension — it is because we are only forced to do so during periods of collective failure or crisis. We are in one such moment right now," Lewis said. "The arts allow us to create the narratives and concepts of agency that help us realize who we want to be and who we ought to be. When you study the arts, you begin to see that culture can be used as a tool to shape our society."
While growing up in New York City, Lewis dreamed of becoming a visual artist and writer. Her ultimate decision to pursue the arts was not solely based on her usage of painting as an imaginative outlet. Lewis felt that the arts allowed her to explore, and attempt to answer, difficult questions about social justice.
"The arts, in a representative democracy, allow people to express things they often are not able to about who they are, where they want to be, who they hope to serve, and how they hope society can move. This hadn't been fully articulated in any of the books that I was reading when I was young," Lewis said. "How do we see past our blind spots? How do we do something about what we're failing to see as individuals or as a society? It was really my grandfather that oriented me to thinking about these questions."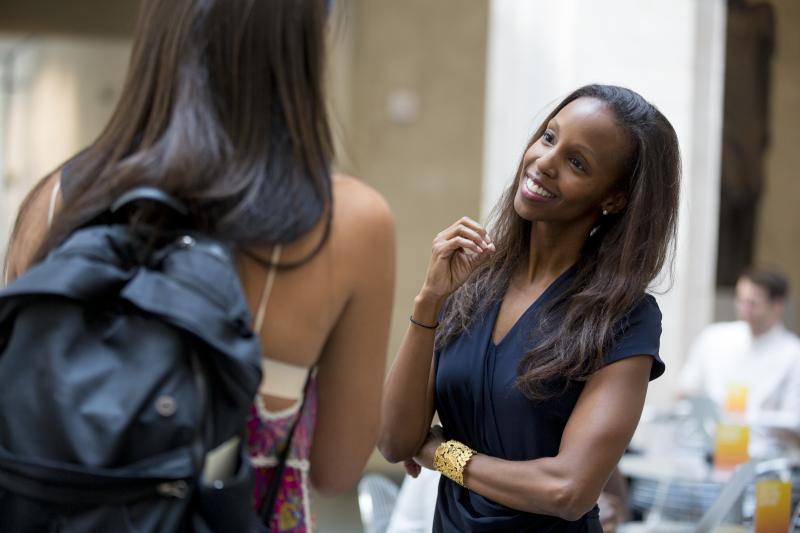 Lewis went on to receive her bachelor's degree from Harvard and later received an M.Phil from Oxford University and Ph.D. from Yale University in the History of Art. After working in a variety of curatorial positions at The Museum of Modern Art and the Tate Modern, and teaching at Yale School of Art, Lewis returned to Harvard as a member of the faculty in the departments of African and African American Studies and History of Art and Architecture. Lewis conducts the popular course, "Vision & Justice: The Art of Citizenship" – a teaching experience that Lewis finds particularly meaningful.
"I aim to teach the material that I was never taught. In my classes, we explore a journey, from 1790 to the present day, regarding how representation shifted our notions of who belongs within our society. Culturally speaking, where are the moments in this journey in which the visual arts have expanded our notions of who should count and belong?" Lewis said. "It is an honor to teach students the visual literacy skills they will need in order to process the world around them. It has never felt more urgent than now."
Lewis is currently writing three books - one that centers around her research in vision and justice, and two other works that explore topics related to race, aesthetics, and history. Though Lewis dedicates much of her time to teaching, research, and writing, she also prioritizes time for herself. After a car collision earlier this year, Lewis found herself appreciating her work, art, and life in new ways.
"Any near-death experience really reorients you to understanding what matters and what counts. My days are spent thinking, savoring the beauty where I find it in life, and dedicating as much time as possible to doing work that I hope will have a positive impact, and perhaps be here when I'm gone," Lewis said. In her free moments, Lewis can be found painting, creatively writing, seeing films largely focused on race and justice, and going for walks with friends. All of these activities revolve around her passions. She advises students to act similarly - to maintain their sense of passion, and to believe in their own imaginative potential.
"Cast a wide net. Pursue the things you don't know you are interested in yet. Then, once you have identified a passionate interest, pursue it relentlessly."
Lewis embodies this advice through her work that focuses on art and culture that honors individuals and their shared humanity, and ultimately stands up for the dignity and rights of all. Lewis uses her passions to inform her work, and simultaneously savors the beauty and the art all around her.
Sarah Lewis teaches courses in the African and African American Studies and History of Art and Architecture departments, including "Vision & Justice: The Art of Citizenship" and "American Racial Ground," which can be viewed in the Harvard course directory