Susan Murphy surrounds herself with beauty.
Whether she is creating beauty in the lab or appreciating it with a stick and puck on the ice, Murphy finds that she is searching for beauty wherever she goes.
As a professor of Statistics and Computer Science, Murphy conducts important work in the classroom and in the lab that supports individuals struggling with chronic health conditions, such as addiction. Though some may describe this work as heroic, Murphy thinks of her work as beautiful.
"Even in my free time, I'm always trying to pursue some element of beauty. Mathematics, it turns out, is really about creating beauty. Both precision and clarity produce beauty."
"We may be examining a proof, and everyone can be in agreement that the proof is correct, that you have indeed proved the result. I like the idea that in math, we can obtain this precision in our conclusions. In the areas of statistics in which I work, I am always trying to create this beauty, trying to create something that feels good to me," Murphy says.
Murphy grew up in the countryside of southern Louisiana, close to the Mississippi River. Though she fondly remembers the Saturday night football games and her home-economics classes, Murphy quickly discovered her passion for math and never turned back.
"In school, math was pretty much all that I was good at. Everything became centered around mathematics, though this was quite unusual for a female in southern Louisiana," Murphy remembers. Murphy went on to study Mathematics at Louisiana State University and earned her PhD in Statistics at the University of North Carolina, Chapel Hill. She then taught statistics at both Pennsylvania State University and University of Michigan, both of which prepared her for her current role at Harvard.
Murphy's research focuses on the development of data analytic methods for sequential decision-making to help individuals manage chronic health disorders - the intersection of computer science, mathematics, and statistics. One of her research questions revolves around how a mobile device could support an individual as they struggle with a problem like an addiction.
"Think of someone who's struggling with a chronic disorder: as they are going through their daily life, there are so many in-the-moment decisions they have to make that can affect their well-being," Murphy explains. "We want to develop statistical algorithms that use a mobile device to provide sequences of small treatments, but only when the person will benefit. For example, the application may know that the individual is close to a high-risk area - say, an area where he or she normally buys alcohol. In that setting, is it worthwhile to send a message to the individual through the application? If so, what type of message? What are the long term consequences of sending that message? Maybe the individual really needs help right now, but if we send them a message, we might burden them so much that they will disengage and we can't help them later. I develop algorithms and statistics so that the device can learn about the person as they use the mobile app. The device will learn how to and when to provide those messages and how frequently to provide them. That way, I can help that person achieve their long-term goals, as opposed to just keeping them engaged for two days."
Outside of her research, Murphy states that her favorite moments at Harvard include working with undergraduates in her lab and bringing new students into her lab space.
"If you came into my lab, you would see that there are equations all over the walls. We also have a ton of pillows, and each pillow is in the shape of some statistical distribution. When I bring people into the lab, I get to show them all of the equations around the lab, on the walls and the pillows. People get to see and experience how glorious math and statistics are," Murphy says.
"One of the main reasons I moved to Harvard was to work with undergraduates in this lab environment. Harvard undergraduates are really smart, and they have interesting ideas about how one should tackle a problem. They'll come out from left field and say, 'Oh, why don't you try this?' I appreciate their input, and I love working with them. These undergraduates really enhance the chance that we will help people through our work."
When not in the classroom or the lab, Murphy can be found at the ice hockey rink, where she plays five times a week. Though Murphy has a deep passion for and appreciation of the beauty in mathematics, she finds this same passion and beauty in ice hockey.
"I just love hockey, and I am so happy when I'm playing it. It's a lot like math. It is something that you can never gain mastery of, and I like that. I don't ever want to be doing something that I might gain mastery over. That would be awful and boring," Murphy says. "Hockey also has so much beauty. It has beauty just in the sense of the skating, but it also has beauty in how you move the puck and how you move as a team to move the puck up the ice."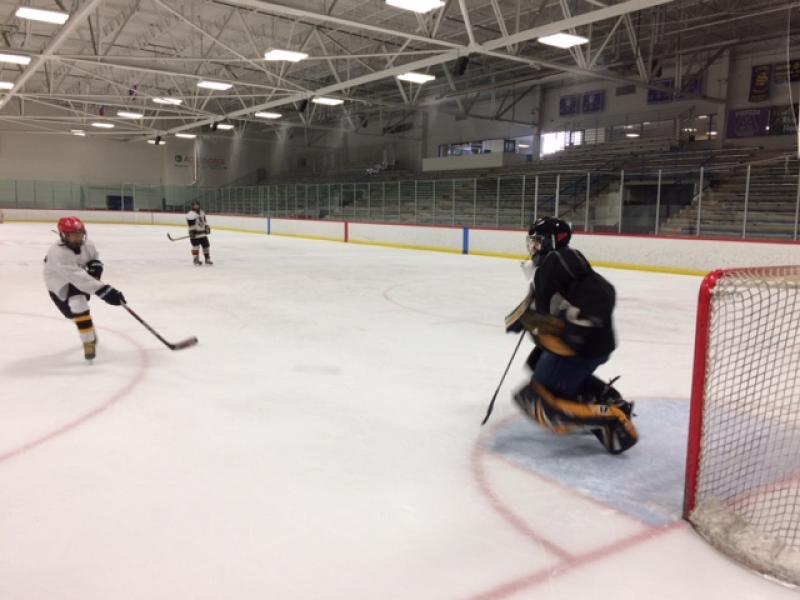 Susan Murphy truly creates and appreciates beauty. Whether she finds this beauty in the interactions with her students, at the ice hockey rink, or in the application of her statistical work, Murphy is an example to her students of the power of being passionate.
"Have the courage to follow your passion, or have the courage to create something that you find beautiful," Murphy advises. "Sometimes your passion is not what others think you should do, but you don't have to live the life society tells you to live. At the end of the day, you want to be able to look back and say, I did the best I could. You may not have found extreme success by following the direction of your passion or your idea of beauty, but really, success comes through simply trying."
Susan Murphy teaches many courses in the Statistics and Computer Science Departments, including "Statistical Reinforcement Learning" and "Sequential Decision Making," which can be viewed in the course directory.