If someone told me that the highlight of my first semester of college would be the first night, I wouldn't believe them. But it's true. One all-nighter the night before classes started has come to encapsulate much of my experience at Harvard. I know what you're thinking, but no it wasn't the last-minute homework grind sort of all-nighter. Instead, it's the kind that has allowed me to fully say that I made the most of my first semester. 
Part of what made college in a pandemic so daunting was that, besides virtual events and social media, meeting other Harvard students before the semester started was more difficult. We did not get to have the tight bonding that was described by upper-level students during pre-orientation or the in-person activities that help build a community. I had reached out to several people over the summer and developed the starts of friendships, but there was always that worry that face-to-face, the vibe would be different.  
The night before classes started, one of my roommates and I decided to go get churros from El Jefe's (a local restaurant in Harvard Square) and also invited one of my friends. It was the first time we met in person, though we had been talking online since April. There was definitely stress about whether she would like me, whether our energies would mesh, and whether we would be as close on campus as we had gotten over the summer. The first hour of formalities and translating inside jokes went well, but it wasn't until we decided to take a "walk around the block" while waiting for another friend that things shifted. Before we knew it, we had found the football stadium, the boathouses, and ended up walking all the way to Arlington.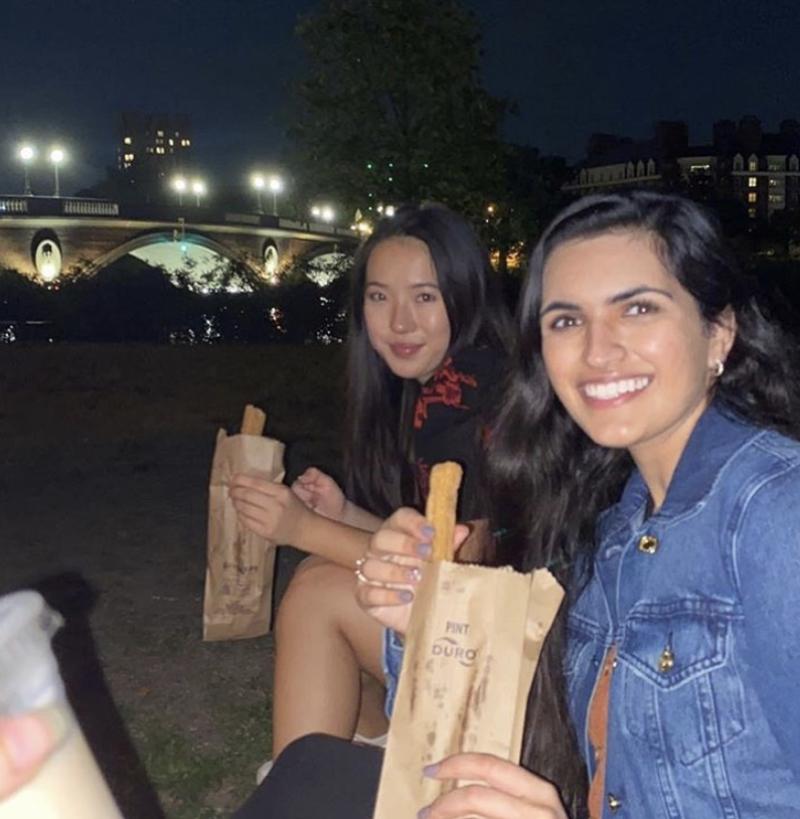 It was magical. We found this beautiful path that went alongside the Charles River and let the conversations flow as we explored what would be our home for the next three months. Three miles later, we returned to get our churros and tried the horchata (which has become one of my favorite post-midterm treats) and brought it back to the Memorial Bridge to eat. We planned on heading home when we were done. At some point my roommate went back to get some sleep before her 9am class the next day and normally I would have also felt as though it was the natural time to all head back and hit the hay. But, instead, my other friend and I stayed by the river and talked for two hours.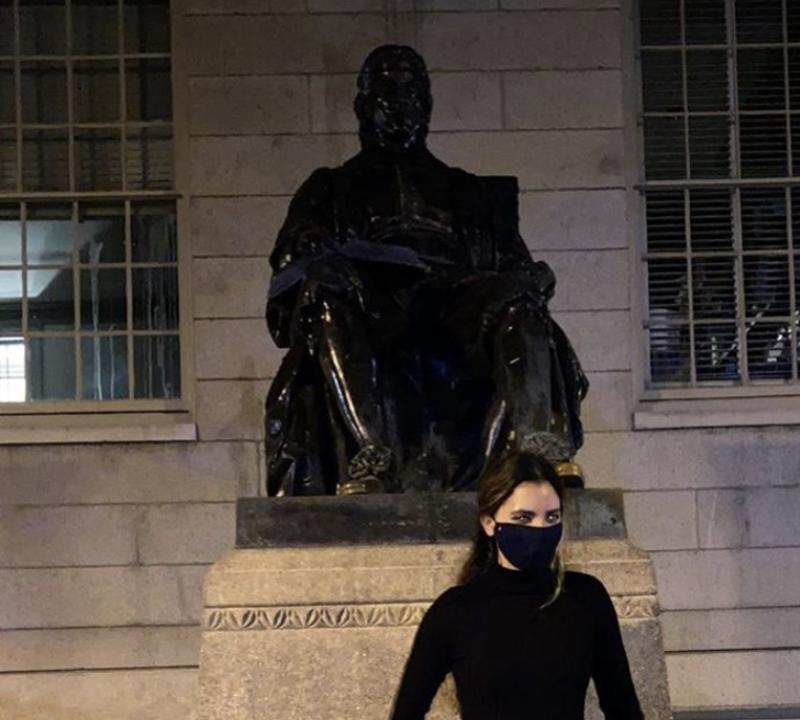 By this time, it was near 2am and we decided to tour Harvard Yard. Currently, due to social distancing, I live in upper-level student housing by the river even though I'm a first-year. At that point in time, I had yet to visit the Yard, which is at the center of campus and where all the first-year dorms are located. My friend showed me the buildings she knew and pointed out her dorm. Next, we ventured over to the John Harvard statue and Annenberg (the first-year dining hall) where (after hardly any convincing at all) our pleasant walk turned into frantic giggling and racing through the sprinklers. It was warm, still summer, and the slight adrenaline rush of enabling each other to feed into our childish wishes was refreshing. She was fully supportive of my endeavor to walk around Hollis barefoot to "feel the energies" of Emerson and Thoreau—something I had been wanting to do since I received my admissions decision from Harvard. By the river we had also ditched our shoes in favor of feeling the grass and soil between our toes and grounding ourselves in a new place. It was different than it was back home; it felt new and fresh. The soil wasn't as cold and dark as it was in Minnesota. We eventually made our way back to Widener, where we spilled our life stories and she became the person I knew the best—and who knew me better than anyone else at college. It felt nice to be known by someone deeper than just a first impression.  
4am rolled around, and by the time that 5am was nearing I just turned and said "Do you want to just wait 'til sunrise?" which felt like the perfect new beginning. Sunrise came and went, not at all spectacular in color but spectacular in the serenity and feeling of closeness. There is something really special about being able to spend 14 hours straight with someone without running out of conversation. Over the course of this semester many of our nights here have been spent together, awake and on an adventure—we have explored Boston overnight, trekked to all the close Boston colleges, walked to see the skyline, seen 3 shooting stars, and established a bond that made campus feel like home.  
So many good memories have been made this first semester as a group of friends I deeply love has blossomed through sunset dinners and getting lost on the T (the Boston-area subway system). As winter break approaches, I know that I am really going to miss them as we all go home across the country. But, whether it be through FaceTime self-care nights and birthday surprises, I am confident that these bonds will continue to be the highlight of the rest of my four years at Harvard.