Fondly known as "Berg" by Harvard undergraduate students, Annenberg Hall is home to the first year undergraduate dining facility.
During the academic year, approximately 3,400 meals are served every day. The dining hall is open daily for breakfast, lunch, and dinner, and even acts as a meeting place for students to have a late night "Brain Break" - Harvard University Dining Services' (HUDS) self-service study and snack break. 
Annenberg is also a wonderful place for freshmen to convene and form new friendships on campus. Many Harvard students reference Berg as the place where they found some of their closest friends throughout their college years - a good conversation and a good meal makes for an easy and enjoyable way for freshmen to meet.
As a sophomore at Harvard, Berg is probably one of the things I miss most about my freshman year. Part of the Memorial Hall complex, Annenberg is arguably the most conveniently located dining hall. It is situated right in the middle of campus, next to the Science Center and outside Harvard Yard, making it a perfect place to grab a meal in between classes. 
Beyond serving as a first year dining hall, the 9000 square foot hall is known for its beautiful Gothic-style architecture. Many students note that it bears close resemblance to the Great Hall in Harry Potter, with its hanging lights, long wooden tables, hammerbeam trusses, and vaulted ceilings. Annenberg even houses paintings and sculptures displayed against the oak walls, and features stained glass masterpieces that pay tribute to scholars, writers, and military heroes, amongst other great historical figures.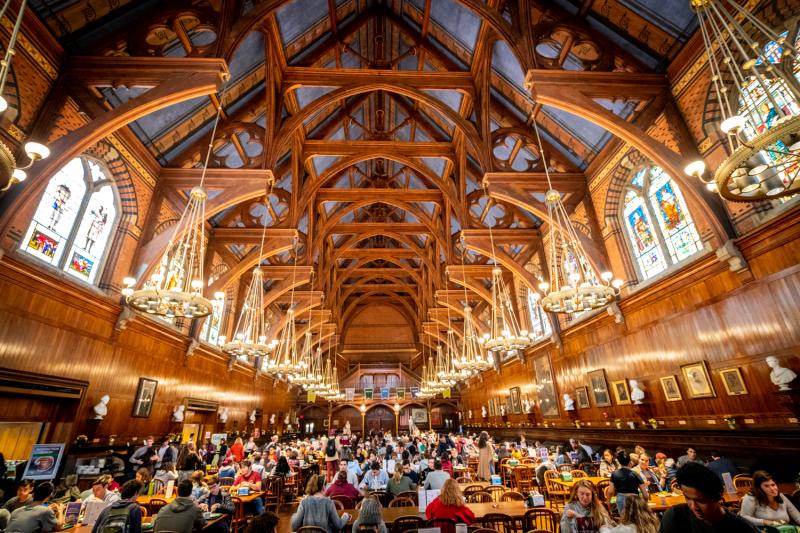 For some more insight into what Annenberg looks like, check out this time lapse!
Resources and References