The House system is the cornerstone of Harvard's residential life: students will live in one of 12 upper-level student Houses, which are located along the Charles River or in the Radcliffe Quadrangle (the "Quad") for their sophomore, junior, and senior years.
They are each staffed by the following: a pair of faculty deans who oversee the house; tutors, Harvard affiliates who help students one-on-one in a variety of aspects, such as career hunts and graduate school applications; and a resident dean, who assists students in need of help with academics or their personal or mental well-being. If you talk to any Harvard student, they will tell you that their House is their home.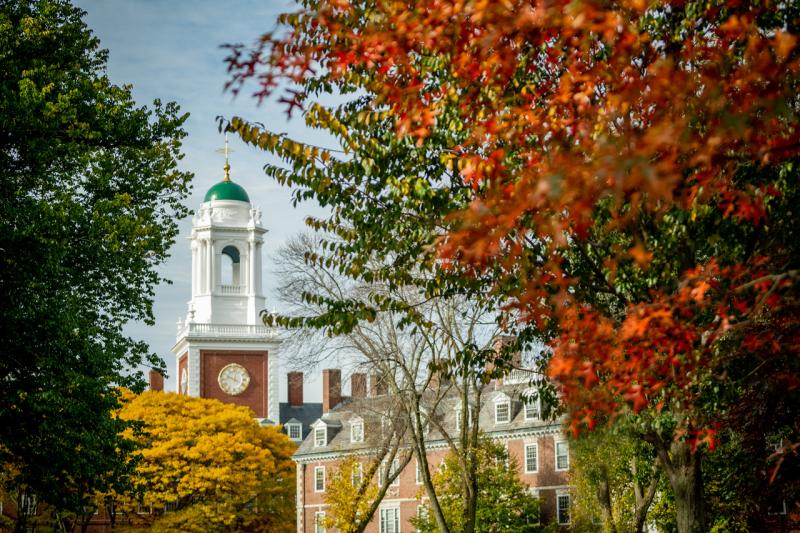 First-year students are sorted into the Houses in a randomized lottery process. In the weeks before Housing Day, first-years can form a "blocking group," a group of up to eight first-years who will be housed together. On the eve of the Thursday before Harvard's spring break, first-years huddle together in their blocking groups and begin to eagerly await their housing assignments.
In the meantime, the Houses prepare themselves for a raucous day of House pride and spirit in Harvard Yard. Kirkland House — my House, and inarguably the best House — is known for its specialized "Black Ops" team, who will stay overnight in the March cold by the John Harvard statue to prevent any other House from taking the best seat in the Yard. This year, I stayed out with a group of friends as part of Kirkland's Black Ops, and we were rewarded by getting the chance to fly Kirkland's flag at University Hall. University Hall holds the offices of much of Harvard's administration, including Dean of the College Rakesh Khurana.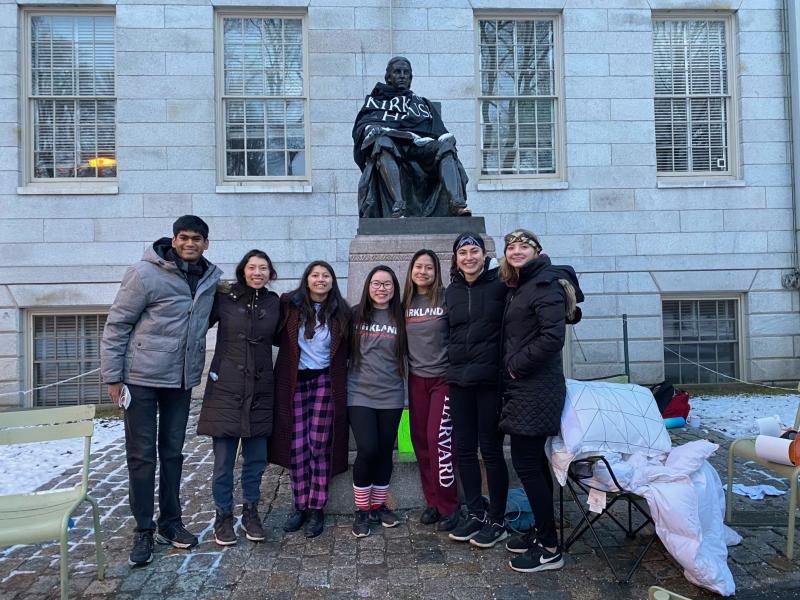 While the other Kirklanders and I staked out the John Harvard statue, the other Houses and the rest of my friends at Kirkland were preparing for the 8am sharp show of force, when, accompanied by face paint, signs, costumes, and a perhaps excessive amount of coffee, members of each of the 12 Houses swarm into the Yard to show their House pride. Kirkland was the first House to make an appearance in the Yard, and we were such early birds that Dean Rakesh Khurana came out of his office in University Hall to play music and dance while we waited. Soon the other Houses came to join us in the Yard, and one of my fellow Housemates who was wearing our mascot costume — a boar — had an engaging dance battle with Cabot's mascot (a fish) and Currier's mascot (a tree). We shouted the Kirkland Ode as the other Houses made their own chants. It must have been quite the sight for the few tourists who made their way through the Yard.
At around 9am, the House Committee chairs of each House entered University Hall to pick up the envelopes containing the names of students that had been sorted into their respective Houses. Each House waited with bated breath as the chairs came out of University Hall and started passing around envelopes to their House members, and then it became a mad swarm to get to the first-year dorms and tell them the joyous news: you've been sorted!
My friend and I picked up an envelope and made our way over to Greenough, where we pounded on the door of a lucky group of first-years who had been sorted into Kirkland. They opened the door and we immediately burst into the Kirkland Ode:
O Kirkland! O Kirkland!
You are so good to me!
O Kirkland! O Kirkland!
You are the place to be!
O Kirkland! O Kirkland!
Damn, you are so fine!
O Kirkland! O Kirkland!
Thank God that you are mine!
They cheered with us, and we went on our way to repeat the process to another special group of first-years sorted into Kirkland. I took a well-deserved nap before the House festivities of a special welcoming dinner followed by several guided tours led by upper-level students through the House. As I showed some first-years their way around the House, I knew I was showing them their new home.