For my family, cooking has always been a way to both connect with others and stay connected as a family.
Some dishes run deep in my family's history, and many of my fondest memories as a kid were learning to cook with my grandparents and parents.
Coming to college, I knew I would want to cook, but I didn't know whether Harvard had stoves, fridges, and kitchenware available to do so. Long story short, it does! If you're thinking about cooking at Harvard, I hope this blog provides you with more information about where you can cook, what cooking is like, and where to buy cooking supplies at Harvard as a first-year student!
Places to Cook
For first-years, stoves and kitchens can be found in the common rooms of many of the freshman dorms. Some of the more popular kitchens include those in the Weld Main Common Room (and Weld Basement Common Room), Grays East Common Room, Strauss Common Room, and Holworthy Basement Common Room. Many of these kitchens are already stocked with pots, pans, and other kitchen supplies, so you can just bring your ingredients to the kitchen and begin whipping up your dish!
If a kitchen does not have supplies available, however, no need to worry! First-year students can borrow kitchen supplies, among many other items, from the First-Year Experience Office. While I haven't requested everything the First-Year Experience Office has to offer, I did borrow pots and pans, knives, cutting boards, washcloths, ladles, and even a wok.
It was easy to borrow these items—I just had to enter the office anytime it was open and fill out a form to borrow them for the day. With these supplies, I've made fried rice and ramen multiple times in the Grays and Weld kitchens.
My entryway has also hosted a study break in the Holworthy kitchen, where we painted and made smoothies! Another time, my friends and I had a cookout in the Grays kitchen. During my first semester, this cookout made me feel at home, even though I was so far from home.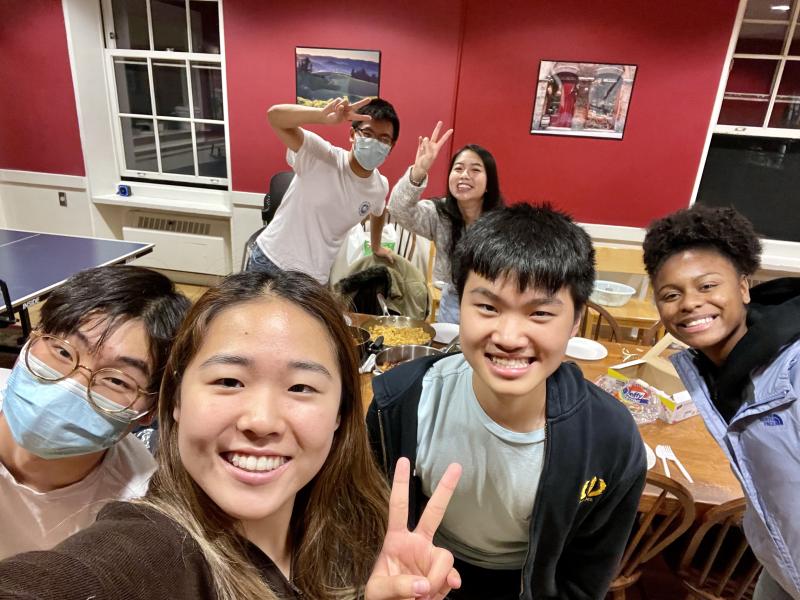 Where to Find Ingredients and Supplies
Luckily, Harvard is conveniently surrounded by grocery stores. Whether a short walk or a few T (subway) stops away, the various stores around Harvard have carried all of the ingredients and cooking supplies I've needed. Here, I list my favorite places to shop for supplies, produce, and other ingredients:
CVS Pharmacy: The CVS Pharmacy right beside campus is the one-stop-shop for many Harvard students. It is nearby and carries drinks, milk, cookies and crackers, snacks, eggs, yogurt, ramen, rice, mac and cheese, and other items. CVS Pharmacy does not carry fresh produce or many kitchen supplies, but those can be found in the next few stores on the list.
Wholesome Fresh: One of the markets in Harvard Square, Wholesome Fresh is only a short walk away from the yard and carries many essential ingredients, including noodles and pasta, fresh produce, spices, grains (like flour, rice, oatmeal, etc.), condiments, sauces, and more. If you need some dry ingredients, you can most likely find them here!
Trader Joe's: Trader Joe's is a short shuttle ride away and carries some of the most delicious foods, snacks, and ingredients. Trader Joe's items always have an air of uniqueness and are fresh!
Target: Two Targets are the closest to Harvard—the one in Cambridge Porter Square and Cambridge Central Square. Both of these Targets have carried just about every ingredient I've needed. I've visited Target for snacks and fresh produce, and I usually pick up other items I didn't know I needed along the way. If you need kitchen supplies, the Targets near campus have also got you covered. I've found affordable dishes, spatulas, sponges, dish detergent, ladles, and pots and pans at Target. Once, I found a bag of jasmine rice at Target after visiting three other stores.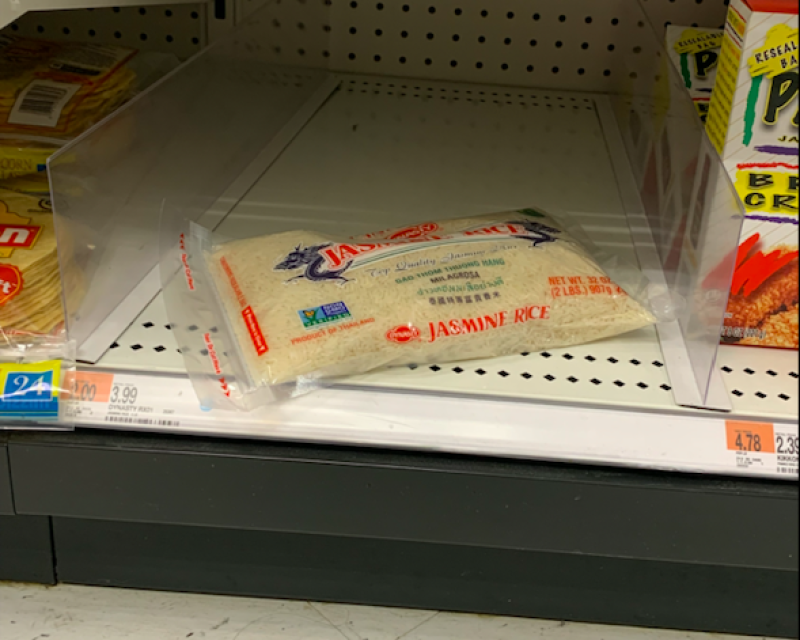 H Mart: My personal favorite, H Mart carries everything that I can imagine needing for cooking (including cooking supplies). I have explored H Mart for fresh produce, sauces, ramen, snacks, rice, meats, eggs, drinks, seafood, and many more. H Mart also carries Asian items like chopsticks, Asian desserts, and a wide variety of rice and oriental seasonings. It stocks many unique items, and I pick up items here that I cannot find anywhere else. Best of all, it is only one T stop away!
List of Supplies You Might Need
As a first-year, all of the kitchens you will be using have microwaves, stovetops, ovens, hoods, and sometimes water kettles. Sometimes, though, you might need other supplies. You might also be preparing for your upperclassmen years, when you might have an in-suite kitchen. This list is a checklist of all of the items I have that I think may be useful to you for cooking. Most of them can be found at H Mart, Target, and CVS Pharmacy.
Pots and pans (skillets, saucepans, baking trays, etc.)

Essential kitchenware (spatula, ladle, tongs, cutting board, kitchen knife)

Dishes (plates, bowls, cups, etc.)

Silverware (forks, spoons, knives, etc.)

Cleaning supplies (washcloths, dish detergent, sponge)

Other cooking supplies (measuring cups, plastic wrap, Tupperware, etc.)
Thinking about cooking at Harvard?
If so, I want you to know that you will be able to do so! Overall, cooking at Harvard has spiced up my first-year experience in ways nothing else could. I'm staying in Boston over the summer, and I thought I'd share some of the food we've whipped up in Harvard's kitchens!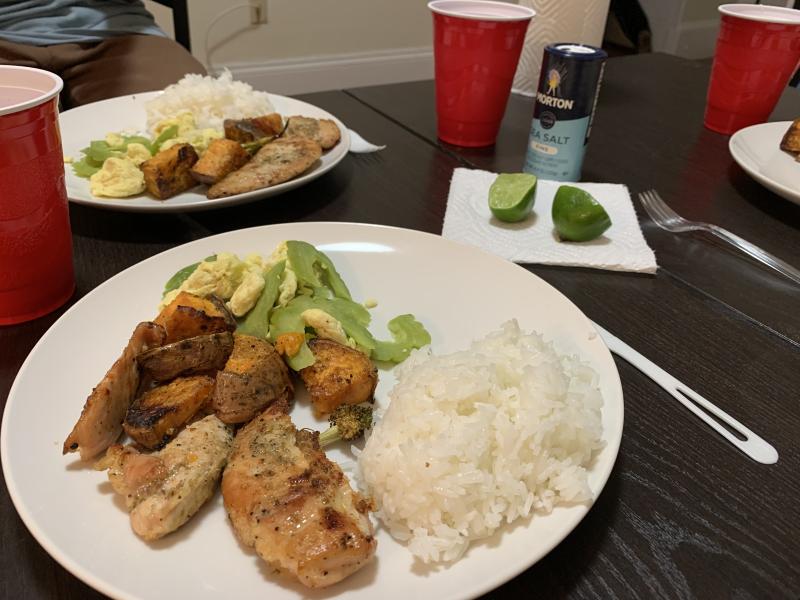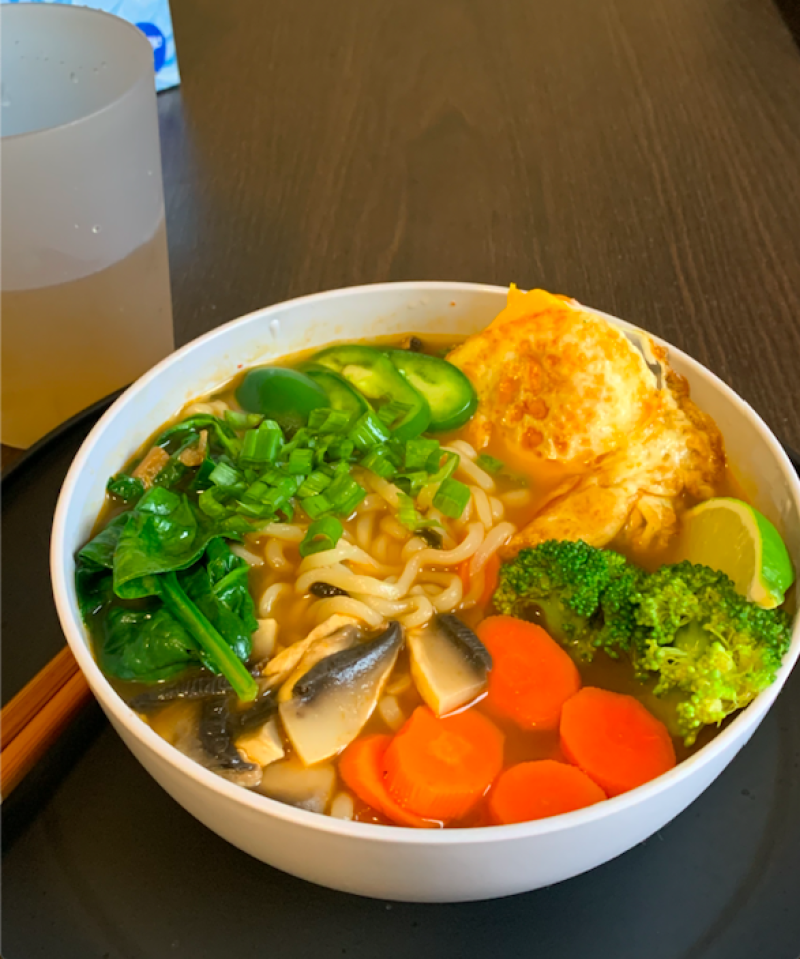 ---
On the topic of food and cooking, did you know that Harvard has a class called Science of Cooking? Science of Cooking explores food preparation from a chemical perspective, looking deep into the history of cooking and varieties of food. This source is taught by David Weitz, Michael Brenner, and Pia Sörensen, the authors of Science and Cooking: Physics Meets Food, From Homemade to Haute Cuisine, and is a hugely popular course at Harvard. Additionally, every year, there are new lectures on Science and Cooking in the Science and Cooking Lecture Series. I would highly recommend checking these lectures out!