On an early October morning, I woke up with my teeth chattering in my first-year dorm.
With my blanket wrapped tightly around me, I'm surprised to find that my windows aren't open, and my radiator is blowing hot air (albeit weakly) so I wonder where this cold breeze is coming from. This wasn't the first time I've experienced cold weather – the Midwest is known for its chaotic weather patterns specifically in the fall and winter. However, I hadn't encountered a cold as persistent or pervasive as the one in Cambridge. When I first arrived on campus and felt this cold for the first time, I knew I had to get myself right before I was sniffling for months on end. The purpose of this blog is to showcase some of my favorite fall and winter outfits – both casual and formal – to give you my perspective on one aspect of the transition to Cambridge. It's not always cold and snowy, so I've included a few summer and spring 'fits to show what's possible during other times of the year. Enjoy!
Fall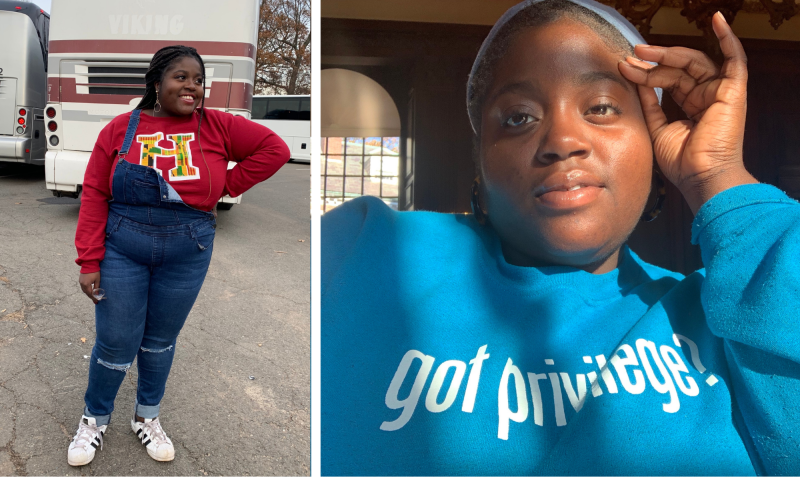 Fall starts relatively early. After the start of the semester there are a couple of summer-esque days but, soon enough, I find that the temperatures fall to the 60s and 50s (no pun intended!) The mornings usually start off warm but get cooler as the evening approaches. I recommend a light crewneck or sweater that you'll be comfortable in during both parts of the day and leggings for the warmer days and jeans for the cooler ones. I only have so many crewnecks, so I usually swap them for hoodies as it starts to approach winter. Since it gets quite rainy in October, I recommend buying a good set of rainboots, so you don't mess up your sneakers on those days. The above photos were taken in November: the first photo was taken at the Harvard-Yale football game last year, which usually occurs around mid-November, and the second photo was taken in my House's dining hall in early November. Harvard-Yale is usually one of the biggest events of the Fall semester because it gives students a chance from the two Ivies to create or rekindle friendships that will last beyond your college years. I met a number of Yale students before I matriculated to the College, so I look forward to Harvard-Yale because it allows me to reconnect and catch up with them. Besides the "Game," there are lots of fun events that go on that weekend. The hosting college holds a tailgate, student groups host meet n' greets, and there are a number of parties– you can find more information here! The red crewneck is from the Black Students Association's merch collection and the blue crewneck is from a conference I attended in high school.
Winter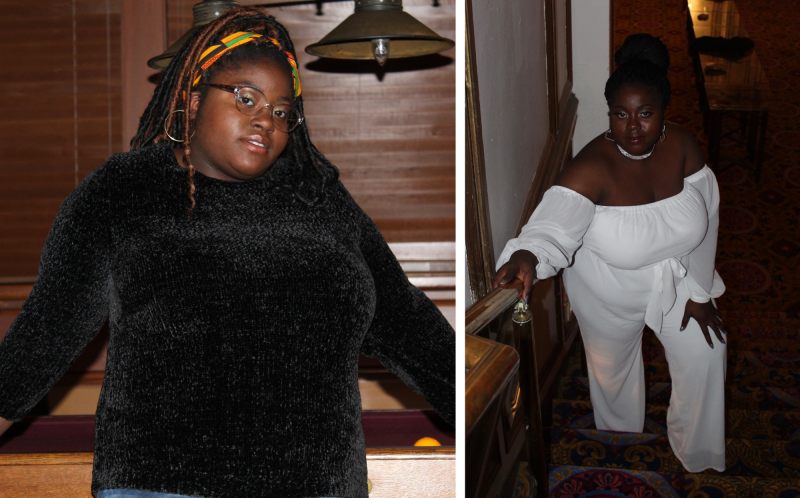 In my opinion, winter lasts from late November to mid-March in Cambridge. Although we miss the brunt of it due to the length of our winter break, I think the time I spend with it is plenty. If it's not blizzarding, the wind chill is powerful enough to stop you in your tracks while you're on your way to class and can make a 30-something-degree day feel like 15 below zero. Luckily, there's an easy fix to this – layering. Usually, I wear a thermal top and leggings under a thick sweater and jeans, respectively, and then I top it all off with a thick winter jacket. I know that this seems like a lot but as I said above, the Cambridge cold hits deep so I try to protect myself as much as I can. Plus, I get to show off my matching hat and scarf sets and can always shed the layers when I get inside. I usually complete the look with boots, but I make sure that these shoes have good traction, so I don't slip on hidden ice on the sidewalk! These photos were both taken in late February, the first one at the Queen Head's Pub Black History Month Celebration and the second at the Black Students Association's 4th Annual Black Legacy Ball. I'm not wearing it in these photos, both of these outfits were accompanied by a thick, puffy jacket. Organizations across the College have several events during February celebrating Black history, but these two events were a beautiful conclusion to the month because I believe it gives our community the opportunity to celebrate our talents and accomplishments, but to also reflect on the power and necessity of our presence on campus. 
Spring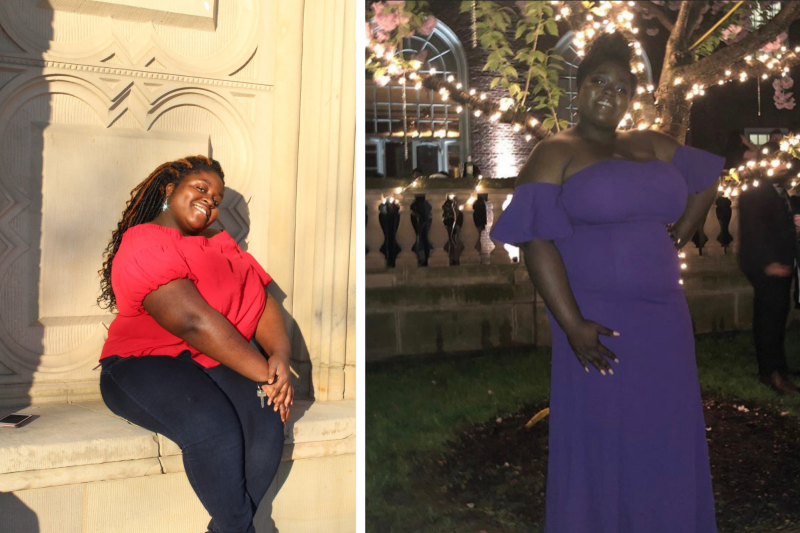 Spring is my favorite part of the school year because the sun consistently comes out, everything turns from grey to green, and the weather is finally nice enough to wear short sleeves again. There are still some chilly days, so I recommend keeping your light jackets and long pants on hand, and those rainy days return with a vengeance, so you'll need to keep your rain boots handy. The first photo was taken in late March in front of Annenberg, the first-year dining hall, and the second photo was taken in early May at Fête, my House's end of the year Formal. There are many events where I can finally debut some new outfits e.g. Eleganza, YardFest, and House Formals. All these events serve as an amazing wrap up to the semester; House formals are dances that are put on by each House Committee, which is a group of students that plan events for the entire house. The event usually requires tickets, but this allows the Committee to create an event where every student enjoys themselves. I almost didn't attend Fête during my first year because I was worried I wouldn't get all my work done, but I'm glad I did because I ate some good food and partied the night away with my friends.
Summer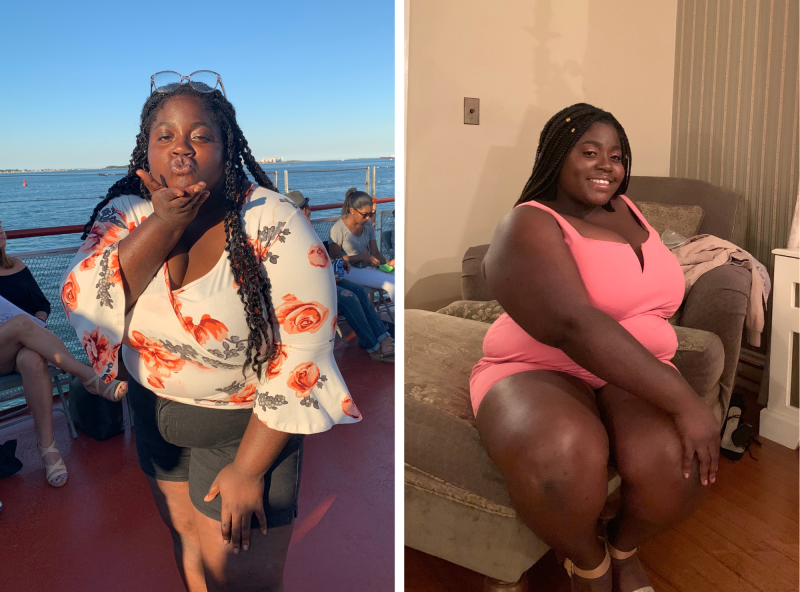 Unless you find yourself in the area after the conclusion of the Spring semester, you won't have the opportunity to experience Cambridge's summer. I worked within the Summer Urban Program through the Phillips Brooks House Association and the weather was one of the biggest reasons I fell in love with that summer. Every day was between 80-95 degrees and the sun was always shining, which meant lots of beach days and sporadic trips into Boston. I never went wrong with a t-shirt-and-shorts combo, but I would throw in the occasional dress to feel fancy. Depending on the amount of walking you plan on doing, you could get away with wearing sandals, but tennis shoes are always a safe bet. The first photo was taken in July on a Black arts boat cruise and the second photo was actually taken in mid-October, but I do see myself wearing the dress to a formal event in the summer months.  
And that's all folks! Although it's a very minor part of my experience, what I decide to wear each day tells a story about how I'm feeling and what I hope to accomplish out of each day. Despite all my classes are online this year, I still try to dress up every day just to maintain some type of normalcy in this not-so-normal year and to motivate me to actually engage with the day and everything it throws at me. I hope you enjoyed reading this blog as much as I enjoyed writing it. One last piece of advice: Get yourself a winter coat before you arrive on campus. You'll thank me later.