When I applied to Harvard, I wondered – would I really be able to find a home on campus? Within days of settling into life as a first-year in Thayer Hall, I found my answer in the South Asian community at Harvard.
Currently a senior, I have been involved with many different student organizations over the years as my interests have evolved. Cultural and ethnic groups, however, such as  Harvard Dharma  – the Hindu students association – and the  South Asian Association  (SAA), have consistently continued to be an important source of support and comfort. I wanted to share my top 5 favorite South Asian traditions and events at Harvard: 
5. Samosa Drop
Each September, as part of their efforts to welcome the incoming students, Harvard Dharma members deliver samosa to the doors of first-years. I still vividly remember my experience returning to my room after a long day of classes and encountering a little plastic baggie with a samosa and a note. While Harvard's dining hall food is pretty good, this small gesture of a warm snack instantly brought back memories of family and home. I immediately called my mom to share.
Reading the note from a junior welcoming me to campus also went a long way – cultural and ethnic groups became a huge part of how I connected with upper-level students as a first-year.
I subsequently enjoyed getting a chance to return the favor, carry a huge tray of samosas over from Central Square with friends and writing notes. Many student organizations and clubs make use of the "door drop" strategy to pass along flyers and publicize events, but this remains one I'll never forget!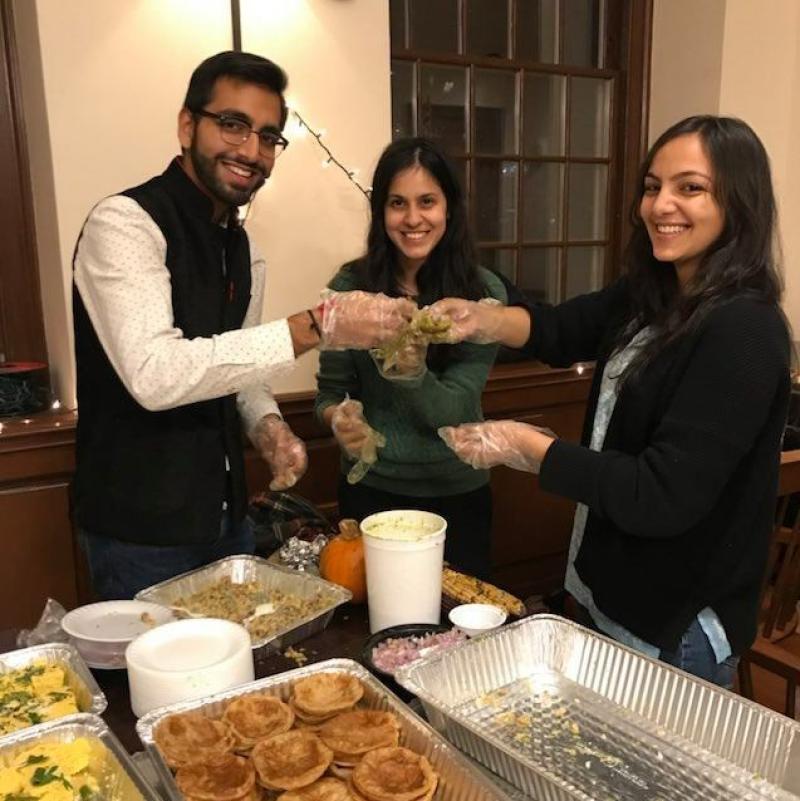 4. Secret Krishna
Have you heard of "Secret Santa" or "Secret Snowflake"? This is our annual version of that festive gift-giving tradition, swapping out these terms for Krishna (My mother often teasingly compared me to this mischievous, butter-loving deity when I was a child). Along with the standard questions of what might be some items on your wishlist, it is tradition for the sign-up form to include some amusing (dare I say, polarizing!) this-or-that questions, including Kaju versus Pista, Frooti versus Maaza, Garba versus Raas, and Maharaja versus Tanjore (the two main Indian restaurants near campus!). As one of the social chairs for Harvard Dharma during my sophomore year, I had a lot of fun coordinating the sign-ups and matches… I'll admit, I couldn't resist taking an early peek!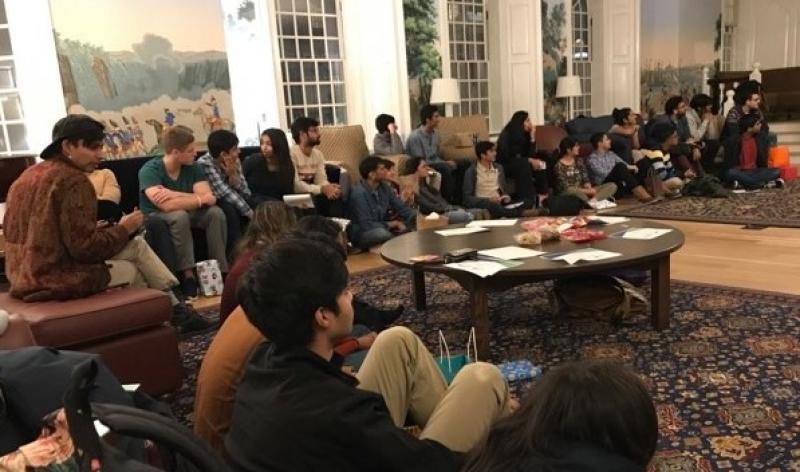 3. Holi
Imagine running around a large grassy lawn, joyfully flinging colored powder at your friends. That about sums up the scene each spring when Harvard Dharma hosts Holi on campus. Holi is a Hindu festival all about the coming of spring, celebrated worldwide with fistfuls of colored powder called raang. We start the day early, tagging the iconic John Harvard statue in Harvard Yard with some colorful raang. Then, we spend the morning drinking chai and playing a game called Kabaddi (during my first year,  Dean Rakesh Khurana  stopped by to play a match!). Finally, the main event kicks off in the early afternoon, when we run around the Quad Lawn in an epic frenzy of tagging each other with colored powder.
I laughed so hard that day, even though I made the mistake as a first-year thinking I'd be able to wash out all the raang from my favorite pair of sweatpants…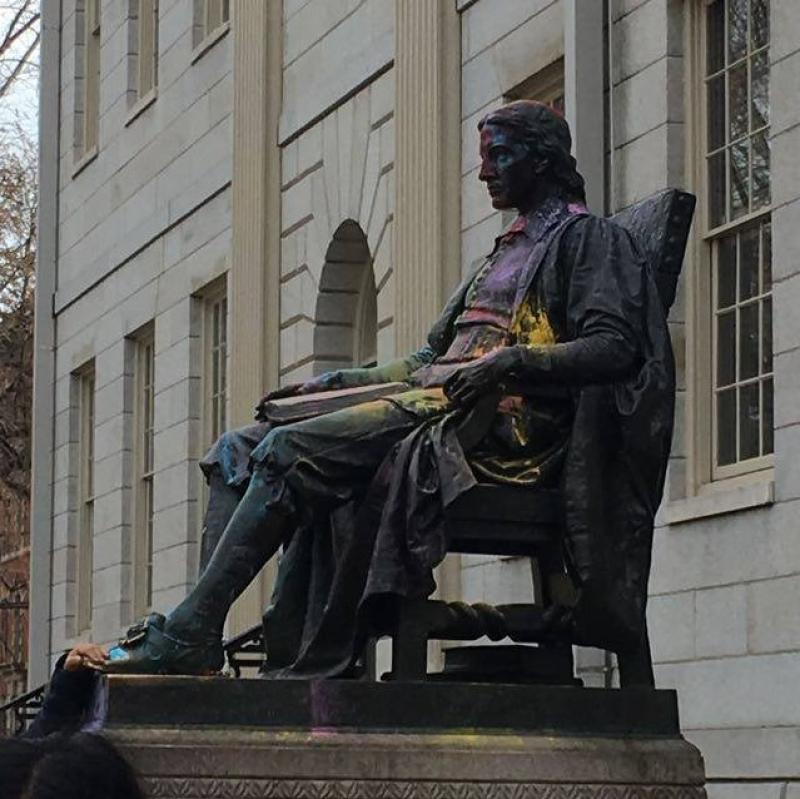 2. Ghungroo
For me, the spring is synonymous with Ghungroo. It's difficult to find the words that do Ghungroo justice. Ghungroo is a massive annual production celebrating South Asian dance and music. It is the largest student production on campus, involving upwards of two hundred students each year between the dance acts, music acts, skit acts, and backstage crew ("G-tech"). Since my first-year, I have been involved with Ghungroo both on stage and behind the scenes. As someone who willingly admits to having two left feet, I really appreciate how Ghungroo has no auditions for its dance acts. Instead, anyone can sign up to be part of the fun; I've gotten the chance to learn from my incredibly talented friends and peers and managed to convince many of my non-South Asian friends to join in. Because I've been involved as stage manager of Ghungroo for the past three years, I also get to see another side to the show.
Nothing beats hastily eating pineapple-jalapeño pizza during intermission so that I can race back to take up my place at stage right and pop on the ClearComm headset to cue raising the curtain and resuming the show.
Purely by chance,  Ghungroo  ended up being one of the last productions still able to happen during Spring 2020 before everyone evacuated campus as a result of COVID-19. Curious to learn even more? Check out  this blog post  written by my friend Meena entirely about her Ghungroo experience! 
1. Diwali
My absolute favorite South Asian tradition at Harvard is how we celebrate Diwali on campus. Diwali is the Hindu festival of lights. It usually falls around the time of Thanksgiving each year – a somewhat hectic point in the semester as classes are wrapping up and finals are looming on the horizon. For the past three years, the faculty deans of  Mather House  have welcomed everyone into their home as a space for us to host the event. We spend the early part of the day tidying and setting up, scattering flower petals and tea lights (it isn't called the festival of lights for nothing!). Then in the evening, we gather for a special Diwali pooja before eating a big dinner that all the seniors are responsible for making.
If I could experience just one event from a senior year before COVID-19 it would be cooking Diwali dinner with all my fellow seniors – a chaotic and entertaining affair.
All in all, it was during Diwali of my first-year that I felt as though I finally took a deep breath, looked around and thought: here I'd found another home.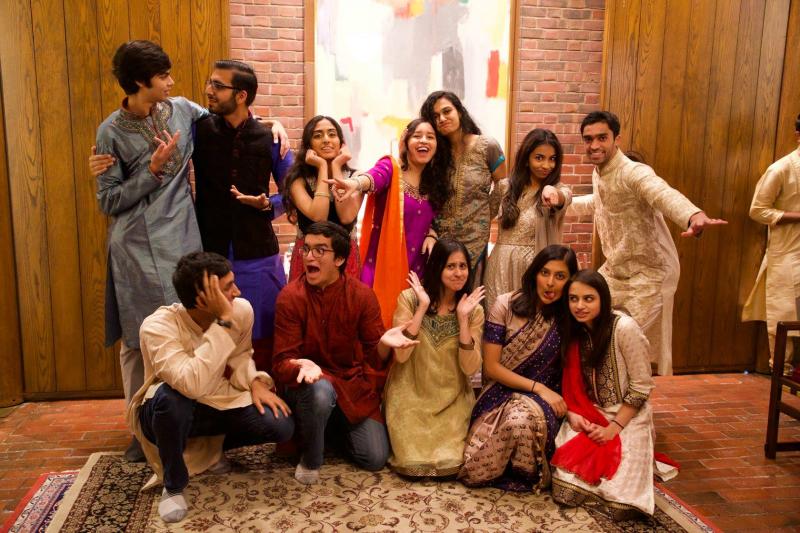 Honorable Mention: Department of South Asian Studies Teas 
At least once a semester, the Harvard Department of South Asian Studies  (SAS) hosts a tea in their physical space at One Bow Street. This is the perfect casual opportunity for good food, good chai, and good conversation with old friends and familiar faces. I've appreciated this contribution from the Department of SAS to fostering South Asian community on campus.  
And there you have it!
I can hardly believe I've once again reached that point in the semester with just finals left to go, only this time, I will be wrapping up my second-to-last semester at Harvard. Be it sending giant care packages (filled with diyas, electric tea lights, rose petals, snacks, and other treats!) or hosting a virtual retreat over Zoom to mimic this year's Ghungroo Gtech team assembling in Agassiz Theater, I have been so grateful to see how hard the South Asian community has worked to find new and creative ways of carrying these traditions over into our current virtual reality.