A huge part of any Harvard student's experience is residential life.
Since all first-year students live in Harvard Yard (or right outside of it), you learn about housing as soon as you are on campus, if not before, and develop a passion for your dorm/house.
Personally, I did not know anything about the residential system until I got here, but I'm about to give you a crash course in housing at Harvard so get prepared to become a housing pro by the end of reading this article.
Your First Year
All first-year students live in Harvard Yard or very close to it in one of 17 freshman dorms: Apley Court, Canaday, Grays, Greenough, Hollis, Holworthy, Hurlbut, Lionel, Mower, Massachusetts Hall, Matthews, Pennypacker, Stoughton, Straus, Thayer, Weld, and Wigglesworth. Apley, Greenough, Hurlbut, and Pennypacker are the four dorms that are not in the Yard but a few minutes walk away.
Every dorm has its own amenities and special features. For example, Straus has the best common room in my opinion and I like Gray's kitchen.Everyone has their own preferences and favorites, depending on what they are looking for or enjoy doing, bit you can access any dorm you want during your stay.
I live in a quad in Straus Hall. Every dorm and room has a different arrangement and you cannot choose your room or roommates. However, you get to explain your living style and habits before you come on campus and that is how you and your roommates are matched together. Personally, I was very lucky to get matched with amazing roommates and I will be blocking with them next year. On that note, what is 'blocking'?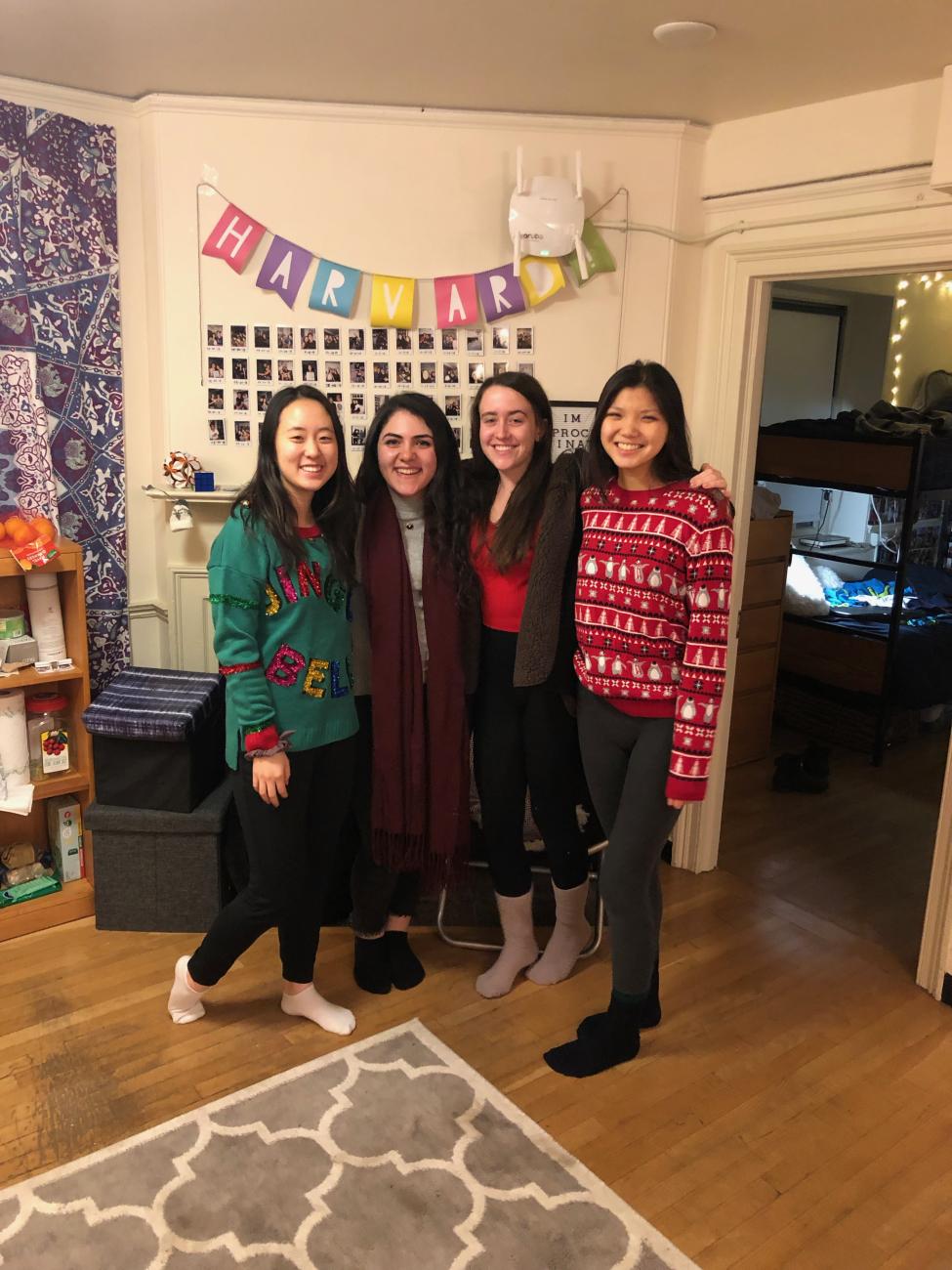 Upperclassmen Years
During the spring semester of your first year, you choose your 'blocking group' which is a group of 1 to 8 people you will all be placed in the same house. You can neither choose your house nor indicate preferences, but you do not have to room your blocking group. You are all place in the same house and rooming assignments happen afterwards.
Housing Day is the Thursday before Spring break where people who already live in the house that you were assigned to storm into your room and reveal your home for the next 3 years.
This year, Housing Day is March 14th so stay tuned for another blog about that soon! In general, housing has been an integral part of my Harvard experience so far and it is the same for many people here as well. Living with your friends is definitely a change, but a great experience at the same time. I will forever be grateful for the Harvard housing system.