"What's Housing Day? Why are people in tree costumes yelling?" I've got you covered. 
Let's start with the basics. There are 12 upperclassmen houses, 9 of them are located on the River and 3 of them are located in the Quad. I live in Pforzheimer House, or "PfoHo," which is in the Quad (and is the bomb diggity). Anyways, I'll try to answer your questions here:
What's a House?
Your freshman year you live in a dorm in Harvard Yard, and the next three years you live in your House. A House is essentially one big dorm complex. About 300-500 students live in each of these "Houses." Each of the Houses has their own dining halls, their own gyms, their own libraries, their own mascots and colors, and their own lil' quirks and traditions. For example, Pfoho goes on an annual dog sledding trip every winter, has a "spa" downstairs, and has other cool things like that. Eliot has their annual spring formal called Fete, which is like prom without any of the drama and fancy up the wazoo.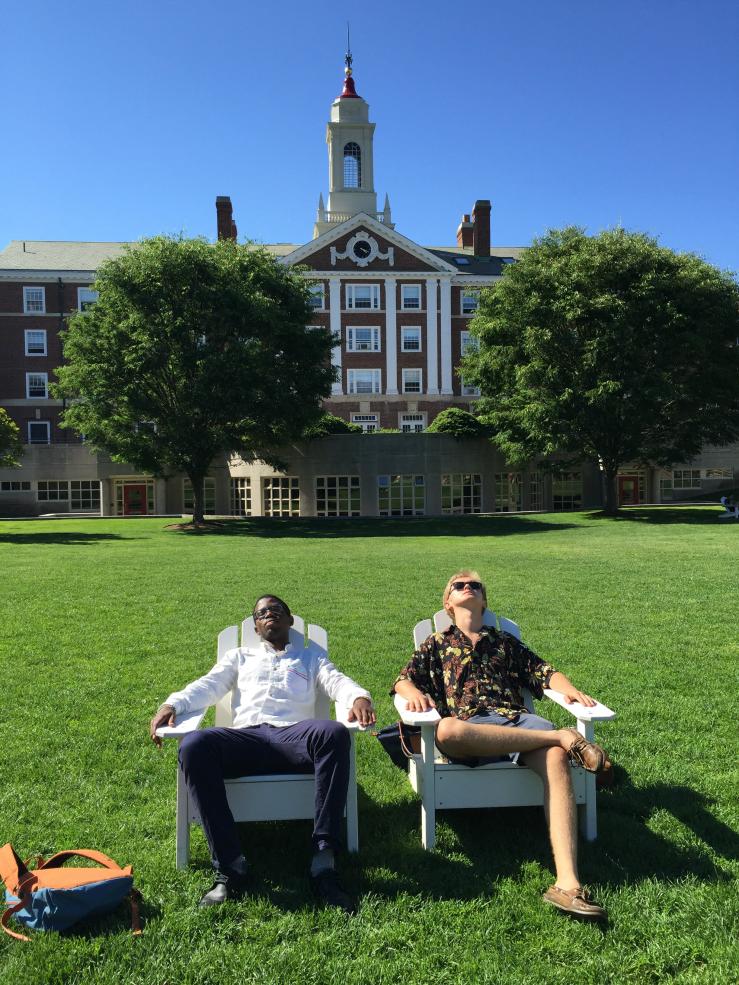 How do I get placed into a House?
Your freshman year, you can choose up to 7 of your friends to form what's called a blocking group. This blocking group means that you're ensured to be placed into the same House with these people. From there, the process is random. There is no jock house, art house, etc. It's all random. You find out what House you get placed into on Housing Day.
What's Housing Day?
A brief summary: the Thursday before Spring Break, at 9AM, crazy upperclassmen from your assigned house will come bang on your door in all of their costumes and house gear and hand you and your blockmates the letter that welcomes you into their House. The whole rest of the day is dedicated to House pride and welcoming you into the House. 
What happens on Housing Day? 
Housing Day begins at 6AM when the upperclassmen wake up and congregate in their dining hall. From there, all upperclassmen gather in the Yard around 7AM and start doing their house chants, waving their flags, and generally just yelling about how much they love their house. If it gives you any idea of how loud Housing Day gets, local news stations awhile back covered Housing Day celebrations thinking it was a protest of the Iraq War. At 9AM, the dean gives each House the letters of which freshman got placed in their house, and then all of the Houses go and "dorm storm," delivering these letters to the freshmen in their dorm rooms. From there, the celebration continues into Annenberg Hall, and then, each House has their own festivities for the rest of the day. 
Here's my schedule for tomorrow morning:
6AM- Wake up. Get in polar bear costume. 
7AM- Run to Yard. Yell a lot. 
9AM- Hug a lot of new Pfohosers. Yell more. 
10AM- Eat. Yell more. 
11AM- Move back to Pfoho. Revel in the greatness of Pfoho.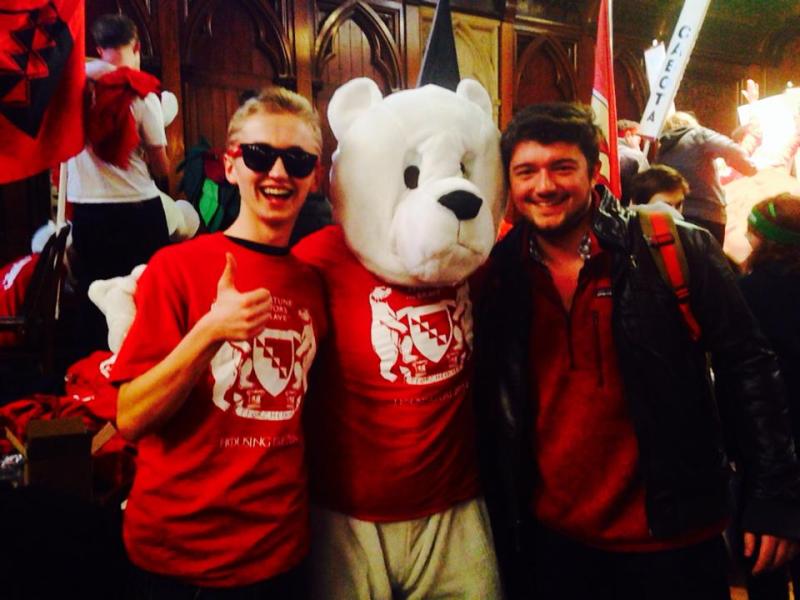 Wait, so each of the dining halls is different? 
Kind of. The menu is the same at each of the house dining halls, but people claim that different Houses have better dining halls. 
Oh no. What if my friend got placed into a different house than me?
No worries! The housing system is not restrictive, so you can go into any of the Houses and eat there and do all that fun stuff. You won't lose any friends on Housing Day.
What the heck's a linking group?* 
A linking group is another blocking group that your blocking group can attach to. Connecting to your "linking group" ensures that you and your linking group will get placed in the same neighborhood of Houses. There are four neighborhoods of Houses: River East, the Square, River West, and the Quad. So, you and your linking group will live within 100 yards of each other guaranteed. 
What's House Life?
Okay, so each House is run by a Faculty Dean, who is basically the grandma or grandpa of the House. They make sure everyone is having a good time, and every week, they open their doors to some sort of bonding event. Then there's the tutors, who live in the entryways, and they're more like the cool aunts/uncles. They're there to make sure you don't burn down the building and also to make sure everything is going smoothly with you. They're also super helpful if you need help with school stuff or anything in general; hence the name "tutor." Then, there's the House Committee, or "HoCo," who runs all the the parties, outings, events, formals, stein clubs, intramurals, house gear and all of that jazz. House Life can be as big of a part of your life as you want it to be. 
Are the Houses of Harry Potter similar to the Houses of Harvard? 
Not really. But, if I was to put each of the Harvard Houses into a Harry Potter House, it would go like this: 
Slytherin is Eliot, Adams, and Dunster. All of those Houses require that you can speak to snakes, so that's obvious.
Hufflepuff is Currier, Cabot, and Quincy. Currier's mascot is a tree, Cabot's is a fish, and Quincy's is a penguin. Everyone in those Houses also just seems pretty nice. 
Ravenclaw is Leverett, Kirkland, and Lowell. This makes so much sense in my head. I can't really explain it, but then again I'm the Sorting Hat, so I don't need to explain my decisions. 
Gryffindor is Mather, Pfoho, and Winthrop. Mather and Winthrop's mascots are lions. Pfoho's supposed main trait is bravery. So, yeah, I'm basically Harry Potter. 
Why do people love their House so much?
Your House, after graduation, is the place where you will receive your diploma in a small ceremony with your other House mates. Your House will become your home for the next 3 years. You will get to know the entire staff, you'll meet a ton of friends in your house, and you'll just grow to get comfortable in your own house. The first thing an alum will ask you when they meet you is what House you are in, because although it is random, people grow to really take pride in their House. About 98% of students live on campus all 4 years, which is really a testament to the housing system. Houses rule.
GET EXCITED FOR HOUSING DAY!!!
*Linking was discontinued after the 22-23 academic year