A crucial component of college life is FOOD - where you can get it, what options you have, and whether it's good.
These questions can be especially important for low-income students, who disproportionately have to worry about the cost of dining while on campus. Thankfully, Harvard supports low-income students by including the costs of an unlimited meal plan in their financial aid considerations, in addition to providing a few other options for cheap eating.
Mississippi Mud Squares. Barbecue Grilled Cheese Burgers. Veritaffles. These are all foods that you might encounter while eating in a dining hall on Harvard's campus. Staffed by the Harvard University Dining Services (HUDS), dining halls are a central student hub, whether it be to actually get a meal together or just as a place to study, talk, and hang out. Additionally, because Harvard believes (as do I) that, "many life-changing moments and memorable conversations happen over meals," all undergraduate students living on campus are required to have an unlimited meal plan. While that requirement may shock some of you, the good news for students from low-income backgrounds is that because Harvard's financial aid is determined based on cost of attendance and not just cost of tuition, room and board costs are included in financial aid considerations, and as such can be covered by University scholarship. In this way, I think the dining halls can act as a potential equalizer between students of various economic backgrounds- regardless of how much money your family makes, the majority of your meals will be in and from the same place as everyone else. But what does the "unlimited meal plan" actually look like?
For starters, there are set times within which the dining halls serve meals each day (e.g. breakfast is served from 7:30am - 10:30am everyday, ending slightly earlier on Sunday to accommodate for brunch). In that timeframe, students have unlimited swipes into a dining hall, where food is served buffet style. The food options include main courses prepared by HUDS (including vegetarian options), in addition to a sandwich and salad bar, soups, desserts, and drinks. While the set times for each meal can sometimes prove difficult if you have an especially busy day, having unlimited swipes is a wonderful thing if you (like me) enjoy eating some meals more than once. In my first year, I had a class from 5:00 - 6:00pm, so I chose to grab a quick dinner at 4:30pm, and then a second dinner with friends after class around 6:30pm. 

Second, the undergraduate housing system also plays a large role in what dining looks like at Harvard. All first-year students eat their meals in Annenberg, a dining hall  located right next to Harvard Yard, which is close to where all first-year students living on campus reside. Additionally, Annenberg is only accessible to first-year students (with the exception of breakfast), providing a great chance for the new class to get to know each other. Finally, Annenberg is BEAUTIFUL (think "Great Hall of Hogwarts"), acting as a nice welcome to the College.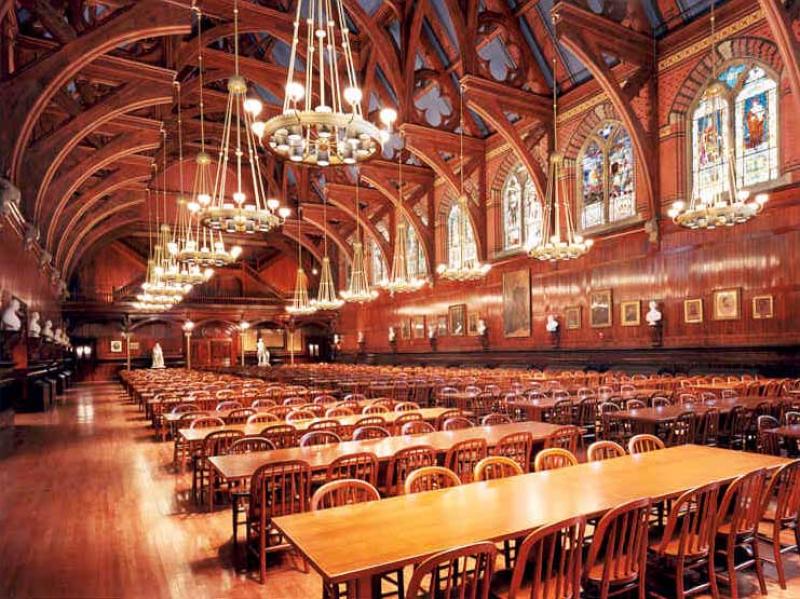 Upper-level students, on the other hand, are lotteried into one of twelve upper-level houses, each of which have their own dining halls. While students are free to eat in other dining halls (with some restrictions, such as "Community Night" each Thursday when you can only eat dinner in your own house), having in-House dining halls is both a convenient way to get food and a convenient way to get to know your house community. Upper-level dining halls are all different in their design, and while not as grand as Annenberg, are still great places to enjoy a meal. For example, the dining hall in Quincy House (the best house, and coincidentally the house that I live in) has large windows on both sides, large tables for group meals and smaller tables for more intimate chats, and a curious mural that can be stared at for hours. However, regardless of how convenient or nice the dining halls are, there are still times when you might want to venture off and eat non-HUDS food. Thankfully, there are some options for that as well.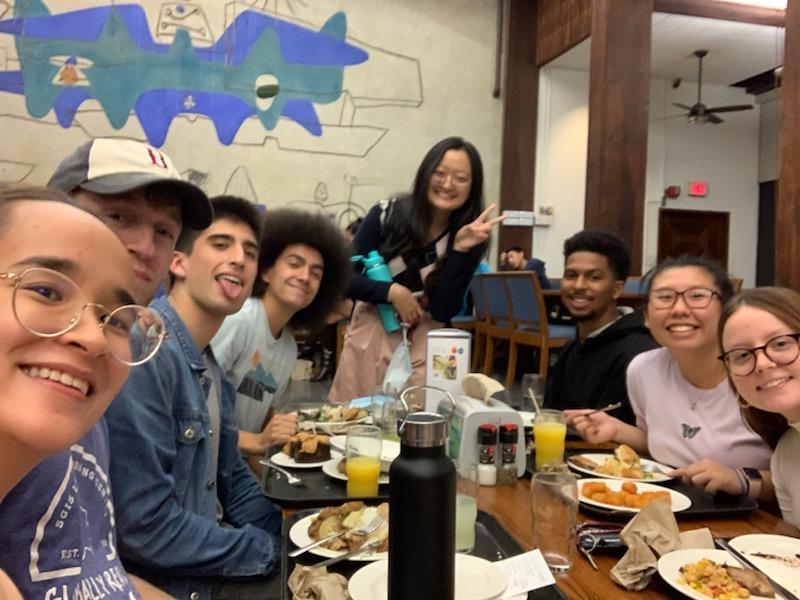 Each semester, students receive $65 of BoardPlus on their student ID cards. This money can be used at any of the 11 cafes across campus, in addition to the grilles available at certain houses. While the cafes provide essential grab-n-go items such as coffee, baked goods, or salads, the house grilles offer what I like to think of as "study food": chicken tenders, french fries, mozzarella sticks, and anything else that you might be craving at 1am as you are trying to finish a paper. Each of the dining halls also have an additional service called "Brain Break" later in the evening from Sunday - Thursday, giving students study fuel with foods like chips and salsa, cereal, pretzels, bagels, sandwiches, and chocolate milk. You can also grab food in Harvard Square (a topic to be covered in a future article), but the options I listed above are included in the dining plan, making them a life-saver for those concerned about their wallets.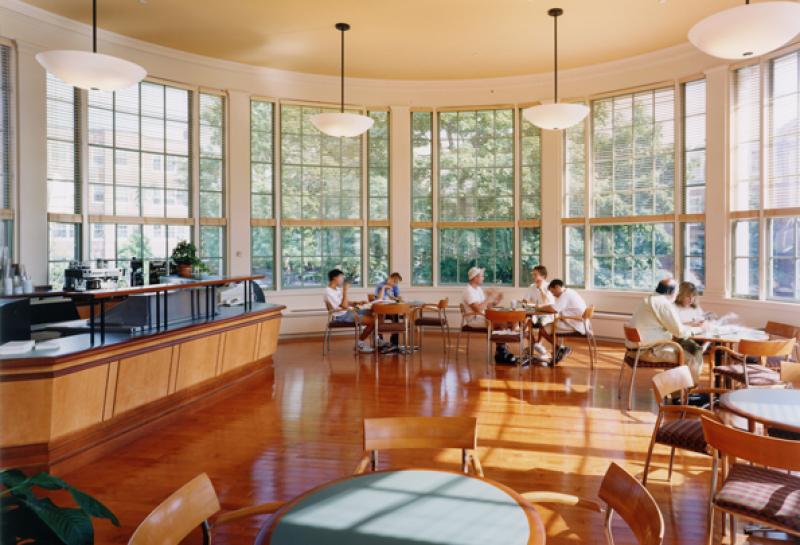 Even though this is only my third semester on campus, I already have some very fond memories of Harvard dining halls. They've been places where I've laughed, cried (both in a good way and because one of my friends almost broke my nose on accident), napped, completed essays, and eaten a lot of food. Even though they're not perfect, dining halls are  a safety net for low-income students as a place where we can always get food to fuel up and take on the day.