Unlike the rest of your application, which primarily consists of filling in boxes, the personal essay gives you the freedom to essentially write about whatever you want. No rules! Show who you are! Which sounds pretty cool, until you're sitting there looking at a blank Word document.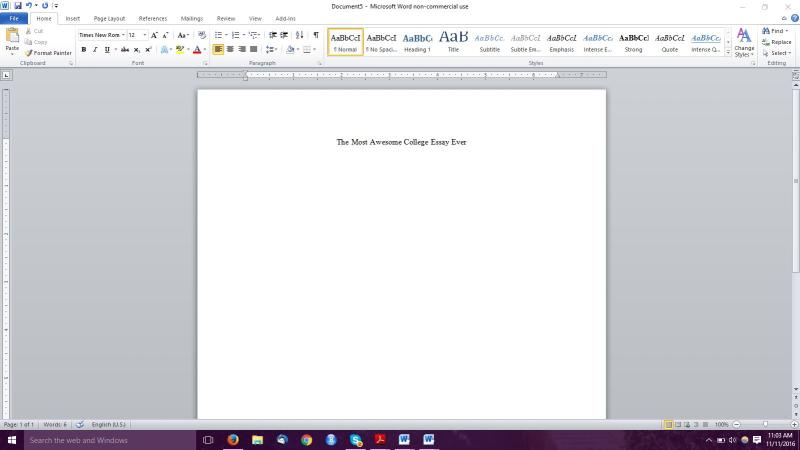 While the personal essay is a great opportunity to infuse your voice into the application, I think some people (cough, me, cough) can get overwhelmed by it to the point where they don't know how to begin. What do I write about? What makes me stand out? How can I explain all of this in only a few hundred words?
Well, as someone who eventually managed to get some words down on that blank document and turn out a decent college essay, here are a few words of advice.
1. Start by writing something.
I know, that sounds really obvious. But sometimes the hardest part of writing is just getting started – if you spend too much time criticizing your ideas before you write anything down, you won't get anywhere. Write a few sentences, jot down some random ideas, note a couple anecdotes that might be interesting… just get something on paper that you can look back to. Maybe one of those ideas will catch, and BOOM you have an essay – or maybe you'll look back to this list after a few weeks and think of something else that you would rather write about. That's fine! The beginning of the creative process involves coming up with ideas, judging them comes later. Trust me, I took a class on this (really: it was a psych class called "Creativity: Madmen, Geniuses, and Harvard Students.")
2. Think about something that has some significance to you.
Many students feel like they have to write about some huge, life-changing, important event in their lives. If you have something like this that you want to write about, that's great! However, you can also write an awesome essay about something other than The Most Important Thing Ever. It can be the littlest things, if you explain their significance well, that actually stand out. In my case, somewhere in my essay I mentioned that I got up at 5:37am (rather than 5:30 or 5:45) because I liked prime numbers – and the first thing my admissions officer said when I walked into the room for my interview was, "So, prime numbers, huh?" That being said, remember that this is a college essay, so keep this audience and goal in mind as you write. When they finish reading, what do you want the admissions officers to know about you? Does this essay demonstrate something about who you are and what you care about? If not, you might want to go back to the drawing board.
3. Don't be afraid to start over.
After finishing my first draft, I was glad to have something, but I wasn't completely happy with it either. A week or two later, as I was reading over my essay again, I had an idea for a totally different topic - so I opened another document and completely started over. The second attempt was so much better, and I felt happy with how it turned out. It can be hard to scrap an initial attempt after spending so much time on it, but think of that time as just part of the process of getting to what you really want to write about.
4. Get an outside perspective.
One of the most useful things I did while working on my college essay was asking a couple people to read it over. At the time, I had two drafts that I was choosing between, and I wasn't sure which one captured "me" better. When I asked my parents and teacher what they thought, they unanimously picked one option over the other. In the end, it's important to have an essay that you are happy with – but sometimes having a fresh set of eyes can help you see what that is.
5. Edit.
This is an important step! Both you, and perhaps someone who knows you well, should read over your essay and make sure it is in tip-top shape before you turn it in. There should be no grammatical or spelling mistakes – that gives the impression that you did not take your time on it. I know you've spent a long time on it by this point, but those last edits are super important!
The personal essay is a snippet of who you are and where you're coming from – a snapshot for the admissions officers to look at as they read your application. It will never be able to capture everything about you, but you want to make sure that you're giving them your best angle. So sit down, smile, and get to writing!