It's less than one week until the common application opens, which makes this blog post especially pertinent to anyone that is a senior in high school now.
At this point, it's misleading to call myself a "rising junior" because the class of 2015 has already graduated, which makes me a junior now, and the same is true for those in high school. So, y'all are no longer "rising seniors", you're seniors! Applying to college can be scary because there is so much uncertainty. But, as an applicant, you have control over how you present yourself, where you apply, when you apply, and a lot of other tough choices that have to be made. I'll share a few things I was told and was thinking about as I applied to college when I was a senior in high school. Here are the top 3 pieces of advice I'd give to anyone applying to college. 
Front-load and reap the benefits
I think one of the most important things you can do when applying to colleges is to front-load a lot of the work. I've found front-loading to be a good idea for a lot of other things too, like homework, responding to emails, planning events, etc. By front-loading you'll be less stressed about deadlines and this way you can be sure that your application is exactly how you want it by the time you hit the submit button. Needless to say, you should know when the deadlines for things are. I've heard many horror stories about people missing deadlines and missing out on great opportunities. One of my friends took a nap and slept through a deadline for a school in Texas and that was it, no second chances.
In front-loading your application you can ask teachers to write recommendation letters before anyone else, so they'll have a lot of time to work on yours and it'll probably be better. Another benefit (of many) is being able to look at your standardized test scores and consider whether to take a few tests again. If I were to re-do standardized testing, I would take my subject tests during spring semester of my junior year, because the material would have been more fresh in my mind. Lastly, front-loading will cause you less stress. I can't reiterate enough how great it felt to submit all my college applications by the early action/decision date even though I only applied to one school under the early action/decision program. Really push yourself to stay on top of things and you'll be shining a Kanye Smile. 
Be yourself 
A question that I get asked a lot is what kind of student Harvard is looking for. I try my best to answer by saying someone that is pretty motivated and able to persevere through challenges. The reality of the matter is that Harvard admits very different students. Not only would this place be boring if we were all the same kind of person, but it also wouldn't be a great place to exchange ideas. I recently talked to a friend that graduated this past year and he told me one thing he really misses about Harvard is the diversity here. Harvard has a beautiful campus, but all of the buildings and scenery mean nothing. The people make this place what it is. So, in applying be sure to show who you are as a person. For example, adding an additional recommendation letter from someone outside of school that knows you really well through your extracurricular activities, while optional, could be really helpful. For example, if you're on a sports team or are really involved in your place of worship, then you can have those people write on your behalf.
 The essay is also a really great place to show your personal qualities. What you write about is totally up to you and staring at a blank word document is probably one of the most frustrating things as you apply. But in our office, we have students that wrote about completely different things that were really personal to them. Essay topics included ultimately deciding to not join the navy, intellectual curiosity and the writing process, a near-fatal allergic reaction at a summer program, being a pastor's kid, and a few others. But these were extremely specific to each person and spoke to who they are. One admissions officer likes to say that if you lost your essay in the hallway of your high school and it didn't have a name on it, people should be able to read it and quickly say "Yup! That's Cyrus' essay." So, make your essay your own.
Ask questions and ask for help
You have a lot of resources around you and should definitely utilize them. Hopefully, you have a lot of adults around to support you, but if not, there are a lot of other people that can give really great advice. Whether that's an older sibling or just someone you know that has been through the application process, don't be afraid to send a message asking for help. I've helped my little brother and family friends as they've applied to college and I know a lot of my peers would love to answer any questions about applying to college and Harvard. Do your due diligence and your research as you apply. Get an idea of what being a student at that school is like. MIT is very different from Harvard, which is very different from the University of Texas at Austin. Know what you're getting yourself into.  If you and your admissions officer are the only two people who ever look at your application, then your application (especially your essay) could probably be better. If you look at a school's requirements and are unsure about something, that's the time to ask questions. You have a lot of people that would love to answer these questions and others you may have. Including us here at Harvard College Connection! Feel free to email us (harvardconnection@g.harvard.edu) with questions and we'd love to answer them.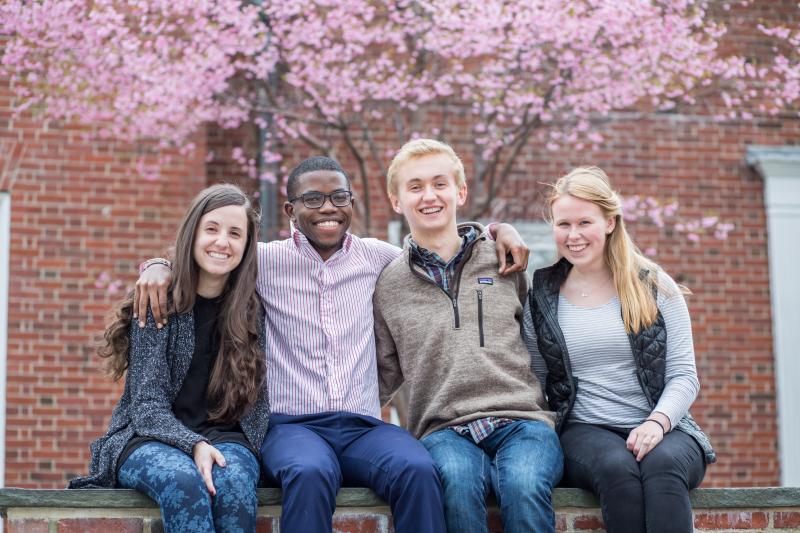 Bonus advice
A really good piece of advice I received senior year about applying to college was to apply to three types of schools. These types will be different for each person. The first category is for schools you'd be sure to get accepted to known as "safeties"; fortunately, Texas automatically admits you to any public universities in Texas if you're in about the top 10 percent of your class, so for me, I applied to schools in Texas knowing that I would definitely be admitted. The next category is for schools you think you'd have a pretty good shot at acceptance, but you're not sure known as "targets". For example, I thought I had a pretty good shot at getting accepted to Duke, so I applied there as one of my schools in that second category. Then finally, apply to what I call "Dream Schools" or "reaches," so schools that you'd dream of going to or getting accepted into, but you're not sure whether you'd be accepted. So for me, Harvard was in that category and I applied not sure that I'd get accepted but hoping I would (spoiler alert: I did!).
I think it's great to apply to schools in this manner, because this way you can be assured that you'll probably have options once decisions come back. I've heard crazy stories about people only applying to extremely selective schools and ultimately being rejected by all of them. So, just be sure you aren't putting all your eggs in one basket.