I could probably spend hours talking about the reasons I couldn't travel before getting to Harvard. Instead, I'll talk about all the small things that add up to the phrase "leaving the Harvard bubble".
The "Harvard bubble" is defined as the fully engaging environment Harvard creates, such that undergraduates sometimes find it hard to leave campus. Whether it's distance or prioritizing other plans, it can be hard for college students to explore everything ;the city has to offer. Harvard is amazing for the immersive experience it cultivates on campus, but the fact that it is next to a big city makes the college experience much more exciting. I personally am a big fan of Massachusetts' public transit, especially coming from a rural part of New Jersey.
Every other weekend, I go out into Boston to do some window-shopping. My favorite places to stroll include Chinatown and Haymarket. I was introduced to Chinatown during my first week at Harvard; my friend missed "real Asian food" and I wanted to try Pho. I was pleasantly surprised that the beef Pho I ordered reminded me of my mother's caldo de res. Even though Mexican and Vietnamese cultures seemed different in my eyes, the very fact that the taste of these dishes overlapped served to remind me home was never far away.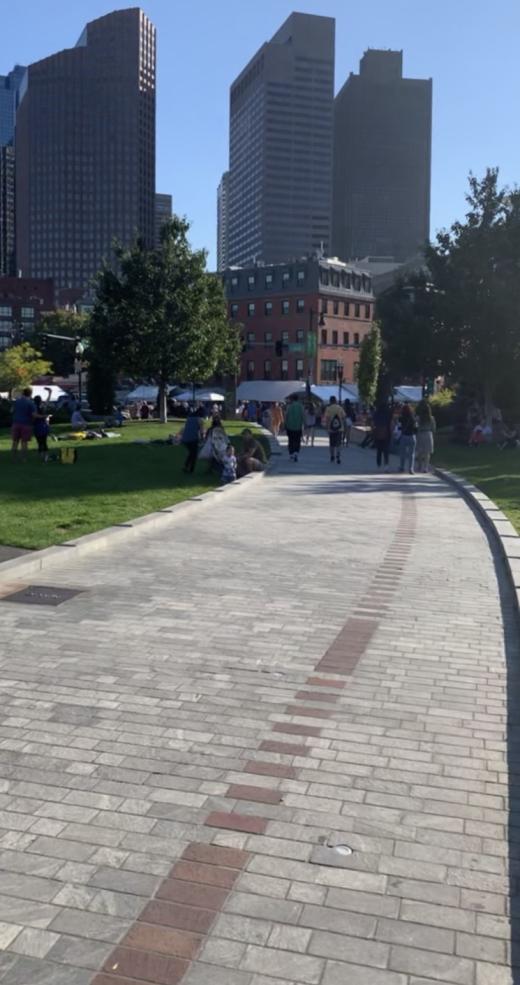 Haymarket is a fantastic farmer's market about half an hour away from Harvard. It reminds me a lot of home, as my immigrant parents would often teach me the labor of growing your own food. I grew up as a seller at flea and farmer's markets, so it brought me immense joy to see so many fruits and vegetables sold in a similar manner. As a college student, you sometimes miss your family's cooking but can't recreate it without spending a lot of money. Luckily, I found cilantro, avocados, and plum tomatoes (along with a few other ingredients!) to help me make pico de gallo in Thayer's kitchen. I used to cook all the time with my mother, so it made me feel a bit closer to her.
Every other month, I am able to visit friends out-of-state. I am able to utilize money earned from my various jobs to travel back home or to visit my friends. So far, I have visited Connecticut, New York, North Jersey, and Pennsylvania. Coming from a low-income background, I was very used to juggling a budget, and so this skill came in handy for creating preparations for personal travel. Visiting other colleges has opened my eyes to how other communities strengthen themselves and how much I really do appreciate Harvard's location next to a big city. Cambridge itself is a bit quieter, but Boston is less than half an hour away by the T!
Of course, there are plenty more places to explore! I have yet to fully explore "Eastie", the affectionate nickname for East Boston. This particular area is well known for their Hispanic food. I don't think it could ever compare to that from home, but for me it's one step closer to creating a home and identity in Massachusetts.