Hi friends! Meet Max: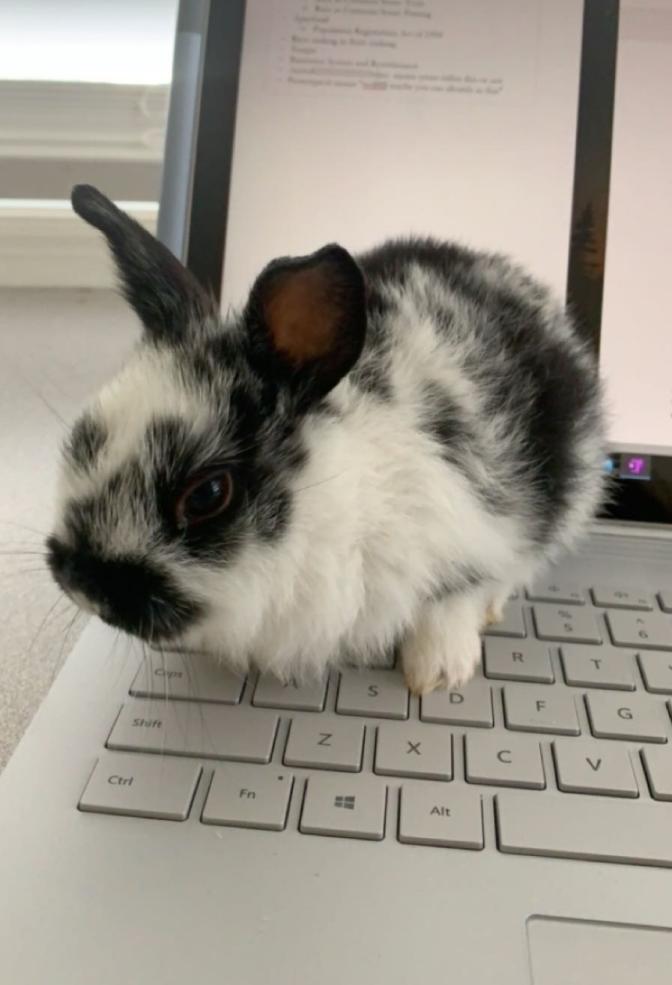 Max is one of the bunnies I have back home. My family and I have twenty-six bunnies in total (I live in rural New Jersey). He has been a great listening ear for some of my thoughts about living back at home. He's decided to help me document these thoughts in this blog.
I am a first-generation college student and daughter of Mexican immigrants. These two aspects of my identity have continued to impact me on- and off-campus in unexpected ways. Going through college without parental guidance has shaped me in drastic ways that can be difficult to explain. For one, I took care of my family back at home, but when I came to college I was solely responsible for myself. Maybe I experienced what they mean by "growing up": learning how to take your own stance, how to let yourself depend on others, how to balance your daily schedule. It was something akin to freedom. 
Although living back at home, I should still try to take my growth into my own hands.
Coming home again, I was of course happy to see my parents again. But I felt like living at home has been stunting my growth as an "adult". I no longer had the freedom to make my own decisions, from diet and clothing, to social interactions and my future area of study. Because of the coronavirus, living at home was more restrictive than before I had left for college, which is why it was harder to return to a more fear-filled household.
Because I am a first-generation college student, my parents saw me leaving our home much differently than I thought they would. They don't know what college is like and believe that maturity is measured by age, not experience. To them, I am still a child who left for yet another summer camp, fully protected by professors, proctors, and university administrators. I had only moved to another state six hours away, not another country as they had. I had left home with the promise that I would learn and train in academics, rather than painful "real-life" experiences, as they had. So now that I am back, the thoughts, beliefs, and goals that I spent the last year cultivating are not taken as seriously as when I was among professors and other students, which has been difficult to navigate.
Although living back at home, I should still try to take my growth into my own hands. I've scheduled more meetings with friends and professors, reached out to old high school teachers, and worked to improve my familial relationships. It's been really heartwarming to see how much happier my family is when everyone's back together again. But there is still more that I realized I needed to work on in order to continue healing and growing; after a couple of long conversations, I have decided to return to Boston next month. I will miss home, but I feel like this is the right decision. Right, Max? 
Max? 
Max fell asleep. After today's heartfelt conversation, I'm going to leave him with his brothers and sisters to relax. Happy sleeping Max :)