On my very first day at Harvard, I stepped out of my car and was bear-hugged by a junior. 
I didn't know him. He was not a relative that also went to Harvard or the brother of someone I knew. Being the first in my family to go to college, I knew I wasn't coming in knowing any other students. He must be mistaking me for someone else, I thought. Yet, this junior called me by name from the moment I stepped foot into Harvard Yard and introduced himself.
He was my PAF. 
PAFs, or Peer Advising Fellows, are upperclassmen who take on an important role in acclimating first years to campus life, because they have done it themselves.
They are part of the first-year advising network. Shankar showed me around and helped us unpack the two cars full of absolutely necessary belongings I took with me for the big transition. 
My head swirled with excitement about starting college, anxiety about how to interpret placement test results, anticipation for joining the right extracurriculars, constant confusion of how every brick building could look exactly the same, and a lingering sadness from hugging my family goodbye. Amidst all these feelings, Shankar took me for lunch in Harvard Square, which he paid for with his magic PAF card. He somehow knew exactly what was swirling around my mind, and asked me about each. He asked me about myself, my interests, my worries. We laughed as he told me about his move-in and the similar storm of emotions that came with it.
By the end of lunch I had asked too many questions but gotten honest, unabashed advice, and in a way, made my first friend too. 
I appreciated so deeply how much Shankar was willing to answer my texts at odd hours of the night about how to replace a lost room key or embarrassing questions about not knowing Harvard lingo. I appreciated having an adviser that was also a peer I could look up to, who could help me through the ups and downs of my first year.
It wasn't long until I became the bear-hugging upperclassman, myself.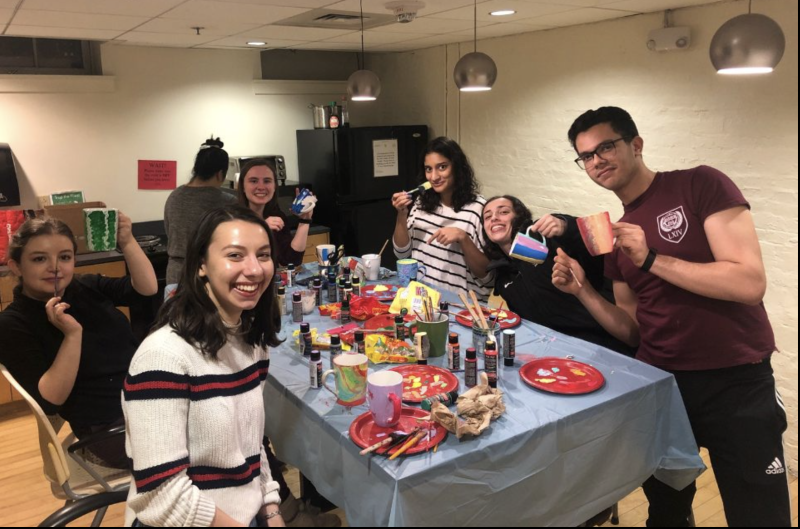 I became part of a PAF team with two other PAFs and a proctor (similar to an RA who lives in the first-year dorms). Nine of the 27 students in the entryway were my very own PAFees! Each week, the PAFs and proctor set up Study Breaks for the the entryway. These weekly events have a crazy variety of themes and foods ranging from Sushi night to Mug Painting all the way to campus wide scavenger hunts. They bring everyone together and foster an entryway community as the students begin navigating their first and second semesters.

The greatest aspect of being a PAF for me, however, are the individual relationships that come with it. Over the course of the year, conversations about starting classes or making friends become aspirations for after college and talking about life. By the second semester, grabbing coffee or getting lunch with PAFees becomes the chance to take a break and enjoy someone's company. 
Going into my second year PAFing, so many of my former advisees just transitioned into being my friends. The PAF card coffee dates turned into meeting up the following year because we wanted to catch up. PAFing has allowed me to see and experience Harvard from so many different perspectives, and given me friends out of the process as well. 
And to think, it all started with a bear-hug.