My typical day on campus does not end after I have attended my classes. There is usually homework,  job assignments to complete, extracurricular activity tasks to work on, and personal projects. Therefore, after my classes, I typically go somewhere quiet to work. I love the variety of places I can work and study on Harvard's campus. In this blog, I will be talking about my favorite spots. Please note that this list is not ranked.
The Cabot Library in the Science Center 
The Science Center is one of the most recognizable buildings on campus. There is a common belief that no one can complete all of their four years at Harvard without entering the Science Center, because each student is required to fulfill the science and engineering and applied science distributional requirements .Most of the classes that fulfill that requirement are in the Science Center. The science center is home to the history of science and statistics departments, the Cabot library, the Derek Bok center for teaching and learning, the collection of historical scientific instruments. It also has teaching laboratories for the sciences, faculty and staff offices, classrooms, and five main lecture halls that seat up to seven hundred students (I have had most of my final exams in one of the lecture halls). The center houses so many resources and academic centers so it makes sense that students visit the science center at least once during their undergraduate years.
The Cabot library is my favorite study spot in the Science Center. It has a variety of innovative spaces that can be reserved by Harvard faculty, staff, and students — from chat booths and group study spaces to media studios. The library also has open spaces filled with different seating options for taking a break or getting your work done. The booths are designed for different purposes thus can accommodate different numbers of people. eg. there are chat booths for one person, four people, eight people etc. I love using the chat booths since they are very private, so I can lock myself in and work for hours undisturbed. I can also have my interviews in a chat booth without disturbing other folks in the library. The booths are also ideal for club meetings and school project team meetings. You can learn more about Cabot Library here.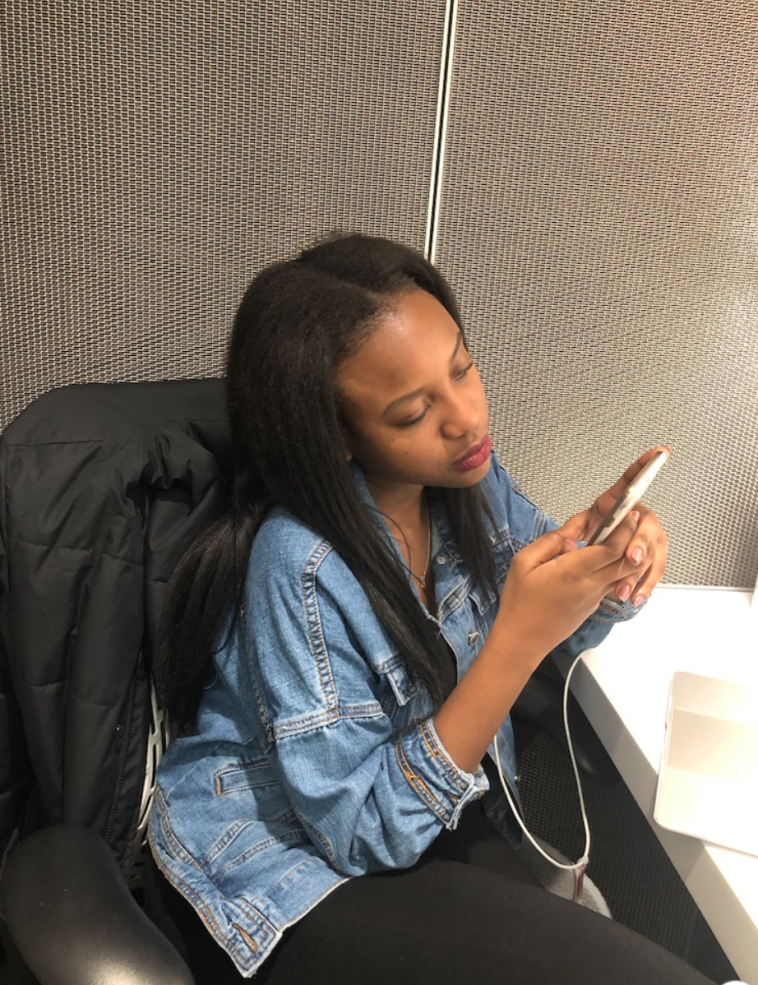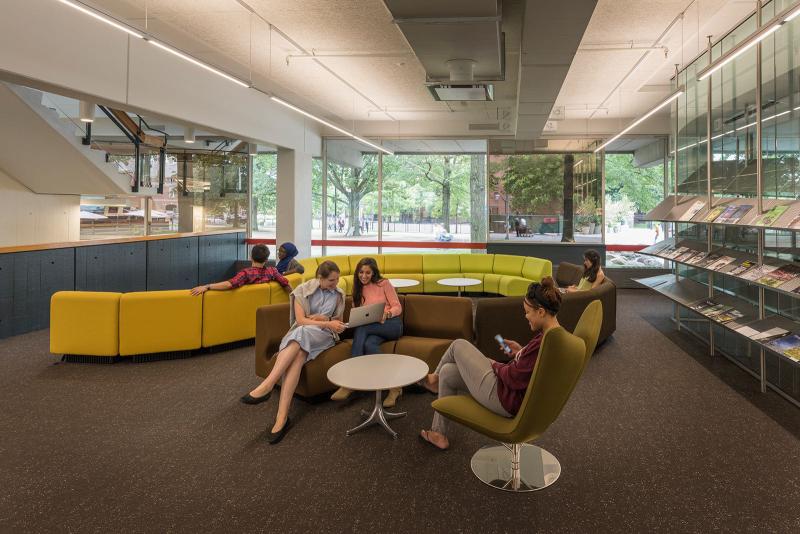 Lamont Library
My love for studying in the Lamont Library started when I was a first-year. My dorm was very close to Lamont, and that is where I would pick up most of my books required for classes. At Lamont, you can find spaces suited for collaboration or quiet study, a lab for multimedia production and data visualization, and more. There is also a cafe on the first floor. Therefore, if I have some group projects, so as to not disturb others, we hold them at the cafe. The best part about the cafe is that it accepts BoardPlus. 
BoardPlus is a component of the undergraduate meal plan, designed to increase flexibility to our meal plans. Students receive $65 of BoardPlus dollars per semester that can be spent at any HUDS-operated cafe, House grille, or for guest meals in the dining halls. I usually exhaust my board plus with buying my favorite drink, caramel macchiato. 
Lamont also has a variety of options for quiet study time. Unlike Cabot, Lamont has a number of quiet study spots to claim on a first-come basis. My favorite areas are the nooks with private study desks. You can learn more about Lamont Library here.
Eliot Library 
Each of the 12 residential houses at Harvard has its own library, dining hall, laundry room, common rooms, and facilities for academic, recreational, and cultural activities. The Eliot Library is one of my favorite places to get some work done. It is a quiet space with many books and a beautiful atmosphere that motivates you to work. When midterms are around the corner, this is one of the places I run to for some serious study time. What I love most about the Eliot Library is the convenience. Since it is within my house, it is literally a 1-minute walk from my room.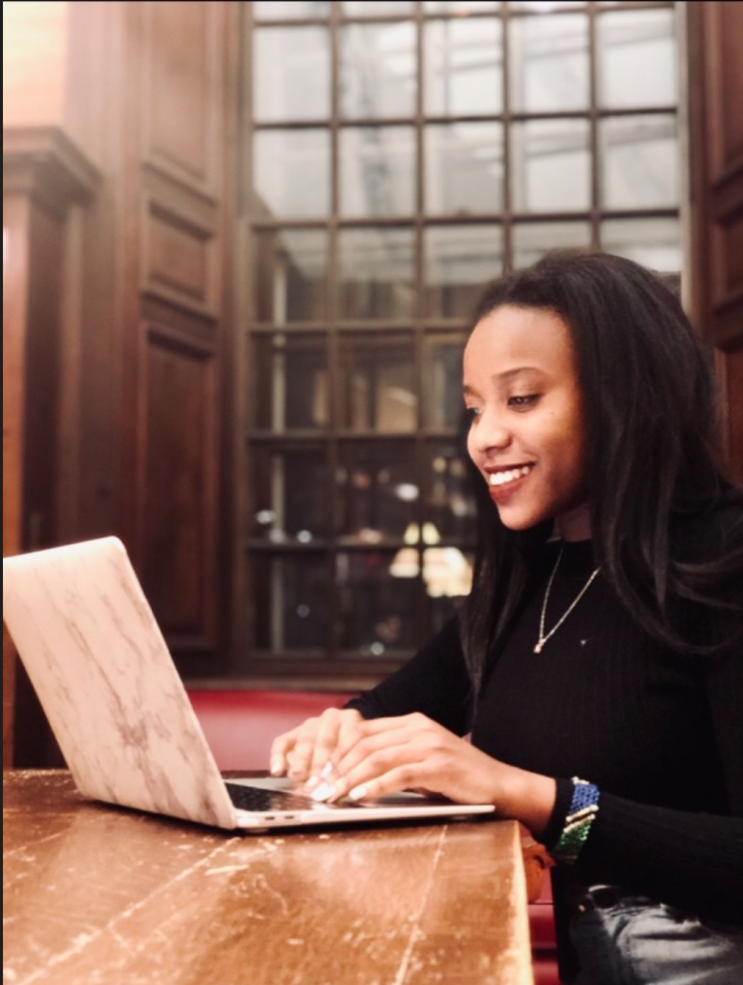 House Dining Halls 
When it is not "peak" meals time, the house dining halls are a great place to work, especially group work! My favorite time to work in the dining halls is after dinner. The dining halls have "brain break" which is basically a late-night, self-service snack break available every weekday. Snacking and working with friends is the best combination. Unlike the libraries, these spaces are less quiet and there is more movement depending on the time of day. My favorite dining halls for evening work are the Eliot Dining Hall (my lovely house) and Winthrop House Dining Hall. Winthrop is closer to my house, and I have a number of friends who take similar courses with me  living in this House so I go there to work with them.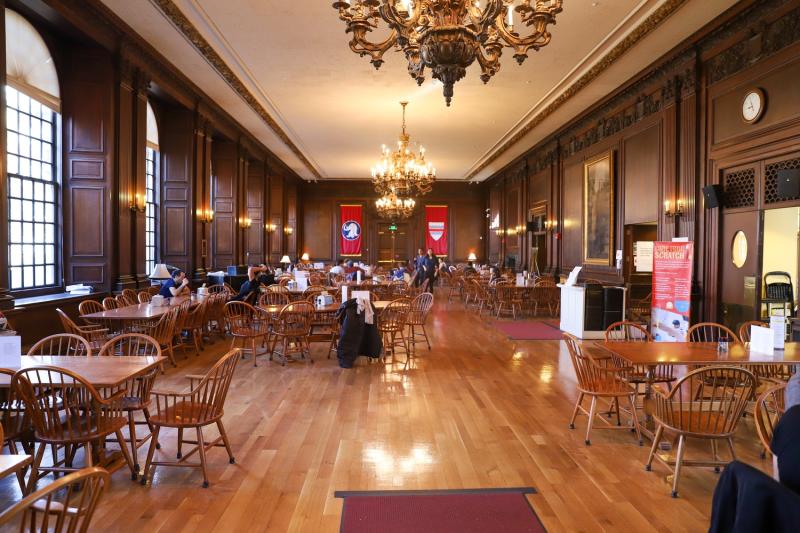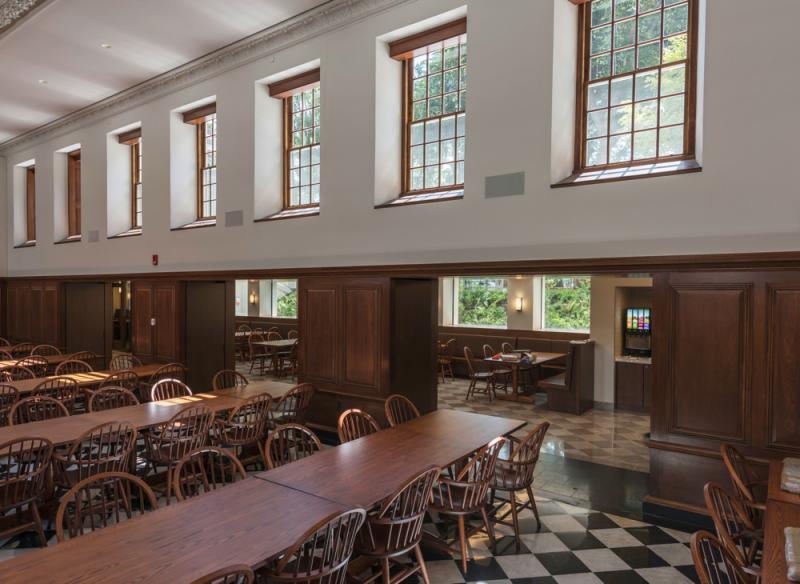 The Smith Center 
The Smith Campus Center has study  spaces with ample café-style seating, chess tables, lighting, and trees. Light-filled interior spaces include food venues, unique indoor landscape elements, as well as comfortable furniture across numerous spaces for relaxation, studying, informal gathering, programs, and events. I love the Smith Center mostly because of the beautiful views from the 10th floor and a number of my favorite eateries, Saloniki and Bon Me.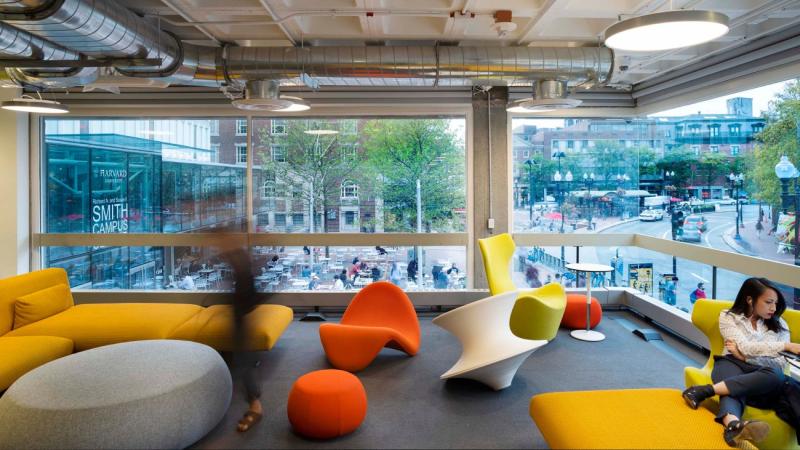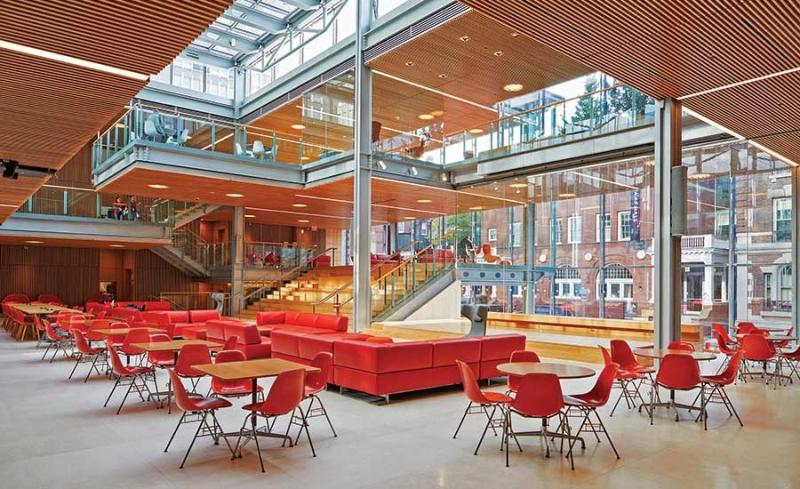 The SEC 
The Science and Engineering Complex is the newest building on campus, it is home to a number of SEAS Administration and the labs and offices, classrooms, maker space and teaching labs, a library, café, dedicated space for student organizations, and extensive common space to encourage interaction and collaboration. The space is beautiful, modern, and has chat booths available for booking for students looking for a quiet and private work area.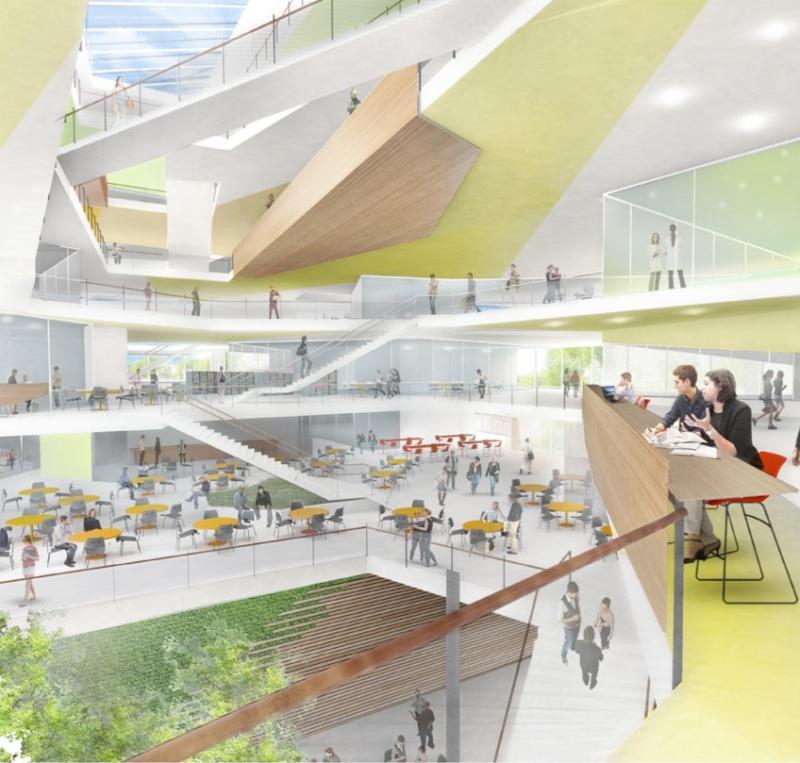 By the Charles River 
When it is still warm and not snowing outside, my friends and I enjoy a chill work session by the Charles River bank. Fortunately for me, I live in Eliot House and can see the river from my bedroom window. The river is a very beautiful space and it is two minute walk away There are no tables,chairs, nor charging ports so it is important to plan ahead before a work session by the river. I also love to read my fiction novels in the evening, watching the sunset and the kayaks in the river when I glance up between the pages. I cannot wait for the spring when I am able to do this again!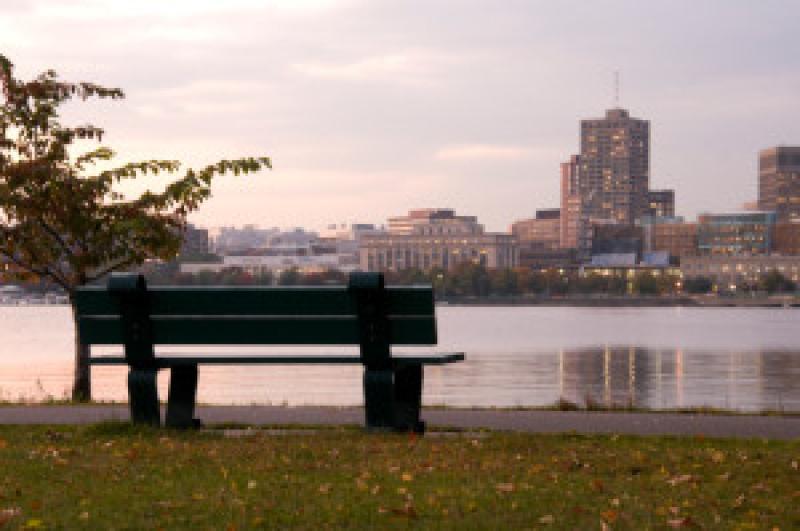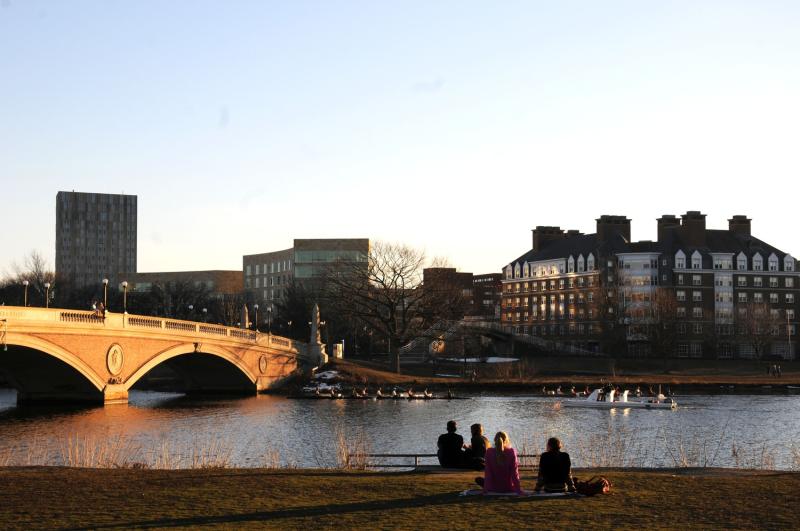 My room
Sometimes I do not want to go very far to get my work done. Thankfully, each student has a desk and chair in their suite when living on campus. For my morning email replies and late night submissions, I prefer working in the convenience of my room. This is more so during the winter when I do not feel like walking across the snow. I am grateful that my blockmates are super respectful of our suite, so my room is always a calm and peaceful option.
These are just a few of the many study spots on campus. We are also surrounded by a number of cafes and restaurants in Harvard Square for even more options. In terms of libraries we have so many on campus that I have yet to visit them all... As I approach graduation, I am looking forward to exploring a number of new study spots and make more memories with my classmates and friends!