I'm lucky to live with my best friends. After a year of being spread across the world due to COVID-19, this thought readily sits at the top of my mind when I wake up in the morning to a friend blasting One Direction or when I come home to another watching Netflix in our common room. Residential community was one of the biggest factors I considered when I was deciding between what schools to apply to and then ultimately attend, and I'm happy to share that Harvard has delivered on everything I hoped for and more.
During my first year, like the rest of the freshman class, I lived in the heart of Harvard Yard in Weld Hall. In a suite of five, one of us had come from Brazil while the rest of us came from towns scattered across the United States (I call Houston home). A few months prior, the Dean of Students Office had us fill out a survey regarding our living preferences, with questions regarding our sleep schedule (early bird), ideal number of roommates (three), music preferences (anything that fits the "chill" category on Spotify), and more. After some Sorting House magic, we found out our rooming assignments in early August and thus prompting the awkward initial reachout over Instagram.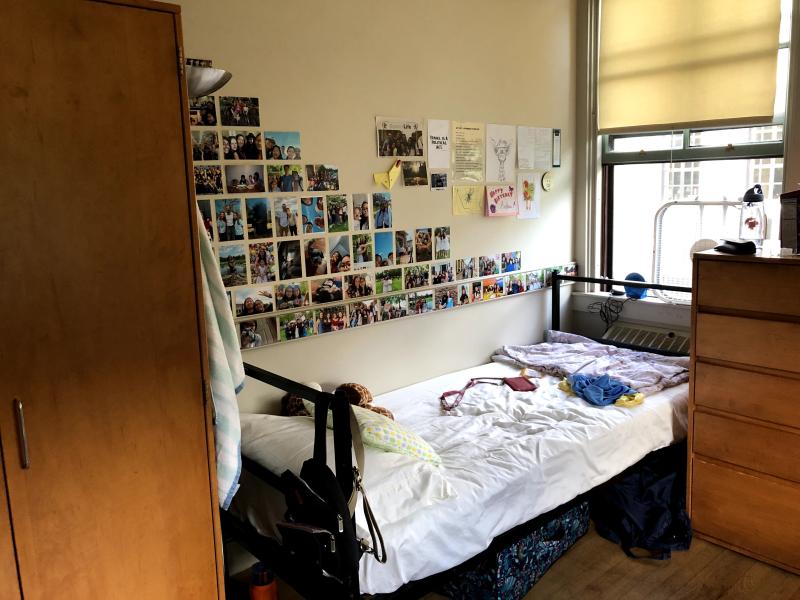 While my year in Weld was cut short, I loved it. For the five of us, we had two doubles, a single, a common room, and a bathroom. My double had huge windows that left our room perpetually sun-soaked, much to my delight. Our entryway (classmates who I lived on the same floor with) had weekly study breaks where our proctor and Peer Advising Fellows planned events on our behalf—hot cocoa and crepes, face masks in the name of self-care, yogurt parfaits in pajamas. All that being said, I was really looking forward to being part of a House community, living with my blocking group, and forming relationships with faculty deans and tutors that would endure long past my three years at Harvard.
Of course, my blockmates and I had our Housing Day online—I still have the recording where we celebrated getting Mather House. Mather meant guaranteed singles, large common rooms for sophomores and juniors, and gorgeous views of the Charles River for seniors. It meant copious dog sightings courtesy of our tutors, a dining hall that welcomed all of the Harvard community, and monthly Open Houses in our Faculty Deans' beautiful home. Given that my sophomore year was virtual, however, meant that I didn't get to see Donkey the dog run around the courtyard or meet Amala and Maha in-person. Even while virtual, I felt the Mather community around me: from various student-initiated projects like chocolate tastings to a house-wide Secret Santa to receiving various care packages throughout the year, I could tell that Mather was with me, even when I wasn't there to appreciate its brutalist architecture in all its glory.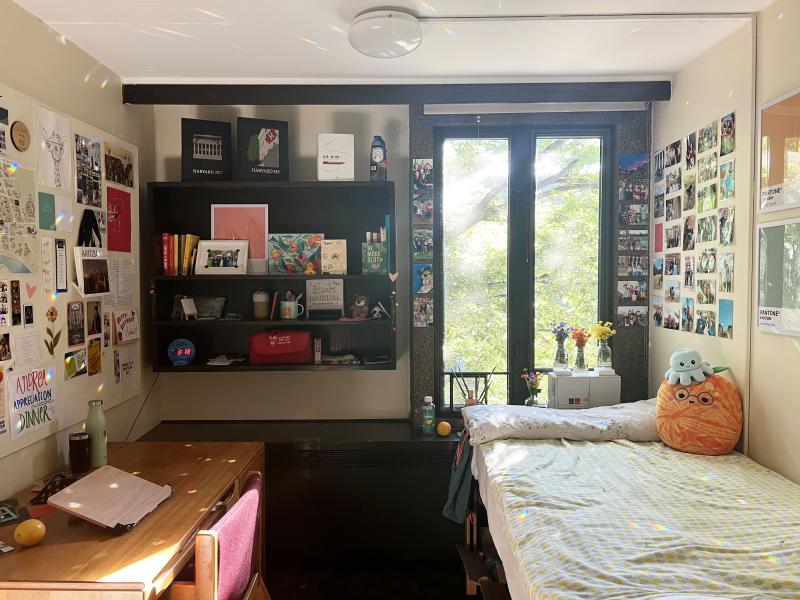 Finally, after over a year of anticipation, I moved into Mather House for my junior year. Every house has its own dining hall, gym, laundry, and much more. Mather in particular has a meditation room that is a perfect place to sit and reflect (or fall asleep, not that I am talking from personal experience) and a pottery studio, where I am taking ceramics classes now. The dining hall is great for interesting conversations with friends new and old and for working late into the night. This time around, I am in a suite with my blocking group, and while we technically have two suites of four connected by a bathroom, we really treat it like one big suite of eight, with two common rooms waiting for our company. We live in a duplex, meaning that our door opens to our common room, and we go downstairs to where the bedrooms break off. The four singles are divided into two pods, and each pod has a large mirror above two dressers and large closet racks on the sides. Then you reach the actual bedrooms, which are the perfect size for me. I will say that the shared pod space is optimized for having a communal closet with a best friend (who just so happens to be a birthday twin) who wears the same size clothes. The common room is also great for gathering, playing intense rounds of Codenames, and watching shows like Squid Game together.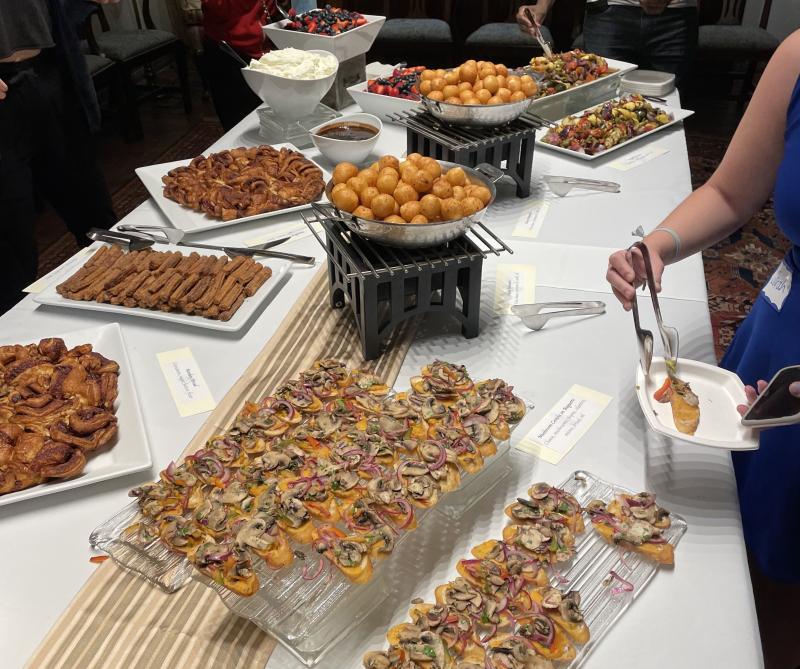 Like freshman year, our entryway has regular study breaks with free food and good vibes, but now I also get to meet other tutors at the Open Houses, practice my Mandarin at the weekly Chinese Language Table, and talk to my Faculty Deans over a meal in the dining hall. Living with my closest friends makes it all the better—these are the people I come home to at the end of every day. Hearing them talk about conquering their latest problem sets, plans for the weekends, or what they ate for lunch always puts a smile on my face. My best friends, but also the entirety of our community, really make Mather House a Mather Home.