My time at Harvard has been greatly influenced by my extracurricular activities, but one in particular, Kuumba, has touched me in a special way.
Besides giving me the opportunity to perform for the likes of Solange Knowles, Elton John, and LL Cool J, Kuumba has given me a gift of incomparable value: family. I came into college with the intention of joining some sort of singing group because I wanted to do something that I hadn't done in high school. Thankfully, I chose to immerse myself in Kuumba rather than a world of a capella (Kuumba's non-audition policy was definitely a big incentive!). The decision to dive into everything that comprises Kuumba has been my best choice to date.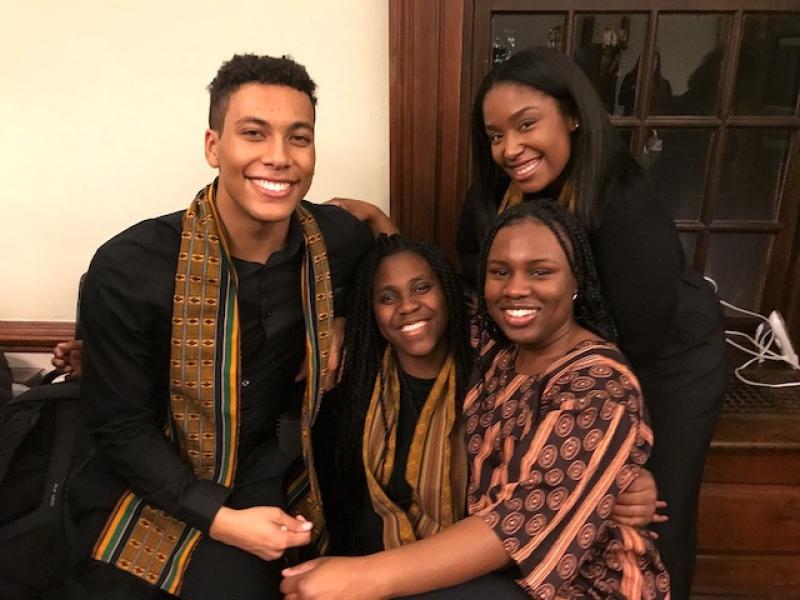 The way that Kuumba consistently offers such a warm and welcoming atmosphere is so astounding and refreshing, and the amount of love, support, acceptance, affirmation, and validation that Kuumba has given me truly liberated me from my own negativity and self doubt during my first year of college, and my participation now helps me continue to strive to live a life of light and love.
Kuumba has given me so much that I can't help but think of it as anything other than family, and as family typically does, Kuumba has taught me invaluable lessons that I'll treasure well beyond my undergraduate years.
I'd like to expound on two of those for you all:
Legacy — As the oldest Black organization at Harvard College, Kuumba will be celebrating its 50th anniversary next year. Kuumba's founding originated from a combination of high racial tensions on Harvard's campus and Black Harvard students' desire to have a safe space on campus to celebrate Black art, spirituality, and creativity. This history is extremely significant to us, so anytime we introduce ourselves, we begin with referring to our past to better articulate our present purpose. Kuumba's continuous acknowledgment of our history is intentional in that we recognize that we stand on the shoulders of those who came before us, and without them we'd fall. It is also an acknowledgment that sometime in the future, someone will be standing on our shoulders.
This transgenerational support is what built and continues to sustain the Kuumba that has given me and many others so much over its long history. Simply put, the legacy of Kuumba is Kuumba. Becoming a part of Kuumba's legacy has led me to consider my own individual legacy. We are a culmination of the hopes, dreams, struggles, and successes of our ancestors, and its paramount to acknowledge this with the understanding that the past always informs the present and the future. I've internalized this through a simple mantra, "Remember where you came from, so you know where you are going."
Giving back — "Kuumba is a Swahili word that means to create and we take that to mean doing what we can with what we have to leave a space better than we found it."
This is an excerpt from the president's address found on Kuumba's homepage, and it reflects the importance Kuumba places on giving back. As I spent more time learning about Kuumba's history, I began to see the connections between giving back and legacy.
Though I've always known what giving back abstractly means, Kuumba has helped me see that giving back is an intentional act, and this prompted me to serve on Kuumba board this year where I help create the magic that captivated me and mold the legacy that my class will leave on Kuumba.
My work on Kuumba board has shown me that legacy and giving back are inseparable, for the latter is the foundation of the former. Legacy is built from the selflessness and commitment of those who give back to their respective communities in order to fulfill part of Kuumba's mission, to leave spaces better than when they were found. Kuumba has instilled in me a belief in the power of giving back, and I now try to live by Kuumba's mission to in order to contribute to the building of a better society.
As I approach the halfway point in my college career, I find myself becoming increasingly reflective as the days pass. Each time I think back on my college experience, my mind inevitably goes to Kuumba and the way that it has cultivated a space where I can learn lessons like the two I mentioned previously.
College certainly has a multitude of opportunities for personal growth. It's just a matter of surrounding yourself with people and organizations that you believe will impact your life in an unquestionably positive manner.
Kuumba allowed me to create a life-giving community that continues to sustain me today. It, along with the the other communities that I've been fortunate enough to join, have enriched my college experience in ways that I'm still processing. No matter where you end up, I implore to seek out communities that encourage you to forge your own path through college and help you develop into the person you're meant to be along the way.