One of my favorite extracurricular activities is dance.
I have been dancing since I was three years old, and while I am no dance prodigy, it has always been a part of my life, so I was determined to continue dancing during college.
There are many different levels of dance at Harvard, and many different ways to participate in dance on campus. There are for credit courses that can be taken at the Harvard Dance Center that can count towards the Theater, Dance, and Media concentration, to not for credit classes that are open to the whole Harvard community, and of course there are plenty of student led dance groups and companies.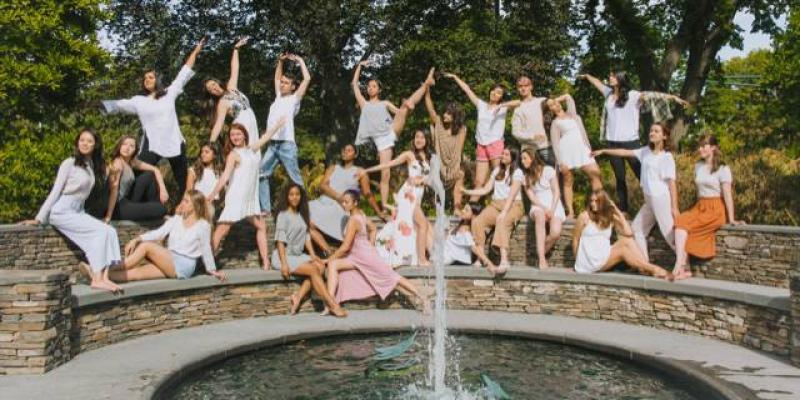 I am currently a proud member of the Harvard Radcliffe Modern Dance Company (HRMDC) and the Expressions Dance Company (EDC). Each semester the dance companies put on one show that consists of a number of pieces choreographed by student choreographers. This semester I have chosen to participate in one piece in each company. For each dance piece, the dancers meet with their choreographer once a week to learn choreography and rehearse, then during the week of the show, all the pieces and choreographers come together with the student directors of the company to put together the showcase.
This year's theme for HRMDC was Once Upon A Time - all the dances were inspired by a classic fairytale or folktale. Watch a YouTube video created about this year's HRMDC performance by a fellow member, Sophia Tang.
Every year the Expression Dance Company's show theme is a play on the name of the Dance Company. This year's show is EXpensive, the previous show I was apart of was EXposed. Here is a publicity photo I took with a friend for EXposed
I love participating in dance on campus because for a few hours a week I can completely forget about school work and indulge in a form of exercise that makes me happy. In addition, I get to spend time with friends and make new friends in the process.
Being a member of these dance companies makes me feel like I have a second family on campus. 
Follow the links in this blog to learn more about dance at Harvard College!