As a Muslim student at Harvard, I have found my home in the Harvard Islamic Society (HIS) and the general Muslim community on campus. Throughout the past two years, I have made strong friendships and unforgettable memories and I will be sharing some of my highlights from this past year. 
Winthrop House Dining Hall
In the past year, the Winthrop dining hall has become the natural place for Muslims to accumulate and share meals. Every time I would go to eat a meal there, it was likely for me to see other Muslim students. A reason for this is partly due to the admirable dining hall staff. I would go there to eat so often that I have gotten to know the staff well - they are extremely friendly, and you may catch yourself in an engaging conversation with them. They go above and beyond at their job and always say hello when I get my food - they are always friendly faces to look forward to seeing. Including Winthrop House, all of the undergraduate dining halls serve halal meat options and accommodate other dietary restrictions as well. Special shoutout to Anabela, Nancy, Samia, Goretti, Isabel, and the other Winthrop dining hall staff for your hard work and hospitality toward the students.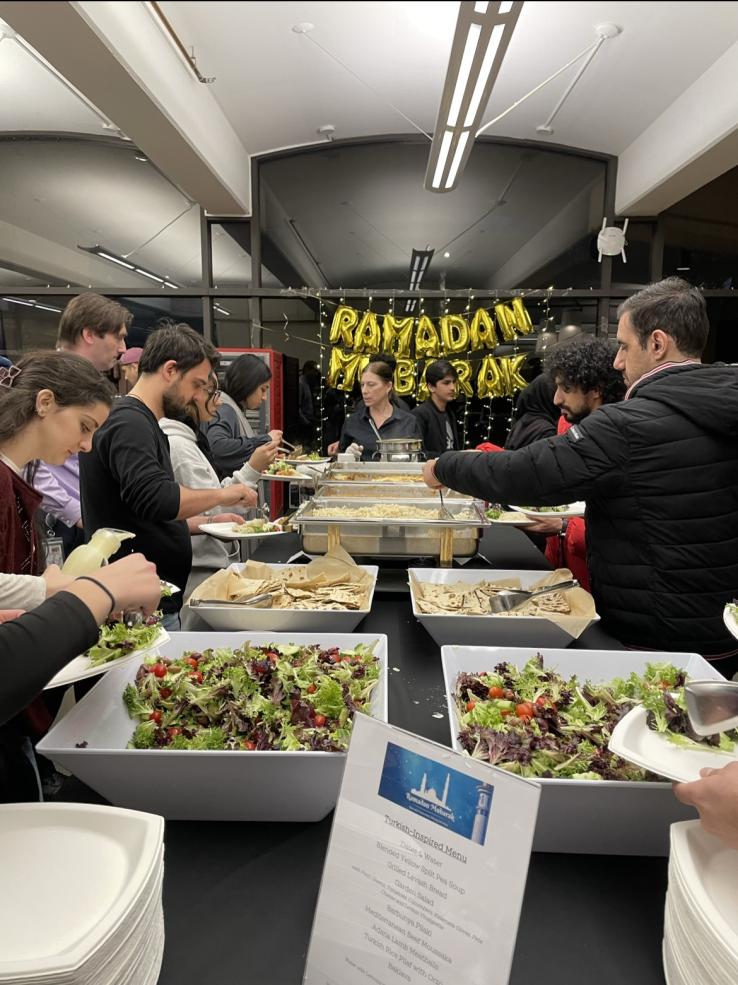 During Ramadan, there are many opportunities for community bonding and religious growth through suhoor, iftar, and religious programming. Iftaar is provided by Harvard Undergraduates Dining Services (HUDS) catering every night where a different cuisine is served every day on a weekly rotation ranging from Turkish food to East Asian food. Students from all of Harvard University come together to pray Maghrib prayer, Tarweeh prayer, and Tahajjud prayer. There are also Iftaars coordinated by student organizations, such as the Pakistani Student Association, and students within the Muslim community. Collectively, the undergraduate Muslims were able to host an iftar by the Charles River where we prayed there and ate food catered by Sufra and College Pizza. 
As for Suhoor, HUDS provides pre-packaged breakfast foods to pick up the day before for the following morning. There are also many opportunities to eat together through an accumulation of suhoor meals hosted by the Harvard Foundation, HIS, and resident tutors. Students also planned group trips to IHOP and for the past two years, I was fortunate enough to eat the warm comforting food cooked by a group of senior Muslim women, who resided in Leverett House, for everyone to eat. 
Since there are many colleges in the Greater Boston area, other universities host various events open to all college students in the area, which is a great opportunity to meet other Muslim students here. There are also Masjids in the area (ISB and ISBCC) that are always open and they too host various religious programs and inter-MSA events.
Eid al-Fitr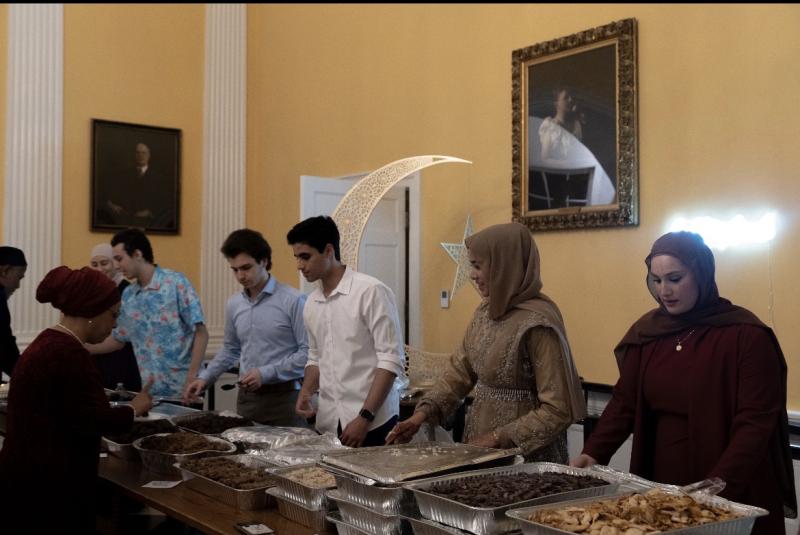 On the day of Eid al-Fitr, after Eid prayer on campus, everyone takes pictures, greets each other, and eats brunch together hosted by the Muslim Chaplains. Afterward, students may go out to Boston, have a picnic, and other wholesome activities. There are also students who live very close to campus, like me, and host a gathering at home. I invited some of my friends to spend Eid together at my house to celebrate as they sipped cha and ate biryani. 
HIS also hosted an Eid Banquet this past year where all Harvard University students came together in the evening to eat dinner. These events truly exemplify how strong and large the Muslim community is and are one of the very enjoyable things to look forward to at Harvard as a Muslim.
The Harvard Islamic Society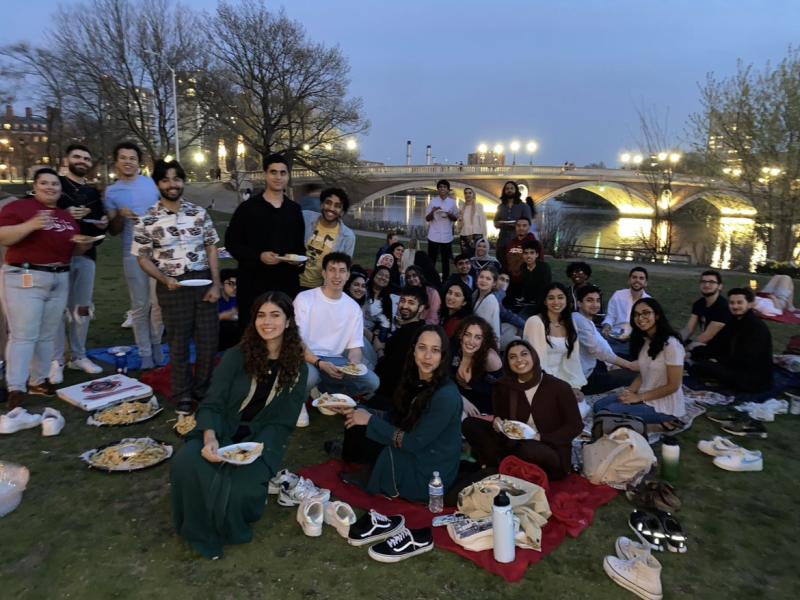 When I first arrived on campus as a freshman, the Harvard Islamic Society was the first community I became familiar with. Throughout the school year, there is always something happening whether it is game nights, study breaks, religious programming, guest speaker events, inter-MSA events, and more. Overall, there are lots of opportunities to connect with my faith, meet other people, and have a good time. There are the weekly D-table dinners to look forward to in Adam's House and their big semester events, such as the Fall Dinner.
Overall, I am grateful for the Muslim community and resources that I have found on campus and their active involvement in establishing a strong Muslim community, and I am looking forward to my next two years here with them.