Unlike some other careers, there's no clear-cut path to becoming a "professional" artist.
Learning about career paths in the arts can often be an unconventional process, with many options—interning at a theater company, taking an assistant job on a production, or even founding your own arts organization. That's why I decided to intern at the American Repertory Theater (A.R.T.) this past summer. Founded in 1980, the A.R.T. is an award-winning theater in Cambridge, MA known for its musical revivals and plays (including 4 Tony Award winning productions, such as the 2012 revival of Pippin). As a lyricist/librettist and playwright interested in pursuing writing and producing, I hoped to gain more clarity on the different roles in the theater world and contribute to a theater whose work I admire. Since the A.R.T. is located on Harvard's campus and offers an internship specifically for Harvard students, it's a great way to be able to learn from professionals and make connections. 
During the internship, I was assigned to be a producing and company management intern. I learned about what it's like to manage a company of 20+ actors on the production 1776 doing various tasks related to finding actor housing and organization of company materials. Finding apartments in the Cambridge area is no easy task as anyone who's ever looked for a summer sublet can tell you. Nonetheless, being able to concretely support actors in their art-making was fulfilling and rewarding.  
I was also interested in learning more about dramaturgy (which refers to the research conducted for a theatrical production) and asked to work on a dramaturgical assignment. I was asked to do research for The Wife of Willesden, one of the productions in the A.R.T.'s 2022-2023 season. My research involved gathering information about the history of the show, marketing and education materials, interviews and statements from the writer and director, and other pertinent show materials that the A.R.T. could potentially use for the show.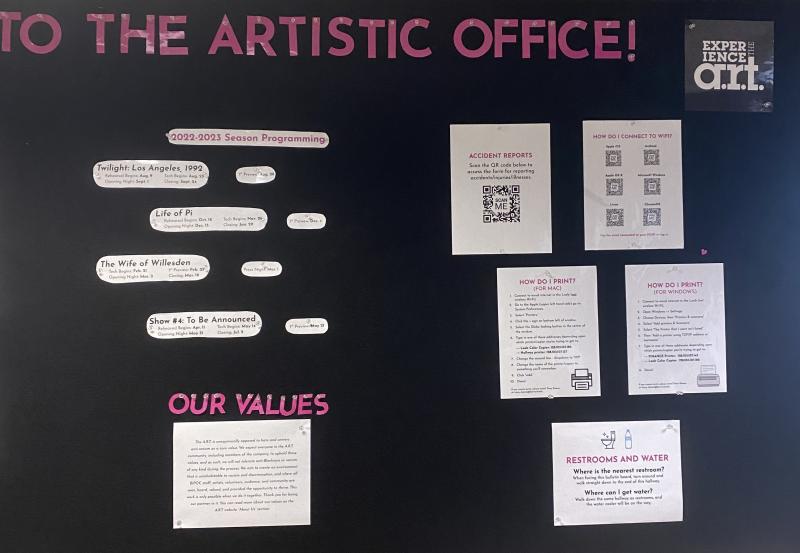 While doing this research, I tried to imagine what would be most helpful to a creative and marketing team and gained deeper knowledge about the show itself that I never would have if I hadn't been researching it. Being able to offer knowledge that might help the show was a highlight of the internship! I hadn't known anything about dramaturgy prior to my internship, and getting that experience showed me another path I could potentially pursue in theater. The experience taught me that it's always a good idea to ask questions about what you're interested in and pursue that, even if it's not what you initially intended to explore. 
Just as importantly, the company culture at the A.R.T. was warm and welcoming for the other interns and me. While the day-to-day of a professional theater is busy (at the time of the internship, productions of 1776 were being performed weekly), I always felt that I could ask someone a question about their job or chat about our favorite shows. Some of my best memories of the experience were of me and the other interns hanging out in the artistic office, petting cast members' dogs before performances, and meeting other staff and crew in the green room during our lunch breaks.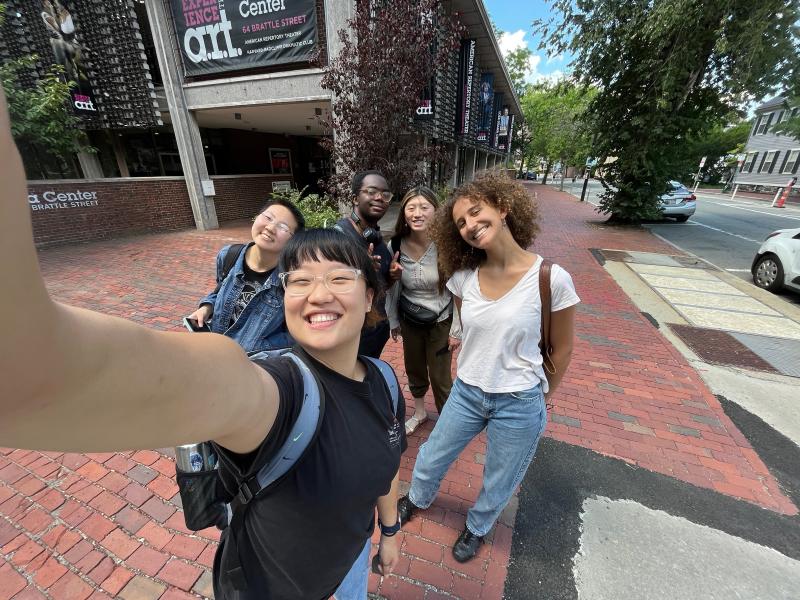 I believe it's important to work at a place that not only aligns with your career goals and interests, but also values you as a person (beyond just your labor and the work you produce). I truly felt that I had been welcomed into the A.R.T. community and had not only gained insight that would help me figure out my career, but also contributed to a larger artistic project.