Completing college applications is indeed a challenging and demanding process, and can feel even more so for international (non-US citizen) students who seek financial aid from their colleges of interest. Most colleges in the US, including Harvard, require their applicants to submit a separate application for financial aid in addition to the admission application.
Harvard has a need-blind application process for all students, domestic and international. This means that students will not be disadvantaged in the undergraduate admissions process due to their financial need or in other words, applying for financial aid will have no impact on your admissions decision. In addition to that, Harvard promises to meet 100% demonstrated need for all admitted students, including foreign students!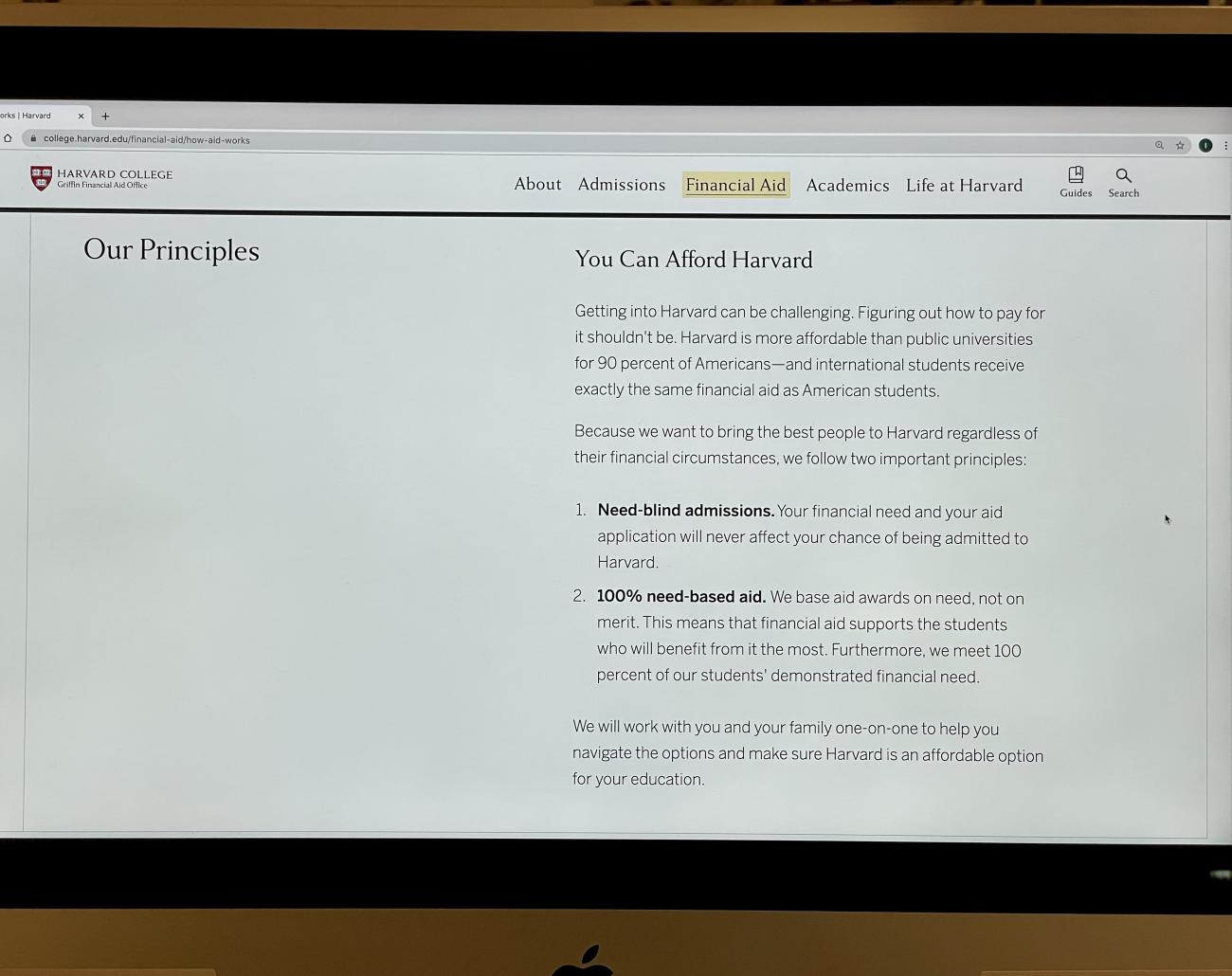 In this blog post, I will be sharing my experience when I was applying for financial aid, and some important facts about how financial aid works at Harvard.
Check when financial aid applications are due: Since I applied for admission by the November 1st

, 2020 Early Action deadline, my financial aid and financial supplementary materials were due on the very same day. I

read about the process 

when researching schools of interest, so I began working on my financial aid

application early on. First, I began by reading all the requirements for Harvard's financial aid application from the same page,

focusing on the requirements for international students. I then began preparing for the application by gathering the required documents and other financial materials that would help me out in filling the financial aid application form.

Financial aid requirements for international students

"The process to apply for financial aid is essentially the same for all prospective students. Regardless of your citizenship or when you are applying, you will need to submit a CSS Profile and an IDOC Packet."

Create a CSS Profile: Secondly, I visited the CSS (College Scholarship Service) profile page, and signed in using my College Board account (you might need to create one, but odds are that if you registered for the SAT, then you have the account already since it's the same account). I then navigated through The College Board information which shares a useful guide on how to get started filling in the CSS profile, including the documents/information that you need to have with you while filling in the CSS profile. The College Board also has this page th

at I found particularly useful since it is designed specifically for international students! 

CSS Profile home page

The College Scholarship Service (CSS) Profile home page. College Board

Access the IDOC portal: After completing and submitting the CSS profile, I was required to submit supplemental materials as per Harvard's financial aid application requirements. I did so through the secure IDOC (International Documentation Service) – a

service, again by the College Board, that collects family financial documents and distributes them to institutions on behalf of the student. I was required to submit a letter from my parent's employer stating income and all deductions, and official salary slips – documents in my home country that include information about an employee's salary, all benefits, tax deducted, mandatory retirement plan amount deducted, and all other deductions. So the letter and the salary slips served as proof of the information I had filled previously in the CSS profile. It is worth noting that if one's family has businesses, farms, or lands, etc., odds are that you will be required to submit official documents about those assets as supplemental material through IDOC. 

IDOC home page

Institutional Documentation Service (IDOC) home page. College Board

Double check that materials are received: After submitting all the required documents for the financial aid application, my application portal showed that everything was received by the Financial Aid office, and that if they would require any further documentation, they would reach out to me directly via email. 

CSS Profile and IDOC portals - document receipt confirmation

My CSS Profile and IDOC portals showing that all the required documents were received by the Financial Aid Office. Innocent Munai
After receiving my acceptance letter, I also received a prior estimate of my financial aid - which was a full financial aid package! In one of my upcoming blog posts, I will be sharing about and breaking down the financial aid package that I received. I wrote this post mindful of international prospective students, and I hope that this information will be particularly useful to them. As a student who applied from Tanzania, I understand how overwhelming the financial aid application can seem for non-US citizens. Please, feel free to reach out to me with clarifying questions regarding how financial aid works at Harvard or the application process in general through this email or this form.